Let's Go A-Ducking, March 17, 2018
.... here shall he see, no enemy but winter and rough weather.
Shakespeare
0835 Research Parkway
After a still evening draped across the sky like a blue-black velvet cape studded with sequins, the grey light of morning had no intention of acknowledging the tentative change of season. Like a rapier, a cold wind thrust its honed edge into the faces of the two who "went a-ducking".
They approached the pond off of the industrial parkway gliding over frosted clumps of fescue. Grey slush formed over the surface of the water. Yet there was enough openness to allow for the several Black ducks, Hooded mergansers and a Bufflehead couple to peruse the coagulated vegetation, or submerge after scaled tidbits. Mute swans placidly extended elegant necks beneath frothing waters. The wind gouged the "ducker's" eyes, streaming with tears as they strained through scope and binoculars.
0900 North Farms

Rafts of geese gabbled and argued along the shore. Between them, studded throughout the surface of the pond, white Ring bill gulls floated patiently. A pair of claustrophobic Mallards tripped away from the gaggle of geese. Like a large grey head studded with spikes of hair an island in the pond was decorated with a Great blue heron rookery, a Bald eagle nest lurking among them.
And the northern wind continued to probe the forehead with its icy needles.
1000 Broad Brook Reservoir
Serendipity led the "duckers" to Broad Brook Reservoir in Cheshire. Muffled against the persistent wind raking over open water, toting a scope on a tripod like a combat infantryman, hugging close to highway guard rails, stepping over winter-ravaged pine tree limbs and the detritus of civilization, the quest for waterfowl sightings continued.
The roadway split the reservoir. On one side, Bufflehead dove and reappeared like white and black semaphores. On the other side, a seemingly open expanse of tossing waves.
Then, perhaps noticing the equipment, a passing truck with an intuitive driver stopped and asked: "Birding?"
"Looking for ducks," was the reply.
"On the other side of the reservoir," the burly driver rejoined, "rafts of Scaup, Mergansers, Ring necks and "Woodies".
"Thank you, we'll find them."
"By the way, there's an eagle on the nest just a bit from here. This is my hunting grounds. Here's how to find it…"
Hail fellow, well met. The nest with its eagle was just where it was pointed out to be. Then, bringing the automobile 'round to a different vantage point, the "duckers" found the several species of ducks bobbing stoically on the chilled surface of the reservoir.
The sun shined unadorned with clouds but the wind owned the day and spring seemed like a distant hope.
2 participants; 8 duck species.
LC
Eagle Walk, February 10, 2018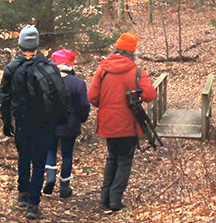 Since the first of the year, the Old Patriarch walked among us, and with his silver scepter flashing, turned the land into a frozen form of his likeness. He tossed his robes aside as he tread, turning ponds and rivers into sheets of steel capable of withstanding the weight of automobiles. Few ventured out into the wind without trepidation. That wind was the Patriarch's breath spewed out onto the cowling earth. But He has unexplained whims, and with icy compressed lips He returned to his frosted throne, sat down and slept, leaving the stage to milder actors.
Four participants made their way along a brown, snowless gravel path on a still and thaw-enhanced morning. Bluebirds danced on the wizened apple trees. Juncos and White-throated sparrows scratched the ground underneath multiflora rose. In the distance a Common raven's distinctive clicking voice reverberated.
After an uphill trek, past fields of bluestem, a park-like oak and hickory forest arose, and then the summit over-looking Salmon river cove. There was a sheen of sparse ice slush gathered in the shadowy curves of the river, but most of the cove was free of a stainless steel burden.
Mute swans, like bright white apostrophes, tossed on the surface of the cove. The sun off tiny wavelets. A thin blue-black peninsula in the distance separated the cove from the Connecticut river.
A moment of scrutiny. Then in a hemlock jutting up from a point along the shore: a mature Bald eagle. Its back was turned towards the observers but the white crown of its head was visible and mobile. One could imagine the sharp, intense eyes, those self-assured, inscrutable orbs.
A Golden-crowned kinglet appeared, intent on vying with the eagle for our interest, so near in the threads of a cedar that binoculars were unnecessary.
Another eagle broke away from its earthen perch, an immature that majestically fluttered over the water like a huge brown butterfly. Then the "white head" decided to exercise its wings. The cove suddenly seemed bereft of its regality when the two eagles departed.
Later, along Cove Road at eye level to the confluence of the Moodus and Salmon rivers, a gathering of Black and Mallard ducks was noted as well as the bickering Canada geese waddling in the chocolate muck of low tide.
4 participants; 2 eagles; 20 bird species total.
LC
43rd Annual Salmon River Christmas Bird Count,
December 17, 2017
Golden-Crowned Kinglet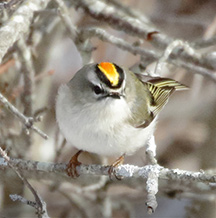 The 43rd annual Mattabeseck Salmon River Christmas Bird Count was held on Sunday, December 17th, 2017. A total of 31 participants braved the cold temperatures (temperature range of 12-33 degrees F) to identify and count birds. The ground had a light covering of snow and many of the ponds and lakes were frozen, which reduced the number of waterfowl observed on the lakes and ponds. As of the print date of this edition of Wingbeat, the tentative total number of bird species observed was 68. This number could increase as feeder counts are received. The highlight of this year's count was a first ever Orange-Crowned Warbler, observed at Haddam Meadow State Park. Please consider joining one of the teams next year. We are confident that any newcomers will be welcomed with open arms. All levels of birding expertise are welcome. Please contact, Sharon Dellinger, rsdell@comcast.net or Doreen Jezek, dajezek@gmail.com for more information. You've got a year to get ready!
Sharon Dellinger, MAS Recording Secretary
Sparrow Crawl, October 7, 2017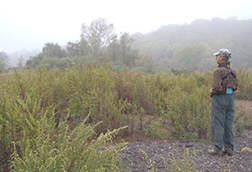 The Old Bean Field
An early autumn morning…casting aside its mottled green and yellow blazer, the season stood bare-chested as the balmy sun rose lethargically over the ragged field of goldenrod. Juxtaposed to the field the manicured soccer grid opposite was animated with a dozen Killdeer. Soon the matches would dispel them all.
A Blue-headed vireo grappled with the branches of a black locust. Over mounds of mugwort-encrusted gravel Song sparrows and a Field sparrow shyly dodged away from the interlopers, but not before they were counted and registered in the ledger. Insinuating oneself amongst the clumps of Russian olive, bunchgrass and goldenrod caused avians to propel themselves in all directions. As if to scold, a Palm warbler stroked its tail, the underside dashed with gold.
Standing abreast of the silky dogwoods, beckoning with pursed lips produced nothing as the morning sun reflected hazily over the pale yellow sky. Further reconnaissance in the dense grass spiked with multiflora rose caused only sparse response. The lingering warmth of summer loosened the shirt collars.
The Nature Garden
Footsteps crunched on the gray crushed stone pathways that wound a serpentine course around the Nature Garden…red maple wetlands opposite fields of dogwood and eastern red cedar abbreviated by white oak, the stalwart sentinels of ancient pastureland. Here, too, it seems the leaden atmosphere slowed the pace of migration. A lingering female Scarlet tanager tumbled after berries. Flickering maddeningly, a Ruby-crowned kinglet animated a cedar's bristling branches. The dependable White-throated sparrow made its appearance known with a chirp.
The pathway forked. Rising up like the dominion of demons, a bristling ball of mile-a-minute vine; allowed to advance, this tormented alien would alter the landscape irrevocably.
Guida's Farm Nature Sanctuary.
The sky overhead, painfully bright in late morning, was dappled with the ethereal flight of Red tail and Red-shouldered hawks whose pirouettes were transected by the parabolas of coal-black Turkey vultures. The mown carpets of grass punctuated by hedgerows held their secrets to their breasts, however, revealing nothing but reflected Indian summer.
Lastly, a field by the TPA golf course.
A field lies surrounded by green tuxedoes like a shabby beggar outside an opulent opera house. But like the beggar who turns out to be an impresario this field had more integrity than the adjacent golf course. In the hollows carved out of the gently sloping plain, an active flock of Savannah sparrows tripped
2 participants, 4 species sparrows, 31 total species.
LC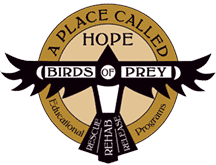 A Place Called Hope, September 24, 2017
On Sunday, September 24th, several members of MAS and their families attended a field trip to A Place Called Hope (APCH), a raptor rehabilitation facility in Killingworth. It was an unusually warm day with bright sun and temperatures in the high eighties.
Christine Cummings, President and Co-Founder, escorted us through the aviaries providing us with up close views of their resident Bald Eagle, Vultures, Owls, Hawks, Crows, and Falcons (not to mention various waterfowl and Mourning Doves). We were able to hear the unique, and sometimes heartbreaking, stories that brought each bird into their care. Although the main goals of APCH are to rehabilitate and release, many of the birds that we saw had sustained injuries that have made release impossible. It was bittersweet to meet Loki, APCH's resident, not so Common, Raven, who is non-releasable due to human imprinting. We all enjoyed seeing her flirt with Todd Secki, Secretary/Treasurer/Co-Founder, and husband of Christine.
The vast majority of the residents live there due to human interference, both intentional (gunshot wounds), and unintentional (motor vehicle strikes, fishing line, balloons). We all learned a great deal from Christine, who shared her vast knowledge, without reservation. It was clear, early into our visit, that Connecticut is lucky to claim APCH as one of our treasures. I encourage anyone reading this to learn more about this amazing place online at: aplacecalledhoperaptors.com
Sharon Dellinger, MAS Recording Secretary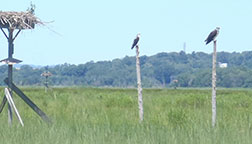 Shore Birds by Canoe, August 19, 2017
Imagine a dream, a dream more vital than the reality of wakefulness, wherein the sun spears the trembling waters of the estuary with lances of eye-piercing light and the vessel carrying you adrift pushes forward with ethereal anticipation.
The shouts of fisher-folk along the walkway and the clatter of passing rail cars over the spiderweb architecture of the tarnished silver bridge cannot waken you from your somnambulant reverie.
The tide licks the chocolate banks of the marshes. The vessel rises and falls with the singing waves. You become the wave; you form the crests; your eyelids flutter; expressions of energy rise along your spine.
The granite schist and gneiss outcrops appear and recede like the heads of whales. The sloshing waters laugh at your passing. Then, as if put there by some invisible fingers playing at marionettes you land on a windward lip of sand. The sand becomes animated as only granules can do in a dream: Least sandpipers dance by the restless waters edge in a pas de deux with Semipalmated and Black bellied plovers. An orange Monarch butterfly flutters about the unopened salt marsh goldenrod, while a Least tern, itself an imagined form of white-winged lepidopteran, replicates the patterned flight over the open waters of the estuary.
Imprints in the sand. Looking back you see your heel marks; looking forward, imagining those yet to be made. And the tide swirls lower, exposing the canvas. And the tide swirls higher, flushing the canvas clean.
A Spotted sandpiper see-sawing beside the jetsam: you become the bird with stern and perceptive eye. The bird becomes you and opens its beak inquisitively. But then you both fly away. What's left are human heel prints. You gaze around unrequited.
Rounding Great Island, and the shifting, shining surface of the sea. The green water pulses purposefully beneath the vessel. The barrier island is exposed like a beige eyebrow above a green eye with curled green lashes. Mud flats are revealed; gnarled roots of phragmites; black submerged marsh peat gradually uncovered glistens in the sun flaring its nostrils, gratefully inhaling the pellucid atmosphere.
The gulls gather. The Osprey clings pridefully to its nest. The wind exhales forcefully over the waves running its fingers over the barrier beach. Looking landward, a string of clouds that look like heads of cauliflower punctuates the horizon.
Then navigating the sinuous tidal creeks; they writhe around you like watersnakes. They tease you with shallows and mudflats. The vessel stalls, pushes forward, stalls.
The Willets burst away loudly, shouting staccato, plaintive gospels to the air. The Great egrets stand mutely like stalks of marsh elder, while the Snowy egrets step about with golden toes after their frenetic prey.
Your sonorous breathing becomes more shallow and rapid. You toss, and tossing brings you forth from the deep like a fish being pulled upward by an unseen hand. The dream fades into reality and you must suffice with fractured memories. 
2 participants 10 shorebird species
LC
Canoe Expedition: A Chronology, June 10, 2017
0830: Mouth of the Salmon River; tide peaking. The canoe tracks easily over the flat, dark water. The low flood plain sprouts tussock sedge and yellow flag, a prolific garden escape. The green ash are perforated with the nest holes of tree swallows. Raspberry brambles are in full bloom.
0900: Paddling rapidly up river. Water chestnut, an insidious aquatic invasive is discovered. Its location is documented, with a follow-up trip planned to remove it.
Golden club, a species of conservation concern, their namesake flowering "cudgels" exposed by the diminishing tidal surge, gently wave next to clusters of sweet flag. When broken the succulent sword-like blades of the sweet flag emit an intense, soothing lemon scent.
0945: At the confluence of the Moodus river with the Salmon. Slowly moving upstream. The clear gravel bottom of the Moodus exposes mussel shells in dark bas-relief. Eliptios are most abundant; a Tide­water mucket is found, then a Pond mussel, with its pointed, narrow beak is collected.
The sinuous banks of the Moodus are bursting with splendid verdure, tussock sedge and spotted alder. Submerged in the crevasse of a muddy log is a musk turtle, its domed shell green with algae.
1030: Return to the opaque waters of the Salmon. Moving steadily upstream to Leesville dam. The June day becomes like a restless, sleeping dog with troubled dreams, its eyes fluttering open and closed, eyebrows twitching. A sheen of steel grey clouds; a chilling wind and sporadic, leaden rain drops. The canoeists drape their ponchos close about them.
1145: Put some muscle into it! A brief, strenuous passage through rock-strewn rapids lands the canoe at a sand bank down stream of the roaring dam. Scaled passengers queued up in the orange-tinged pool next to the fish ladder. Great blue herons perch on rocks, a towering oak, and on a concrete ice breaking platform. Osprey wheel and dive for prey. The clouds have been scissored; their shredded bodies reveal the azure blue firmament and the golden king on his throne. The grass beside the dam and the leaves of the trees all sparkle with a welcoming emerald green light.
1600: And return. Passing beneath a kingbird nest just as the parents exchanged positions on their rustic, woven labyrinth.
The wind in late afternoon blows upstream from the Connecticut river like exhalations from the throat of some water god. Our own respirations completed the eternal cycle.
Two participants; 5 mussel species; 26 bird species; plants of note: golden club, sweet flag, blue flag 
LC
Dave Titus Memorial Warbler Walk, May 6, 2017
Rough winds do shake the buds of May… Shakespeare
Gathered together beneath the spreading leaves and flowering oak and hickory trees, four participants of the warbler walk remarked on the "dark and stormy night" preceding. Nevertheless, beneath murky skies, the walk commenced down the broad and endless rail line.
Moving slowly, scanning the canopy, listening for the voices of spring, the group quickly discerned several resident avians such as the Chickadees and Titmice, as well as Red-bellied and Downy woodpeckers. But it was the neotropical specimens that all wanted to find.
Soon enough a Northern oriole's familiar undulating song came from the edge of a red oak. Neotropicals judge when it is best to begin flooding a topography in spring just when the leaves emerge and flowers of trees begin to bloom. That is when the caterpillars proliferate, making easy pickings for birds replenishing the energy spent in migration.
But what is science compared to the siren voice of the Wood thrush? Upon first hearing those mellifluous trills after a winter scoured by silence would it be possible not to go mad with the ineluctable sense of that bird's song?
The group passed a golf course whose obsessive obeisance to orderliness made Nature simply sigh with skepticism. Yet even there Tree swallows swooned and Chipping sparrows vocalized their namesake staccato rhythms.
Below the rail line lay the Connecticut river floodplain. The floodplain is so important to migrating and resident birds. Yet human society arrogantly considers this habitat as nothing more than a dumping ground. A reconnoiter here produced a masked denizen: a common yellowthroat.
Retracing their steps the group walked the pitching pathways of Highland Park above the Connecticut river. Worm-eating warblers enjoy these steep slopes and at least six individuals were counted. The incomparable voice of the Rose-breasted grosbeak made everyone pause. Robins, take note!
The early morning clouds began to dissipate and the sky at last glowed with sunshine. At trip's end a quick compilation was made: four warbler species; thirty-one species total.
An afternoon foray was decided upon by one unrequited. At the Cromwell Meadows four more warbler species were compiled as well as several additional neotropical birds; eighteen neo's were tallied for the day.
Of these fleeting bits of life one might well say: "They are such stuff as dreams are made…"
Wildflower Walk, April 22, 2017
It is the unpredictability of the season that lures one into the field in Spring. Regenerating verdure wafts an aroma that awakens the senses, giving one a feeling of hopefulness and serenity.
It was just that unpredictability that met four participants of the wildflower exploration: a chill overcast morning with showers threatening. Yet the hopefulness wasn't diminished.
As we walked along the root-studded path beneath the white pines, scanning the understory, Pine warblers competed for our attention. They flashed high up in the canopy, and their trills always gave a sense of continuity, a confirmation that all is well in Nature, if not so in the human world.
We passed by monocultures of Dog-toothed violet, most of which had already bloomed. Only the nodding, flaccid remnants of yellow blossoms remained.
Wild oats with swollen buds stood between Asters that awaited patiently for the spring and summer to pass before they came out on stage.
Walking beneath the pine canopy we anticipated and found stands of trillium busy competing with each other to see who had the loveliest flower. Many were in bud: "Just you wait another week; with a warming sun I'll out-do my companions", they seemed to sigh. False solomon seal nearby reticently folded over at the waist, their flowering a month or so into the future: "All in due time, don't rush us."
Rue-anemone, Dutchman's breeches, Blood-root and ramps (wild leeks), gathered around trees and protruded amongst the rocks of the talus slope. Only the basal leaves of the Hepatica remained evident, having blossomed earlier in the spring. Unpredictability!
A path beside the trap rock reservoir was punctuated with Spring beauty. Blue cohosh stood out darkly, its color obvious as to the origin of its moniker. Plentiful Ginger with their secretive and exquisite bell-shaped purple flowers were discovered all along a rising trail.
Climbing now, upwards towards Lamentation Mountain, sporadic moisture threatened but never reached a crescendo. Early saxifrage grew between the rocks, and plentiful Rue-anemone spread amongst the understory below hickory and oak trees.
Upon reaching the summit the Holy Grail of rarity was observed: the Yellow corydalis. So subtle, so easily overlooked! With satisfaction we proceeded to search for Pale corydalis but it was in bud stage. A subsequent trip would reward one with a view of this plant's red and yellow tubular display.
We descended Lamentation Mountain. In this, the most un-Romantic of ages, "We were there when the flowers bloomed!"
22 wild flowers species; 4 participants
Let's Go A-Ducking: March 18, 2017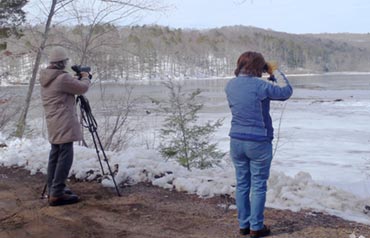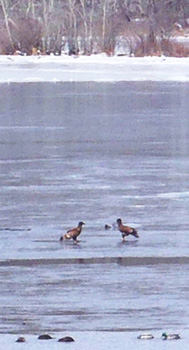 Like a wolf with frosty fangs, late winter bit into the surprised landscape. With a hardy, cold growl it chided the February Spring peepers and quacking Wood frogs for their impertinence.
Inland ponds were coated with chain mail. Open pools of water during the day became mostly silent sheets of stainless steel by morning. Nevertheless, thin ribbons of liquid did exist and gave surcease to a group of Ringneck ducks, Canada geese and Mute swans on Black Pond in Meriden.
A river speckled with ice floes: that was the dark Connecticut off of Haddam meadows. While a mature Bald eagle glided imperiously overhead, ducks and geese blithely paddled about. Wood ducks, Common and Hooded mergansers, the usual Mallards, all enjoyed a day with glazed skies and frosted shoreline. In a nearby marsh a Swamp sparrow dug at a small hole in the ice. Buona fortuna, my chilled friend!
Salmon River cove—a silver saucer with a thin ribbon of ink flowing into it—the tributary Moodus River. There Black ducks, Mergansers, Green teal, Mallards, and Wood ducks all made do and were "pleased with what they got" on the mudflats at low tide. A Bald eagle on the wing; one in the foreground in the mud; two dancing about a fish in the flats a distance off; then skimming over the water, a fifth.
All immature, proud and inscrutable, all determined to survive.
Three delighted participants. 29 species of birds, 7 duck species, 6 Bald eagles.
LC
Eagle Walk, January 7, 2017
Imminent snow kept birders away (2 participants), and abbreviated our trip, as snow soon reduced visibility so much that we could not see across the Connecticut River. Before the snow began, Machimoodus produced 18 species, including a Yellow-bellied sapsucker, Black-poll warbler, and Raven. However, no eagles were found.
PR
41st Christmas Bird Count, Dec. 18, 2016
The Salmon River Christmas Bird Count tally has not yet been officially compiled.
On and off rain, heavy fog, a skin of ice on some ponds, and warm temps depressed numbers.
The preliminary count was 72 species.
PR
Sparrow Crawl: October 8, 2016
I'm going out to clean the pasture spring...
I sha'n't be gone long...you come too.

–Robert Frost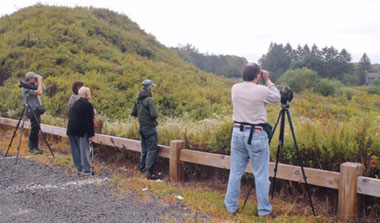 Early autumn painted the sky deep azure with white wisps of fog ascending. The trees blushed faintly like a child's flushed cheeks. But when both children and six "birders" met at the old bean field there was a dichotomy: the children at their soccer, kicking balls, unaware of the avian life interwoven amongst the mugwort and goldenrod just down slope from their play.
The sparrows clung to the forbs like the glistening drops of dew, bobbing asunder like marionettes: song, savannah, white throat and swamp, purposefully chirping, flashing highlights that were their sentient eyes, and fluttering their wings.
The group moved counterclockwise around a voluminous unkempt mound of gravel bearded with annual weeds, flushing individuals: palm warblers throbbed their golden tails and mockingbirds loudly vocalized: click-click-click.
Marching through waist high goldenrod and thickets of multiflora rose and Russian olive, the hidden birds bobbed and weaved. The ledger began to fill: yellow rump warblers, ruby-crowned kinglet, phoebe. Don't forget to look towards the firmament—a sharp shin hawk.
Sweeping through a wet depression, then over a sparsely-vegetated gravel bed, killdeer were observed. From a copse of colored maples: the chip-chip of a red-bellied woodpecker.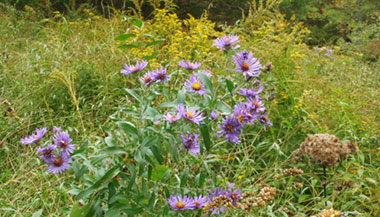 The morning yawned broadly exposing the shining teeth of the sun. Just around the curve from the bean field is the Nature Garden. The topography was lush and verdant in its autumn coat of arms. But it was also meditative in its quietude. A path followed into an open landscape with dried, blond grasses and red little bluestem to either side. A wide panorama of autumnal sky above. Quietude.
Nevertheless the Nature Garden always delivers surprises. This day had its own charm. A wooded copse: the birders stood and whispered to the wind, and suddenly a burst of activity erupted. Among a group of yellow rumps were several blackpoll warblers and a northern parula. Just beyond the sage and ancient oak, down in the underbrush, a tuxedoed black-throated blue warbler revealed itself.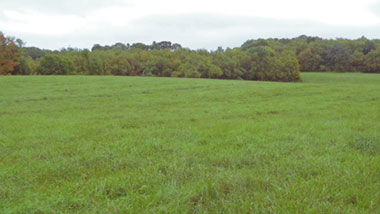 Lastly, there was a trip to Guida's hay fields and hedgerows. Sparrows were absent from the thickets, but in the distance common ravens distinctively clucked. The verdure took center stage here: the catkin-abbreviated black birch; the highbush cranberry hung with drooping clusters of red fruit; the fields of harvested grass; the land itself, the feel of it beneath one's feet. Under an open panorama turkey vultures teetered, grasped a windshear and dove in parabolas.
When the group looked to the hills distant they could see the cusp of autumn, of promised obsolescence. And when they gathered roadside the fallen yellow leaves of a black birch under foot informed them that they, too, were participants in the universal cycle of life.
6 participants; 5 sparrow species; 6 warbler species;
36 species total.
LC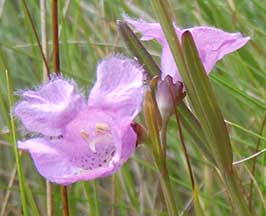 Shorebird Trip—Barn Island/Sandy Point: August 20, 2016
Little Narragansett Bay: a veneer of summer sunlight shimmering on a shifting surface of green sea. The low profile of the camouflaged canoe split the restless waves and rounded the Spartina-bristling shelves of tidal marsh. Great egrets squawked and tumbled impatiently with one another while awaiting the change of tidal flow. Cormorants on gnarled rock outcrops spread their wings to dry and Barn swallows traced parabolas above their heads.
A narrow mosquito ditch: the canoe's bow sliced forward. Gazing downward one could see that the black paste on the floor of the ditch was embedded with the pale white skeletons of generations of gastropods and bivalves.
The ditch merged with a tidal creek, Great egrets standing at attention along either side. The tide was still coming in carrying ragged bits of brown algae and a small purple Lion's mane, the jelly fish completely passive and abandoned to the will of the inevitable.
Where the Marsh elder crowded the edge of the creek, Song sparrows and a Marsh wren played hide and seek. Several Green-backed herons clucked at the intrusion and Spotted sandpipers, tails dipping frenetically, took wing as the canoe pushed forward, crowded by narrowly constricting banks. Shadows played over the flat, green plain: Ospreys wheeling down from ethereal heights.
Of a sudden, slack tide and, all in due time, not to be rushed, a reversal, and the beginning outflow of green-blue water to the sea. The canoe turned also and floated past Black gum tupelo trees with a hint of scarlet blush and a lavendar-pink Seaside gerardia flowering through the light emerald green strands of Spartina.
Out into the open bay around an island rising from the bedrock, the agitated water lifted and tossed the canoe forward and aft, port to starboard. A harrowing passage; vehement thrusts of waves; and a hurried landfall onto a barrier beach.
There the rack line thick with layers of jetsam became enlivened with the subtle movements of birds: Least sandpipers, Greater and Lesser yellowlegs, Semi-palmated and Black-bellied plovers. A pair of Oystercatchers, like tuxedo-dressed maestros in an orchestra pit tapping their podiums before a concert, calmly preened their feathers with distinctive orange bills.
The sun was fanned by a kaleidoscope of dun-colored clouds. The green sea erupted from the swash zone and foamed at the feet of the Black-back and Herring gulls restlessly gathered. And a wandering, solitary gull with a useless, drooping wing aimlessly traversed the arid, Jimson­weed studded spine of the barrier beach.
"Every day is alone itself."
—Lobotomy patient Henry Molaison
After a succession of damp tomorrows the migration will fly ahead leaving behind in silence the grains of sand, the bones and feathers of birds…
2 participants; 8 shore bird species; 18 bird species.
LC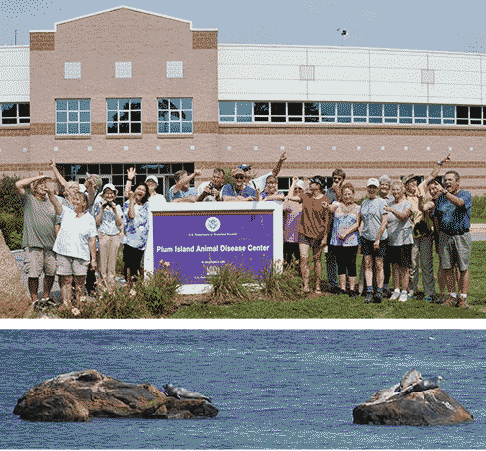 Plum Island Trip: August 23, 2016
Mattabeseck's trip to Plum Island began with a warm sunny day and ferry ride across Long Island Sound. As we arrived at the Orient Point Light, numerous cormorants and terns greeted us. On our walk from the harbor to the main administration building, we visited the grave marker for Col. Thomas Gardiner who is the only permanent resident of Plum Island. Our guide Jason Golden introduced us to the history of Plum Island first as a military installation used to protect the American coast for many years.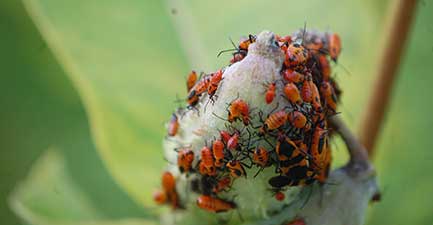 On the bus tour around the island, we visited some of the artillery installations from that period. When the Army left after World War II, the US Department of Agriculture moved into the old Army buildings and used the island for the study of agricultural diseases, particularly hoof and mouth disease. After lunch, we took a bus trip around the island where we saw osprey and egrets in the largest freshwater wetland in New York state. We also visited the spot where seals have a large haul out especially in the winter. There were three sunning themselves on rocks while about a dozen others swam around watching us. We also visited a beautiful beach where bank swallows nest, but they had already left. At the very end of the ever narrowing island, we could see the Gull Islands that are the nesting places for terns. A pair of eiders swam between the rocks in the swirling water that protects the island in many places from any boat landings. We missed the monarch butterflies that had been nectaring on a large patch of milkweed, but several seed pods were covered with the very interesting red beetles that feed on the plant. Altogether, a day filled with nature and history.
Alison Guinness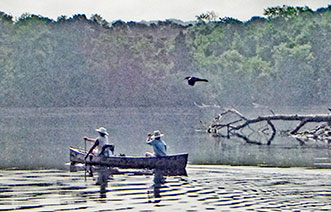 Canoe Trip—Special Focus Areas of the Silvio O. Conte National Wildlife Refuge:
June 4, 2016
After a kindly well-wisher sent the two canoeists on their way, they headed up the Connecticut river against a lowering tide. The canoe tracked well, cutting through the green water plants, Elodea and Raccoon tail, lying submerged in the shallows near the bank.
Out in the open channel, the canoe gently rocked in the swells thrown up by the passing motor craft. The paddlers were plying towards the tidal inlet between Dead Man's Swamp and a flood plain peninsula, part of the National Wildlife Refuge system. The peninsula is closed to the public to protect the Puritan tiger beetle, found only in the Connecticut river valley.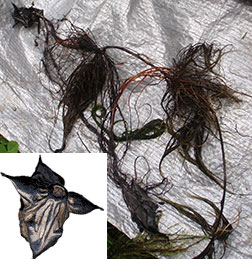 Lesser yellowlegs and Great blue herons stalked the tidal inlet. Warbling vireos sing-songed in the tall maple canopies. Observant, the canoeists spied a flaccid patch of invasive water chestnut looking like a large, deflated, lime-green balloon exposed in the mud. Unable to reach it because of the deep, gooey substrate, the canoeists had to linger until the tide reversed itself and began to refill the inlet. Then the floating mass was accessible. The pernicious invasive filled several buckets, disposed of well above the reach of the flood plain.
Around the curve of the peninsula, in the middle of the river, lay Gildersleeve Island, another special focus area of the Refuge. There was an active Bald eagle nest, with at least one chick in it, clinging to a Green ash tree disguised by thick foliage.
The canoeists glided up river to visit another special focus area, the Wangunk Meadows. They made landing on the Mattabeseck Audubon preserve, an unmarked, uncharted, untamed piece of the high flood plain. Below the high bank river morphology could be plainly seen in the form of a large elongated swale, bristling with both herbaceous growth and small trees. In the not too distant past, this swale was a tidal mud flat. The river channel, in its migration, had left the mud flat behind, and a swale developed. It was incorporated into part of the low flood plain. But don't get too comfortable! It is the river's duty to return one day and recapture what it had spawned.
Green Dragon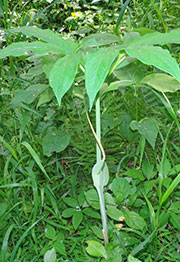 The canoe turned down river and made one final special focus visit. Disembarking on Wilcox Island, where there was another Bald eagle nest, the canoeists set out through waist high Ostrich fern and insidious Poison ivy to discover the tall, lush Green dragon plant. These flood plain denizens have intriguing yellow tongues all a-glow like golden torches. These tongues are the flowering parts of the plant. Finding the Green dragons would complete a satisfying exploration of biodiversity all within a two mile stretch of the Connecticut river.
2 participants; 26 species of birds; 3 mussel species; numerous herbaceous, understory, and canopy species.
LC
Dave Titus Memorial Warbler Walk: May 7, 2016
Scene:  Court room. Wall to wall carpets. Long bench seats facing the judge's podium. Clerk's desk to left of the judge. Prosecutor stands next to the clerk's desk.
Knock, knock! The judge taps the door leading from his chambers and enters the court room.
Bailiff:  All rise! Hear ye, hear ye, etc.
Mug-a-bugs scattered among the benches reluctantly stand.
Bailiff:  You may sit.
Low rumbling as all half sit, half collapse into the benches.
Prosecutor:  Will the defendant approach the podium?
Defendant creeps towards the judge's podium with trepidation.
Judge:  You are accused of leading a bird watching field trip. Warblers. Correct?
Defendant:  Yes, your Honor, sir.
Judge:  The weather, was it favorable?
Defendant:  No, sir, the week leading up to the trip was miserably cold and dreary.
Judge:  Are you making excuses for a lousy showing?
Defendant, cowered:  No, your Honor, but…
Judge:  Never mind. How many warblers?
Defendant:  Four, your Honor.
Judge:  That's all? Do you realize there are 56 species in North America?
Defendant:  I'm a little bit deaf in the ear, your Honor, so they might have been hiding from me…
Judge, sternly:  How many participants?
Defendant:  Five, your Honor, sir.
Judge, pontificating:  Five, that's all? Why, when these birds fly thousands of miles across hostile oceans, shopping malls and such, and then, exhausted, drop down onto the countryside, don't you think they deserve a better welcome, a little recognition? Well?
Defendant, sputtering:  But, the weather, your Honor, and the habitat…
Judge:  More excuses! No, I see by your list of bird watchers that you had some excellent people with you. So now for your sentencing.
Defendant lowers his head to his chin.
Judge, slamming his gavel onto the podium:  You are sentenced to a week-end camping with cub scouts and making bird feeders out of cardboard toilet roll tubes coated with peanut butter and sunflower seeds.
A gasp rises up from the crowd of mug-a-bugs. Chagrined, the defendant is led away by the bailiff, past a large, burly prisoner with a shaved head, a nose crooked from fighting, huge biceps covered in "Love you Mom" tattoos, and shackled head to foot in chains like sausages as thick as a man's waist. The prisoner sighs with sympathy as the defendant is led away and rolls his blood shot eyes at the severity of the sentence, thanking the stars for his own punishment – only 40 years in solitary confinement, on bread crumbs and water.
5 participants; 4 warbler species; 31 total species
LC
Wildflower Walk: April 23, 2016

First of all, there is the science of the thing: a recitation of facts, genus and species noted, weather conditions, barometric pressure and other meteorological elements. These are the necessary infrastructures, the bedrock of all that follows.
But let us go down a different, metaphysical path on our quest for the vernal experience. For how many vernal mornings do we have left in our temporal selves?
Four Botanists gathered together silently contemplated that question before descending into the basalt "rabbit hole," a la Alice in Wonderland, that was Giuffrida Park.
The convoluted roots of the great tall pines and the quick lapping of the waves on the reservoir spoke as clearly as the botanist's conversation, if one was alert and willing to listen. Above, the animated Pine warblers tisk-tisk-tisked, and like falconers the trees held out their boughs and beckoned them to perch.
The dog-tooth violets lapped the acid soil with spotted tongues; they rose up flowers in a parade of yellow parasols. The trillium thrust forward from three great green collars a crimson medallion. Treading over broken talus slopes, embraced as if by old acquaintances, the botanists knelt to the dutchman's breeches and gently smoothed their lemon yellow pantaloons. Ramps, the wild leeks of the forest, stood about in verdant circles, rising above the brown dead oak leaves that looked like orphans.
A rising path, talus slopes studded with rue anemone; then a plunge along the edges of the reservoir. The ballet began there in earnest: whirling pirouettes of spring beauty; blue cohosh; ginger with their reticent bell flowers splayed out like tutus; pink, white, and purple hepatica on pointe. Prima donnas all vying for attention.
A pair of Louisiana waterthrushes danced among the flowers. A quick pas de deux as they exchanged positions on a log. Bravo!

Climbing now, but as if on wings of anticipation, past fields of white rue anemone, suddenly a kaleidoscope of orange movement, animated petals of a different sort: red efts, the terrestrial stage of the red-spotted newt starting along the way. Watch your footfalls!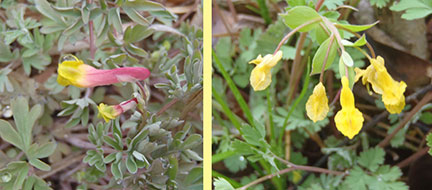 Achieving the summit of Lamentation Mountain: pale white clouds with moistened eyes looked lovingly over the landscape below while black ravens dove and cut through them like barber shears.
Cresses and early saxifrage were cradled in the rocky crevasses along the path. Then the botanists became as elevated as the mountain: pale and yellow corydalis, growing side by side!
A rainbow and a cuckoo's song
May never come together again;
May never come
This side the tomb.
            W.H. Davies
Ballet, fin; rabbit hole, exeunt.
4 participants; 23 flower and flowering tree-shrub species; 22 avian species
LC
Let's Go A-Ducking: March 19, 2016

Duck species and duck numbers were uncharacteristically sparse at Meriden's Research Parkway ponds, but we did get Mallard, Green wing teal, Black duck, Ring neck duck, and Bufflehead there. Tree swallows were already swooping over the ponds there too.
There were no coots at North Farms Reservoir this year. We were able to pick up a Common merganzer on the Connecticut River, and a Pintail near the parking area at Portland Fair Grounds. A trip to the end of the trail at Cromwell Meadows added Wood Ducks.
2 observers; 8 duck species, 30 species total
Pat Rasch
Eagle Walk: January 9, 2016
… Black-eyed Ulysses,
being an astute and eagle-hearted man,
A heavily loined, lumbering man with a bird's eye
And a bird's unrest…
Frederic Prokosch
Brown, snowless, desiccated earth; well-drained and droughty gravel, like tobacco stained teeth; withered bunch grasses gathered underneath the skeletal Black locust trees; fields of rigid, mummified stalks of goldenrod, like upright whips: that is what greeted the two observers as they climbed Mt Tom to catch a glimpse of …"the sharp, mean eyes of a bird…" Prokosch.
Winter slumbered; it breathed languorously, its half-hearted exhalations just managed to cast over Salmon river cove a glimmering, uneven shell of ice. Large sections of open water supported a white bedspread of Mute swans. The hills on either side of the cove rose up from the shoreline in grey, bristling, soldier-like formation.
From the peak of Mt. Tom, the ice-free Connecticut river could be seen, as black and sinuous as a rat snake. The oak trees stood silently, expectantly, all around the observers, occasionally groomed by a Downy or Red-headed woodpecker. Movement on the limbs of the understory trees; droplets of slate and orange color, undulating: Bluebirds.
Standing firm above the cove, searching, ever searching. What were those two avian statues standing on a flow of ice near the shore? Ah, the white heads and tails, the marked ebony profile of eagles. Their interest on the ice suddenly waning, first one then the other,
Like magical shadows dancing in the pellucid atmosphere, they took flight
And hovered, then wheeled effortlessly out of sight.
2 observers; 2 eagles noted, 25 species total
LC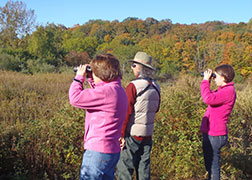 Sparrow Crawl: October 10, 2015
Although this year's Sparrow Crawl failed to produce a White-crowned, we did get four sparrow species: Song, Savannah, Swamp, and White-throat. The day was clear and sunny, about 50–55°, with evidence of heavy mast. We started in Wesleyan's "bean field" (now a soccer field, parking, and the last bit of abandoned agricultural field) for 21 species, including both Black and Turkey vultures.
Next we visited Middletown Nature Garden, where we found another 10 species, including Hermit thrush, Ruby-crowned kinglet, Pileated woodpecker, and Purple finch.
We next walked the Guida Preserve, but did not find any additional species. 4 participants, 31 species.
Pat Rasch

NOTE: for info and visual comparing Black vulture with Turkey vulture, see our Natural History page.
Owl Prowls: November 7 & 14, 2015
Two Owl Prowls were held in November. Why November? It is the furthest from the nesting season and is also not too cold. Owls can be very territorial and once they set up nests it is best not to disturb them.
So the first trip on the 7th took the western route, going first to Ravine Park in Middletown and then on to other stops heading towards Middlefield. There were 10 people tagging along. An owl showed up on the last stop. We were at the bridge over the Coginchaug River on Miller Road in Middlefield. We called for some time and were about to give up, when two Screech owls called back. One came right up to the road and was 10 to 12 feet away in a small tree about 8 feet off the ground.
The second trip had only two participants. We started at Ravine park, a favorite location. This night was much colder but we were not disappointed here as we had been the week before. As it often does, the resident screech owl came out. It flew across the road buzzing right past us, landed in a bush across the street, and continued to scream at us. We left—a short night after that surprise.

Salmon River Christmas Count, Dec. 20, 2015
Although our 40th anniversary Salmon River CBC has not been officially compiled yet, data shows 73 total species. One new bird—never tallied in 40 years on this count—showed up in two different locations, and is increasing in overall numbers throughout Connecticut. The Black Vulture was seen by two groups: Larry Nichols, Mike Good et al., and Joe Morin, Deb Goodrich, et al. Other Count notables were Green Wing Teal and Gadwall, as well as a Tundra Swan that was seen on the day before the count and again two days after on the Connecticut River near Haddam Meadows State Park.
This was a very strange count with unseasonably warm weather for most of December. Also notable were a lack of some foods such as Juniper berries and autumn olive, and the tiny size of Rose hips. We hope to post updated tally on our website and on the Cornell/Audubon CBC site.
Joe Morin
NOTE: for info and visual comparing Black vulture with Turkey vulture, see our Natural History page.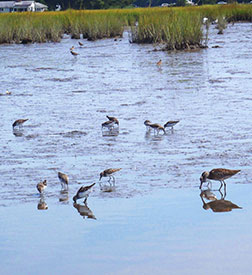 Shorebirds, August 2015
The tide fell imperceptibly, rippling past the concrete pilings of the bridge spanning the Lieutenant River; like blue-green oil it slid along the pock-marked banks of black mud where the Fiddler crabs hid in their burrows. The Spartina alterniflora, with the Phragmites looking down over its shoulders, watched impassively the timeless exchange of waters.
The canoeists prepared to embark. A fisherman, his pork pie hat askew, stepped towards the edge of the water beneath the bridge and cast out his weighted red and white styrofoam bobber. Several flicks of his wrist…no luck. Peremptorily he wheeled away in resignation. "Water too warm," he muttered.
Indeed, it had been a warm and dry summer, the likes of which New England rarely sees. Paddling into the channel the canoeists noted the Great egret squinting into the water from its perch on an exposed lump of primeval bedrock arising from the near sea level elevation. A Turkey vulture swooped side to side over the approaching railroad bridge.
"That spread of marsh over on the right was reclaimed from the death grip of the Phragmites," one of the paddlers commented. "But that was a few years ago, and now it's fully choked in again."
Around a long gentle curve, a lone immature Yellow-crowned night heron stood preening and contemplating: to have life given to it, fresh and wide open; to explore the ways of survival; the challenges of constant hunger; the freedom of living in the present.
The crabmen were just sidling into hunting position. The canoeists bade them good luck. Floating past the edges of Great Island, Great and Snowy egrets gathered together patiently awaiting the lowering tide. On a grey trunk of a wayward oak sat an immature Little blue heron, one of several spotted on the trip.
A channel into the center of Great Island beckoned. There, the brisk southwest wind was tempered and the sunlight glistened off the interior plateau of Spartina patens, saltmarsh cordgrass, short and firm. Song sparrows arose and dropped into the cover of Marsh elder. Least sandpipers fled before the bow of the canoe. Ospreys still clung familiarly to their nests and chirped in distress and disgust at the human intrusion.
Turning back to the main flow of the Blackhall river where it dispersed itself into the Sound, the canoeists encountered Willets careening across the mudflats that were gradually being uncovered by the falling tide. Then came a landing on Griswold Point.
Griswold Point hunches like an apostrophe at high tide, separated from the mainland by a stretch of shallow water. But when the tide falls there are hollows of mudflats and pebble-strewn substrate exposed, remnants of the Point that was divided and flattened by Nor' Easters. Shorebirds flock on them as people congregate in their city parks.
Walking on the coarse bronze sand salted generously with the shells of various gastropods and other invertebrates, the canoeists spotted several Piping plovers among a group of Semipalmated and Blackbellied plovers. Lesser yellowlegs danced in the receding waters of the Sound. Sunlight caromed off the wavelets whose heads were brushed by a steady wind.
Common terns, adults and immature, hunched in the wind like white razor blades with black and yellow beaks. Opposite them eight or nine Oyster catchers stalked the shallow pools for bivalves like a convention of ushers in an opera house with red noses and dressed in black tuxedos.
Returning to the canoe, the observers met up with the Nature Conservancy. Their naturalist was "folding up the tent" on the shorebird nesting sites, taking down the cautionary string fence. As she pulled stakes the naturalist described the season: after drowning spring tides the Piping plovers recovered and had a decent showing. But the Least terns had a poor, disastrous season throughout the Connecticut coast line.
Digesting this information, the canoeists made for their return. The wind was at their back, the tide had slacked and the return flow was in their favor. But subconsciously the plight of the Least terns, and indeed, the plight of great swathes of humankind troubled the mind. The thought arose: how like the empty shells along the sand are we?
10 shorebird species 2 participants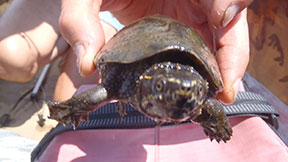 Canoe Trip Selden Island, June 6, 2015
A grey sunrise. Sky the color of sweating copper pipes. The drizzle gradually subsided leaving a pleasant atmosphere, heavy and silent.
The camouflaged canoe with its brown, shiny teak-stained gunnels slid comfortably into the water and converged with the lowering tide. Across the river, the ferry squatted with its motors idling, mechanical nostrils flared, preparing itself for the burdens upon its back and the effort demanded of its sinews.
The canoe glided past a Coast Guard channel marker buried under the nesting material of an Osprey, who chirped loudly as this foreign object skated by. The restless river heaved against the pebbled shore. Green ash formed a lime-colored phalanx above the high water mark.
The entrance to Selden Creek creates a calming influence on the tossing waters of the open river. Tussock sedge and cattail rise up from the shallow edges of the creek. A mud flat came into view. Sword-like fronds of yellow flag rose on either side of the curving channel. A small cove bulging outward from the creek was punctuated with water chestnut glistening on the surface, spreading like an insidious cancer.
Paddles thrusting the static water aside, the canoeists rounded a bend where, behind thickets of multiflora and barberry, sinuous vines of concord grape convoluted through the black birch trees. Yellow warblers repeated their "sweet, sweet, sweet" songs and flickered like golden sparks from bough to bough.
Exploring secretive inlets and fresh water tidal pools, elliptios and alewife floaters (mussels) were found embedded in mud the consistency of toothpaste. An inordinate amount of empty shells suggest winter kill-off, where the organisms were prevented from burying themselves deep enough to escape the severity of the season's frost.
Mid-day, the canoeists hovered like a leaf in one of those numerous veins branching off of the main channel. Tussock sedge bristled all around. The flow of water rose around the canoe like liquid respiration. Rushes and and pickerelweed gently waved with the incoming tide. Yellow-billed cuckoos refrained: kuc-kuc-kuc-keow-kuc! The sky emitted sunlight through the marbled clouds. An emerald sheen reflected from the foliage. Dragonflies hovered above the translucent surface of the water, and minnows schooled, exploded into disparate planes, and then reformed.
The canoeists meditated on all of this, and somehow, if only as observers, played their part on the stage of life.
LC
Dave Titus Memorial Warbler Walk, May 2, 2015
Who's that treading upon my back?
Lament of the railroad ties
After meeting at River Highlands State Park, three observers, cautiously looking and listening for the first waves of neotropical migrants to alight in the trees above their heads, stepped out onto the nearby railroad right of way. Oaks, black birch, and maple stood on one side of the tracks; scrub-shrub such as honeysuckle grew on the other.
Walk a few yards...stop and listen. Walk ahead...listen, scan the trees with binoculars. In this manner avian species began to accumulate in the note book.
Besides the usual year 'round residents (chickadees, cardinals, titmice, etc.), there were migrants: chipping sparrow, phoebe, catbird, blue gray gnatcatcher. An ungainly flyer propelled its grey outline over the horizon; a great blue heron, probably winging forth from the rookery across the river in the Wangunk Meadows.
A vireo alighted on a shrub. A brief cameo, but enough of a profile to allow a check of the field guide: Philadelphia.
Listening, listening, listening. A period of silence; the bright, welcoming May light caroming off the green leaves of the white oak trees. To think of winter frosts and a silence of a different sort!
Then the bright orange breast of an Oriole was seen. With repeated cascading calls it foraged in the crowns of trees.
It was decided to continue along the rail line until the great sand plain came into view in hopes of seeing Blue wing and Yellow warblers.
Disappointed in that endeavor, the group made a slow retreat back through River Highland Park, on the gravel bluffs above the river. Black and white warblers, Yellow rumps, Warbling vireos, and Pine warblers were discovered.
Sunlight dripped through the flowering oak trees like melted butter. The spring air warmed the nostrils. In a few days, a vigorous Southern wind and summer-like temperatures would guide the majority of neotropical birds into the area, and an illusion of timelessness would reign in Nature once more.
A side trip to observe an eagle's nest on Gildersleeve Island rewarded viewers with the sight of an adult on its towering stick abode. This nest had failed last year. But the sighting gave hope for the upcoming season.
3 participants; 40 species; 3 warbler species
L.C.
Wildflower Walk, April 18, 2015
Youth's a thing will not endure...
Shakespeare
In spite of the frosts of February and the blanketing silence of snow and ice that capped the reservoir, Spring came gently to the trap rock ridges. The sun blushed like an embarrassed debutante through the imperious white pines looking down at three botanists and a ballerina-ingenue (far removed from the times she clung to her father's arms impatiently swinging her tiny pink rubber boots!) as they maneuvered the root-gnarled footpath.
Heads craned upwards to catch a glimpse of the returning Pine warblers tripping through the shaggy boughs of the evergreens. A glance along the needle-strewn forest floor, however, made clear that the scheduling of the field trip date a trifle later than usual was still not enough to overcome Father Winter's extended visit.
A vast carpet of Dog-tooth violets crowded the dance floor, spotted green fronds touching "cheek to cheek". But none were seen flowering. The Trillium, as well, bent and nodded swollen buds, but that was all.
The four ambled on, pleased with the April ambience and absence of the usual cold wind that often blew over the still icy waters of the reservoir. The young ballerina, already able to look into her mother's eyes without lifting her head, fondled her electronics with practised teenage insouciance.
The talus slope loomed. Ah, at last the Dutchman's britches proudly displayed their yellow and white pantaloons to everyone's delight. Someone noticed the Bloodroot coyly exposing their petals behind a scalloped fan of basal leaves. Ramps, a gourmet's delectable treasure, like lime-colored tongues burst through the decayed oak leaves covering the talus rubble.
Maintenance work to facilitate water runoff towards the reservoir heavily impacted the edges of the pathway. Blue cohosh, Rue anemone, Hepatica, and Trillium struggled to greet the sun through the smothering wood chips and rubble cast upon them. Clusters of Spring beauty bravely waved their long thin leaves, yet were flowerless. The determined Round leaved Hepatica, however, proudly blossomed forth purple and white petals.
The ballerina became less taciturn and distracted when she spied frogs in the littoral shallows of the reservoir. A newt was seen hovering. This aroused her genuine interest. The child returned and momentarily defeated the tyranny of puberty.
A rising trail, difficult but rewarding; at the top stretched gatherings of undefiled Hepatica and Rue anemone. A lone Dog-tooth violet exposed its yellow, bell-shaped flower.
Though there was more potential than actual in the field and the contrast between age and youth left one tinged with a glimmer of sorrowful nostalgia, the anticipation of fulfillment conquered all.
L.C.

Let's Go a-Ducking, Mar. 14, 2015
Although the duck trip was canceled due to inclement weather and the realization that viewing spots were very limited because of the lingering winter, scouting ventures turned up some interesting specimens.
In Old Lyme, by the DEP Marine Headquarters, a boardwalk stretches beside the shore of the Connecticut River, goes under the RR bridge, and ends with a good view of the salt marshes above Great Island.
One could see rafts of Greater scaup, diving Red-breasted mergansers, Mallards, and Red-throated loons in the river just above the bridge. Overlooking the marsh, slices of open water among the thick sheets of ice harbored Hooded merganser and Pintails.
A quick jaunt over to Hatchett Point and a stroll along the arctic beach front towards Griswold Point turned up more loons, both Red-throated and Common, as well as Canada geese, Red-breasted mergs, Brant, and one optimistic Killdeer.
Back inland, the Connecticut River had opened up a bit. Ring-necks, Mallards, Common mergs, Hooded mergs, and Wood ducks were noted off of the shoreline in Cromwell.
When the ponds are released, finally, in late March or Early April, the viewing will be superb.
LC
Eagle Watch, Jan. 17, 2015
Freeze, freeze, thou bitter sky . . . Shakespeare
It was time to get down to business; the last several days my energy had lagged and I barely felt like puffing out my blue and silver lips. Hadn't you ever experienced that momentary ennui before a stern and necessary task?
So I rose from my hardened throne of absolute zero and gave forth from my idle lungs a great and numbing exhalation…needles of frost…a sobering slap to the face of the earth, leaving a crystal imprint thereon.
In the morning when the sun arose and uselessly pried itself above the horizon, I stood and was satisfied with my work. Entire rivers shone brightly like stainless steel and were just as hard. The trees swayed and cracked like gun reports. But the earth was brown and squeezed of moisture like some tawdry sponge. It needed some embellishment. I would deal with that later.
And there were the six, huddled against my breath, picking their way up a hill called Mt. Tom. One of them even had the temerity to eschew a hat, or any semblance of protection worth mentioning. I have ways of dealing with such.
They rose their binoculars to their faces occasionally and pointed to things in the trees. Then they trudged on. It seemed to me that it was not a stroll they were taking but a determined march up to Calvary.
When they had reached the top of the hill, the six gazed at Salmon Cove somewhat subdued. If one could have reached down and scooped the gilded saucer out of its declivity one could have tossed it like a discus.
But there was a tiny string of open water emanating from the Moodus River. The group spied some waterfowl, probably geese—no great gods with hoary heads and seven-foot wingspans were noted. Too bad. Was it anything I was responsible for?
I watched as the determined troopers shuffled down slope, noting what they called "woodpeckers" along the way, and came to a gathering point with picnic tables. I chuckled coldly at the thought of "picnics."
The group decided to abscond to a viewing spot beside the Moodus River. Did they appreciate how I gave freedom to that lone sliver of running water? I would deal with that later, too.
When the group arrived by the Moodus, the waterfowl came into clearer focus: Canada geese, Black duck, Common merganser, Hooded merganser, and Mallards. The birds appeared resigned to my handiwork and I would further test them.
A local landowner stopped by and conversed with the six. He showed them a video on his cell phone (that's what he called it) of immature eagles feeding on the duck carcasses he had throw on the ice. But no eagles appeared on this day of deep azure blue and white sky frost.
The party broke up then. But two decided to peruse the river by what they referred to as the Chester Ferry. I was a step ahead of them. I had scraped my fingernails along the banks of the river and spat sheets of ice all the way across to this Gillette Castle, on the opposite channel.
But then I had a moment of weakness. Although my heart is rigid, it is not without pity, and so, to the delight of the last two venturers, an eagle rose above their heads, materializing from who knows where, and pirouetted silently in the ethereal razor sharp heaven. And as quickly as it came, it disappeared.
I left them smiling, but I furrowed my silver brow. I would never again allow a lapse in my unbending task—to silence the earth with ice and snow.
6 participants; 19 species; 1 eagle.
LC
Salmon River Christmas Count, Dec. 14, 2014
Bird numbers were down, but so was the food supply in some of the previously good locations. While there was some winterberry and a few rose hips, there were few juniper berries, autumn olive, or crab apples. Water was almost 100% open, providing more opportunities for waterfowl to disperse—that kept our waterfowl numbers down.
Preliminary number: 76 species. After count week and feeders are tallied, this number may rise to 78 or 79.
A noteworthy sighting: Male Baltimore Oriole in its bright orange coloration was seen by Alison Guinness and her group of watchers.
An up-dated tally will be posted on www.audubon-mas.org, and on the Cornell/Audubon CBC site.
Joe Morin
Owl Prowls: November 1 & 15, 2014
Owl Prowls were disappointing again this year. The first trip was a rainout and canceled. The chances of finding owls in the rain is much lower than dry nights.
The second trip on Nov. 15th was another bust without the usual Screech Owls at Ravine Park or Crystal Lake Rd. We did hear an owl crying out along Lyceum Rd. in Middletown. It was thought to be a Barn Owl—they have frequented areas within a mile of that location in the past. It stayed in the treetops 100 yards or more from us, so we saw only a distant silhouette. No other owls were heard or seen that night.
Update: A group of very experienced birders equipped with night vision went out on following nights and found a Great Horned Owl with a young yearling owl nearby calling for food at the same location—very unusual as Great Horned Owls generally nest in Feb.–March and leave the nest by June–July. To have a sub-adult still begging in November is rare. It might have been a late nester or for some other reason the young was hanging on. That solved the dilemma of the unsure ID at Lyceum Rd. The trip participants and I had discussed the possibility that it could be a young owl calling for food, but I ruled that out. We do the trip in November so we don't disturb nesting or feeding owls. Guess this was a late bloomer.
It reminds me of something Dave Titus always said: "Never make definitive statements about birds." He was right again!
Joe Morin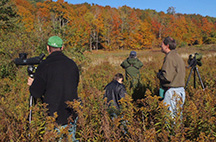 Sparrow Crawl: October 11, 2014
An October sunrise after a period of rain is like looking at the world through a stained-glass window; the primary colors- black, grey, gold, vermilion and blue each took their turn on the leaded framework of the sky until the sun blinked, dispelling all in bright yellow. There stood five participants, four adults and a boy. Two of the more serious birders compared seasonal notes—when and where and what species were seen at this time of year, the peak of fall migration. Then off to the first stop, the field of scattered goldenrod, mugwort, and milkweed that was formerly a vegetable farm.
The field had been converted to a soccer venue and a great pile of gravel loomed ominously to one side, as if the grim reaper hadn't quite finished the job of smothering the remaining bunch grasses so vital to migrant sparrows and warblers.
The rising sun teased the eyes unmercifully. The group was excited at its immediate discovery of several species of sparrows: Chipping, Song, Savannah. It was as if they had uncovered a chest in grandma's attic and had opened it with great expectations of the treasures within.
Circling the mound of gravel, calling out species to one another, suddenly the cry went out, "White crown! Immature!" A particularly satisfying denizen, the White crown; the immatures are especially challenging for any beginning birder to identify.
Meandering through the wet bunchgrasss, seed heads clinging to one's clothes, down towards a dogwood dominated wetland, Palm warblers, Song and White-throated sparrows flicked up and down in the cover as if jerked about by an unseen puppeteer.
"Swamp sparrow," someone noted.
The trail led from the swamp back up towards the roadway. A few more avians were added to the list, picked out of the azure background of the sky as they flew by. Were those Pine siskins, that frenetic, bobbing flock in flight? Not definitively; that find would come later in the trip.
A short car hop away from the field lay the Nature center with its crushed stone trails meandering past Red maple wetlands and post agricultural habitat. Yet for the most part the group was met with a kind of Zen Buddhist silence, until suddenly, a Blue-headed vireo decided to expose itself unabashedly on a honeysuckle branch. Good find! Then came a burst of White-throated sparrows near the venerable White oak. A Ruby-crowned kinglet, hurrah!
The group left the dogwood and cedar dominated Nature gardens behind and made for a final rendezvous, the Guida Farm Preserve. Primarily a complex of mowed hay fields, it also harbored wooded margins and brushy edges. They walked, idly chattering, until, descending on a pathway beneath large oaks and black birch with crowns of catkins, the cry was raised, "Pine siskins!" There was a goodly flock of them feeding diligently. But that wasn't the only surprise. A Black-throated blue warbler dangled from a branch of the oak, and a Northern parula flashed its blue and yellow neck feathers. Relief and congratulations on all sides, while the boy, nonplussed, merely twirled his antique binoculars around by the straps in some form of existential amusement.
Following downward on the path the birders passed a small pool of water and a thicket of Eastern cedar. A Nashville warbler materialized as if to add an exclamation point to the outing.
The satisfied party returned to their vehicles through the open hay fields. Gazing out to the West one could see the variegated hills putting on their autumn eye makeup and winking seductively. Too soon, that eye would become a blind, grey orb and the seasons would come full circle once again.
5 participants, 38 species, 6 sparrow species.
L.C.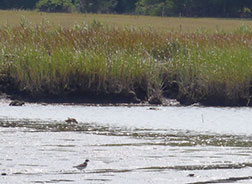 Shore Birds by Canoe and Kayak, Aug. 16, 2014
"Women, women, the tide is falling!" cried the leader of the shore bird expedition. He and two recalcitrant pilgrims were preparing to launch their vessels from the muddy edge of the Lieutenant River, and he was anxious to plunge in and follow the lowering brackish water as it flowed inexorably through the tidal marshes towards Long Island Sound. While getting her kayak into the water one of the pilgrims slipped precipitously onto her back side, the receding river having left the grassy bank extremely slick and looking like smeared chocolate pudding. No worse for wear, the sheepishly self-conscious kayaker climbed into her craft with aplomb and floated out into midstream.

The leader, meanwhile, clambered into the stern of his canoe and pushed off. "Snapper blues running?" he asked the fishermen casting bobbers underneath the Lieutenant river bridge.
"Yes," they replied. "But we'll take anything we catch."
The leader nodded. His partner in the bow of the canoe had at last settled down. The tall Phragmites loomed over their left shoulders. Between the bristling rhizomes the antideluvian Fiddler crabs rustled and hid in their muddy crevices. The group floated past a Snowy egret and an Osprey sitting in its nursery all alone, its fledglings having taken to wing. A Red tail hawk pirouetted over the adjacent bank.
Around a curve in the tidal creek a railroad bridge squatted on its stained pilings; the tide receded around them with alacrity. More fishermen appeared, this time in an aluminum boat. There was an exchange of nodding heads and encouragements of good luck.
As they followed the sinuous tidal creek the members of the expedition gazed down the length of mosquito ditches and other diverticula searching for bitterns or ducks. Then expansive mudflats appeared on either side of the creek like smears of black toothpaste. Legions of shorebirds probed the viscous sheen in search of worms: Least and Semi-palmated sandpipers; Semi-palmated plovers; Black bellied plovers; Lesser yellowlegs; Great and Snowy egrets. The imperious and bellicose Willets dashed about crying out their familiar staccato complaints.
Then a swooping Peregrine falcon tumbled out of the ethereal, late summer sky, wiping the mudflat clean of avian life, scattering them asunder in search of safety. Later, this magnificent predator would reappear like a fatalistic dream over Griswold Point, with a similarly panicked reaction on the part of the shore bird migrants.
Paddling on between granitic outcrops, the heads of turtles were seen briefly bobbing on the waters surface—Terrapins gulping air. More mudflats lie exposed; there, Short-billed dowitchers, like frenetic sewing machines, stabbed for worms and invertebrates.
Great Island appeared, lying flat and rustling in the onshore wind, its green lances of Spartina sparkling in the sunshine. Ospreys hovered and circled or sat on their platform nests crying "cheep, cheep!"
At last a landing was made on the coarse grains of sand constituting the ever evolving remnants of Griswold Point. Disembarking, the three paddlers skirted the Nature Conservancy's string barriers protecting the Least tern and Piping plover nest sites. Seaside golden rod nodded heads circled with yellow haloes. Beach grass thrust upwards sharp, sword-like fingers, and Beach pea grew in cork-screwed fashion along the sand. Within a chattering and livid grouping of Common terns several young Least terns were observed. Other Least terns continually landed and burst upwards from behind the Conservancy's string fence. Then, gratifyingly, three Piping plovers were discovered. Like animated, light-colored grains of sand, they haltingly traversed the pebbled reaches of the tide-exposed barrier beach.
On an exposed point jutting out into Long Island Sound several Oyster-catchers stood looking like tuxedoed waiters in red bibs preparing for their work shift. Ruddy turnstones busied themselves in the wavelets nearby.
The three birders in the expedition paused. They stood by the rack line gazing out over the shivering green waves of the Sound, the yellow glints of sunlight reflecting off the seaweed-laden swells. A line of blue clouds, "the chairs of the gods", lay hyphenated on the horizon. One could almost have felt immortal, but for the plethora of empty shells that crunched beneath one's feet: a reminder of the inevitable passage of life, and the ever turning tide.
Three participants; 16 shorebird species noted.
L.C.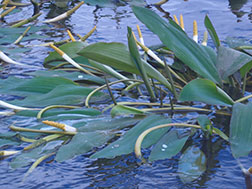 Canoe Trip, Salmon River:
May 31, 2014
Quietly slipping into the water where the Salmon converges with the Connecticut River, the pair of canoeists effortlessly pulled their way over the imperceptively rising tide like a leaf cast there by the wind. Numerous natural canals emanate off the main stem of the Salmon from the low flood plain. Pushing into one of them, the canoeists were immediately immersed in the bankside vegetation: Tussock sedge, Royal fern, Yellow flag and the less numerous Blue flag, and Arrowwood just beginning to flower. Cedar waxwings sat pertly in the dead branches of a ruined Green ash. The Red-winged black birds sang "kon-ka-reee" and flashed red-yellow shoulder patches. A Yellow warbler kissed the air with its voice. It was a timeless moment in a wild Venetian avenue. But the Salmon beckoned; there was more to see.
Approaching a bend in the river where the sedges stroked the shallows, the green-yellow Golden club emerged, spreading their long namesake flowering parts upon the waters surface with purpose and dignity. Then a monoculture of Sweet flag rose up and acquiesced to the touch; their broken fronds exuded a pungent, cleansing aroma.
Farther on, steep slopes ending in granitic outcrops punctuated the banks of the river. Between the rocks the wild azaleas grew, tempting the nostrils with their late spring perfumes.
Gliding across a wide exposure of muddy substrate a turtle scuttled away before the canoeists' inquisitive clutches. They entered the Moodus river, a small tributary of the Salmon. There the mussels and non-native clams lay clearly visible and easily retrieved: Eastern elliptios; Alewife floaters; an Eastern Pondmussel. Also found were the debris of civilization: pottery shards and a bottle.
Turning back to the main stem of the Salmon, suddenly the clouds, with knitted brows, shed cold spring droplets upon the canoe. The paddlers huddled patiently beneath the over- hanging boughs of a Hemlock. But here was another excuse to meditate: The sky did more in those days than to shade him and to house the spirits. Bits of the sky could be eaten. This was different from other foods. Rice and palm oil filled the belly. Sky fills the heart. With a scrap of cloud inside him, a person can float and dream and find again the peaceful, joyous feelings that filled him before High God left the earth.
Eastern Indian Hindu proverb
The sun returned, the canoe glided onward adjacent to grey granite slabs poking downwards to the black depths of the river. A return of shallow low flood plain; pebbled substrate, waters of even depth; then boulders rising to the surface; quickening waters; the rush of foam over the dam and a hurried pull-over; the Leesville Dam, with its interesting fish ladder, finally attained.
An al fresco lunch upon a picnic table was followed by an exploration of the dam and its ladder, designed to aid anadromous fish over the Leesville towards the free flowing riffles of the upper Salmon. Copious flows of water cascaded over the low profile of curved concrete and exposed bedrock, sounding like the steady cacophony of steam escaping from a boiler. An Osprey glided upstream and then pirouetted downward upon a hapless Bluegill.
Above the dam lay an architectural sculpture: huge blocks of concrete were spaced across the river to break up the winter ice floes before they could amass on the lawns of downstream houses built inconveniently on the flood plain. These concrete molars chewed and ground down both ice and wooded debris; as a result the teeth were in dire need of a flossing.
On the return the canoeists escaped once more into an enchanted diverticulum. Sitting quietly surrounded by Tussock sedge, Yellow flag, and Buttonbush, a diminutive, tumbling waterfall near shore lulled the senses. One felt, oddly enough, as if a dagger was being gently thrust into the breast, and one was dying both of joy and unrequited sadness.
Larry Cyrulik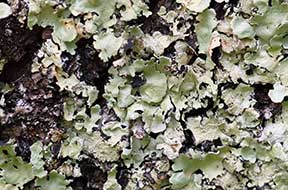 Lichens: May 24, 2014
Peter and Barbara Razca gave an interesting tandem program on lichens, what they are, their lives and their quirkiness in the world of biota. Did you know that lichens have one foot, so to speak, in the world of fungus and the other in algae or cyanobacteria (sometimes both). Each aspect of this symbiotic alliance contributes to the lichen's uniqueness. The fungal part houses the lichen and allows it to reproduce by spores, while the algal or bacterial part carries out photosynthesis to feed the organism.
Lichens are like the canary in the coal mine. They are sensitive to pollution in the air and are a good indication of clean air. Antibiotics are made from some of the 500 unique biochemical compounds produced by lichens. Some lichens make nitrogen in the air usable to plants. Lichens provide homes for spiders, mites, lice and other insects. Lichens can be used as a natural dye to color wool in spectacular shades. People and animals eat lichens, but some are poisonous, so don't experiment.
Lichens are classified into 3 groups: crustose, folliose, and fruticose. Crustose is just that – a crust covering its substrate, looking like paint. Folliose also looks like its name, like a leaf. Fruticose looks like small shrubs with tiny branches.
After the program, stations were set up around the room to look at different lichens under the microscope. Some look like colored dots, others little stalks with brightly colored tips, still others were rippled or in folds.
With all that information in mind, we departed for a foray in the Vine Street Cemetery where Juan Sanchez pointed out the great variety of lichens making their homes on the gravestones. Some were like paint covering entire stones. There was an orange variety forming splotches here and there. One stone contained British Soldiers with their tiny red caps.
For more information on lichens, check out these web sites:
www.lichen.com  ocid.nacse.org/lichenland
Alison Guinness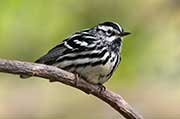 Warbler Walk: May 3, 2014
A rainbow and a cuckoo's song
May never come together again,
May never come
This side the tomb...
W.H.Davie
Where the seven bird watchers gathered, at River Highlands State Park, there was a Grey-blue gnatcatcher's nest perched on a limb of an oak tree. Necks craned, binoculars covering their faces, the group was pleasantly surprised by this auspicious beginning of the field trip. The days leading up to the expedition featured calm winds that eventually veered from the cold Northeast and trended towards a more southerly flow.
The morning was beaming sunlight, a golden palm that gently pushed the group forward along the rail line adjacent to the park. Amid idle conversation, a smattering of non-human voices were heard in the understory: Catbirds, Titmice, and Chickadees. The neotropical birds were not exactly dripping from the branches of trees as in olden times. But the first weekend in May is usually the early season for warblers. No matter, the first Pine warbler or Palm warbler sighting is always a delight.
As the birders approached a golf course, adjacent woodlands produced a Northern oriole, its flanks like slices of orange cantaloupe. Then the Southern hemisphere appeared in the guise of an exclamation point in red and black: a Scarlet tanager. Necks painfully craned towards the crowns of trees. Lips pursed and throats emitted high pitched slurring sounds. The birds appeared like feathered ghouls, then disappeared into the enfolding verdure.
Walking onwards back into the park above the Connecticut river, the Worm eating warblers, usually present, failed to arise from the slopes. But the Black and whites and the Northern Parula did not disappoint.
On returning to the gathering place over undulating gravel paths it was noted that 35 species had been seen; five were warblers.
A special side trip to the banks of the Connecticut river to observe an Eagle's nest on Gildersleeve Island left the observers perplexed. A fulsome nest that had a breeding pair of Eagles in it just several weeks earlier now sat abandoned and hollow. It would have been the first time that the nest was unused in several years. Who could speculate on the cause?
Larry Cyrulik
Wildflowers at Guiffrida Park: April 12, 2014
Oh, to be in England, now that Spring is here...
Robert Browning
And if they were in England, perhaps the five amateur botanists would have experienced a more beguiling bloom of flowers. Though the moist morning yawned and broke into a yellow smile, and though soft winds rushed through the boughs of the towering pines standing beside the still waters of the reservoir, the earth yet held remembrances of winter.
Walking over the gnarled roots of the pines, whose crowns echoed with the staccato chirping of namesake Pine warblers, exploring the cracks and crevices of wind-fallen trees and branches, the party found at best only the promise of spring flowers and not their fruition. Clusters of Dog-tooth violets lay like spotted supplicants, unready to raise their yellow petals to the sun. Nodding trillium lowered unopened buds towards the brown, pine-needle covered earth, tightly bound into green fists.
Climbing higher along the path over the rubble of a talus slope, Dutchman's breeches were discovered partially opened, their creamy white pantaloons dangling like clothes in a haberdashery. A few Bloodroot shyly blossomed, peeking out from between unfolding basal leaves.
Along a steep, highly eroded path studded with bits of broken basalt a few Rue anemone tentatively flashed white petals. The leading stars of the morning, however, were the pink, white, and lavender Hepatica. They had no fear of the winter past; their lamb's ear-shaped, bristling basal leaves spread willingly in the undergrowth, and their flowers were expressively basking in the fine April exhalation.
Though the majority of flowers held back their colors in reserve for another date, the pure sky, the trill of the returning neo-tropical Pine warblers, the sun itself, promised a fleeting season and potential life.
Larry Cyrulik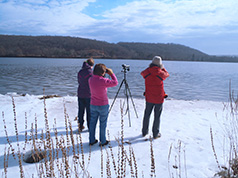 Let's Go a-Ducking:
March 15, 2014
The four gathered together at the departure point, a parking lot at Wesleyan University, looked at each other in resignation. All of the inland ponds and even the meadows surrounding the Mattabassett River were still under siege, with up to ten inches of ice covering some bodies of water. Eschewing Research Parkway in Meriden, where the ponds exhibited expectant fishermen with tip-ups rather than dabbling, diving ducks, the group headed to Haddam Meadows alongside the dark, flowing Connecticut River.
The shores were flaked with shelves of wafer crisp ice, and the slight wind wafted its cool breath over chilled, freezing water. The sympathetic sun rose out of the early morning mist, however, and shone encouragingly off the surface of the river. Common mergansers, the distinctive males looking like bits of whipped cream in a cup of dark tea, floated in the river channel. Looking up-stream towards the grey, slumbering island with its sandy flanks sliding precipitously toward its banks, Ring-neck ducks frolicked in circles.
Walking along the shores, scope and tripod slung over the shoulder, binoculars at the ready, the numbers of southern robins stalking the snow-speckled meadow were noted, as well as the Song and White-throated sparrows in the hedgerows adjacent to the river bank.
Then the first Tree swallows of the season dipped and glided over the dark river.
Stepping gingerly over crenulations of ice-encrusted, rotting- snow covered footpaths, the group surprised a pair of Wood ducks resting in a postage-stamp sized ring of open water within a bristling fortress of buttonbush. They absconded before the scope was set up that could have projected the males' intrinsic beauty closer to the eye and pleasing to the imagination.
Turning away from the swamp and walking back towards the river, the group discovered a Bald eagle perching on the opposite bank. When a pair of mallards slowly drifted off, the scope was set up on the ice shelf encrusted onto the mud of the river bank. The eagles' full glory, its white head and tail, was now fully appreciated.
We took a short trip down to the East Haddam Swing bridge. Crossing over it led to a spot on Cove Road overlooking the convergence of the Salmon and Moodus Rivers. The scope was barely set up in the rutted, muddy car park when a voice cried out, "Do you see the Tundra swan?"
There it sat among the familiar and larger Mute swans with its black bill and straight neck. This was a taste of the wilderness that was the New England landscape, pre-colonial times, when thousands of Tundra, formerly "Whistling", swans migrated along the Atlantic flyway toward their arctic breeding grounds.
Awed, but nevertheless continuing with the business at hand, further scanning revealed Black ducks and Hooded mergansers. An immature Bald eagle glided low over these waterfowl, but they were not alarmed, even when the eagle paused to alight on a nearby tree bough.
The panel of glass that was winter seemed to stand stalwart even as it exhibited hairline cracks at its edges. But the day reached a satisfying conclusion, when an afternoon walk by the river in Cromwell led one to a view of a Horned grebe, diving with impunity for prey in the dense, cold waters of the Connecticut river.
30 species total, 6 duck species
1 Tundra swan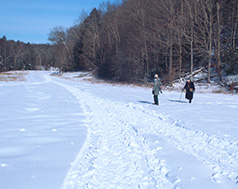 Eagle Watch—Machimoodus Park: Feb. 8, 2014
It had been a very uncompromising winter. When Father Frost spoke through glinting glacial teeth, the countryside was thickly coated in white powder. Icicles dangled dangerously from the gutters on the houses. Wisps of smoke and steam emanated from every crack and crevice of the brown-red chimneys in the city.
Bundled like polar bears, three individuals decided to explore a hillside above a cove framed by the convergence of two rivers. That one of these rivers was tidal had no bearing on the issue—the hardened ice that blanketed the cove stultified any effects of the ebb and flow of barely liquid water, bellowing for attention from below its burdensome, frigid cap.
The way was eased by the earlier passage of a snow machine. The depth of the overnight frost made walking on the snow an audibly crunching experience. The bare limbs of deciduous trees and the powdered shoulders of evergreens, the protruding skeletons of last summer's goldenrod and other forbs, the granite outcrops and spare gravel exposures, all took on the appearance of a winter motif sewn into a coverlet spread over a frozen feather bed.
When the three reached the summit and were able to view the cove, observing in the distance the trees of the flood plain separating the Salmon from the Connecticut River, an arctic silence permeated the atmosphere. Down to the left of the mountain, where a day before the Moodus River sent out a thin thread of dark open water that harbored ducks and swans, now was a solid opaque avenue, void of activity. Looking toward the sky, bright but warmthless, the three pilgrims scanned for the large dark wing spans of eagles. But nothing was flying. Nothing cried out "Ki-ree-ree!" Not even a Red tail hawk was seen, whose ubiquitous spirals are so much a part of the woodland horizons.
A treacherous downhill path over ice and snow led to a plateau in a field with benches. There, the three sat in a windless, sunny reverie, listening. Oh, the usual winter residents were self-evident: juncos, chickadees, white-breasted nuthatches, and various woodpeckers. But skyward—again disappointment.
After walking back to the cars it was decided to visit the Chester Ferry opposite Gillette's Castle. That had always been the go-to, reliable viewing spot for eagles.
The stillness of mid-morning along the Connecticut River was like a rifle-shot. One could, if he were adventurous, walk across the river where in summer, tourists gurgled over a three-minute trip to Hadlyme by ferryboat.
Scanning the hemlock-barren slopes beneath the castle, one of the three commented: "You could always pick up two or three eagles there."
But a slight, sword-bearing wind, streaming down river answered, "Nevermore."
A scope on a tripod was set up on the hardened silver shin of the river nevertheless. What was an eagle sitting in a nest turned out to be a stick pile with a white chapeau of snow. One of the three, so frightened of mistep, crawled back to shore on hands and knees. The underbelly of the river belched its delight.
The three departed, going their separate ways. On returning to the riverside in Cromwell, however, an eagle was finally spotted alighting from Wilcox Island, that hunched like a bristling mohawk hair-do in the middle of the river, sprouting from a skull that was shaved and sheen, glittering with ice.
Bird species: 17; one eagle
Larry Cyrulik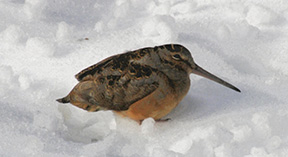 Christmas Count:
December 15, 2013
The Count total looks like it will be 78 for Count Day and 2 for Count species week, for a total of 80 Species. The crazy souls who made the annual trek had some surprising rewards—American pipits in Haddam by the Conncecticut River by Marcy Klattenburg's group, and a lingering American woodcock, beautifully photographed by Carrie Conrad and company, my group west of the river had a Wood duck, and there were sightings of Sapsuckers everywhere by many groups. So it was interesting, but not the best count in terms of overall numbers. Jim Mockalis got out on Monday and added a Count Week Species. Mary Augustiny had trouble becuase the roadways in her area were poorly plowed so although her numbers were down slightly, she did add some good birds to the total. I want to thank everyone for such a great effort on such a miserable day.

Special thanks to George Z. who picked up our only 2 Count-Day owls when he returned from the Westport count in the evening. (To be skunked on owls I fear would not have been okay with Mr. Titus, and we surely would have paid with 20 more weeks of winter.) Great Horned and Barred were added as Count Week species.

By the end of January, an updated tally should be posted on this website, and on the Cornell/Audubon CBC site.
Joe Morin
Owl Prowls November 2 & 9, 2013
Prowl #1: This year's owl prowl #1 was a great evening compared to last year. I am more confident now that the hurricane had moved and disturbed wildlife last year more than we realized, and might be the reason we were skunked with no owls on the two trips last year.

On this trip, Ravine Park produced an agitated red-phase Screech owl. (I know it was red phase because it buzzed us and flew between me and others of our group about two feet above our heads.) Then a few minutes later, it came across the road and again dived at us low. On this pass, it was talons-out and about three feet above me—a little unnerving to say the least.

Later, near Jarvis factory and Long Hill Brook, we were watching a massive 8–10-point buck, that had to weigh 250 lbs., walk through the parking lot. At that same time, a Screech owl came out of the brush on the north side of the road, and sat on the edge of a bush in plain sight, 12 feet from us and about fourfeet above the ground—grey phase.

Lastly, another Screech owl calling near the Miller Road bridge in Middlefield (not seen, only heard ) ended the evening.

Prowl #2: "Boom to Bust" is what we should have called this one. We had more mammals than owls. Two deer ran 10 feet in front of me at the end of Laurel Grove Road, and a Fisher cat, out on Freeman Road, also flirted with death. Only one Barred owl was briefly heard near the parking lot at Guida's—thanks, Marcy. It had the combination scream-hoot thing, they sometimes do—a little eerie. It called one time and quite a few people heard it, but that was it. Played the tape and stood silently patient, but no further luck. We tried Ravine Park, Long Hill Road, Lyceum Road, River Road in the Maromas section of Middletown, and Freeman Road—and nothing. Of course, this trip had more participants. I would guess we started with 15 or so, and maybe had 11 when we were near Guida's.
Joe Morin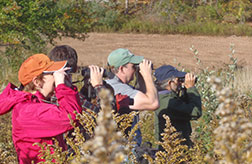 Sparrow Crawl:
October 12, 2013
A brief introduction and without further interruption, an anticipatory party of eight motor-pooled to the first stop on the Crawl, a former bean field. In this era of planned obsolescence and mercurial cyberspace there are too many "formers" and not enough "still remains". One half of the field was now reserved for soccer. But why continue to push gravel into the heart of the very productive bunch grasses that dominated where vegetables once grew? Why smother the grasses that were so vital to the diminutive birds in migration? Why begrudge these sparrows and warblers weighing no more than a 25 cent piece their daily bread?

The party nevertheless commented on the delicate October colors flushing the maples lining the entrance to the field and the morning's pleasant temperature. The harsh brown gravel was not completely unwelcome. The party counted twelve Killdeer along a wet detention swale. Sparrows were immediately flushed from the bases of the remaining expanse of goldenrod, dashing quickly from covert to covert. Savannah, Song, and White-throated sparrows were abundant, as were Palm warblers with their pulsating, ochre tails.

In a low declivity dominated by Silky dogwood Swamp sparrows alighted. The elusive White crown sparrow remained unbidden, however—even the strongest voices "pished" away to no avail. Next it was off to the nearby Nature Garden on Randolph Road. There, despite the abundance of red and purple food crops drooping from the Eastern cedars and Flowering dogwoods, all was quiet. So the party entertained each other in pleasant banter while following the crushed stone foot path. A turn or two and a large White swamp oak presented itself. Here it began to liven up a bit, with Golden and Ruby crowned kinglets, Nuthatches and Woodpeckers actively foraging. White-throated sparrows peeked out from the shriveled autumn forbes.

The final exploration site was Guida's Farm natural area. There, hedgerows and copses of cedars and ancient apple trees lining the hay fields seemed inviting spots for birding. The sun rose higher into the blue-vaulted spaces of the early autumn sky dotted with cotton balls that turned out to be clouds. Sparrows were scarce, but Palm warblers exposed themselves readily. A Raven was heard clacking overhead. Someone shouted. Looking above, we admired Black vultures, a scourge in southern climes but still a novelty here.

Standing in an expansive field of mown grass we could see the mottled north west hills woven into specks of red and yellow. The Crawl ended but it became the portal to a changing season, one that was stern and meditative.

Four species of sparrow were noted; 32 species total.
Larry Cyrulik
Shore Birding by Canoe — Aug. 17, 2013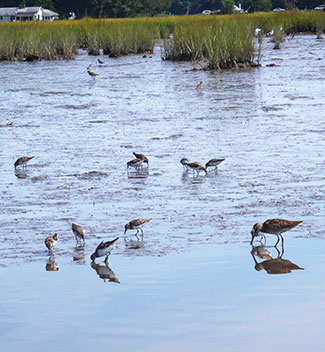 The naturalists, Patricia R. and Lawrence C., pulled their truck off shoreline Route 156 onto the knobbed gravel landing beside the highway bridge over the Lieutenant River in Old Lyme. With practiced movements, wasting little time, they silently undid the fastenings holding the canoe to the top of the truck, lifted it off with a twist of the shoulders and placed it onto the river's edge. They loaded it carefully: binoculars; a satchel filled with field guides enumerating everything from birds to butterflies, bulrushes to sea shells; a short-handled net; and devices to probe the mud or sandy shore. Deftly maneuvering around large boulders in the shallows that could grind the gell coat off of the bottom of the kevlar canoe, R. and C. quickly entered the main stem of the river's current.
The tide was lowering. Ripples formed around the highway bridge abutments showing the outward direction of flow. The paddles slurped effortlessly through the calm surface of the river that was busying itself to the sea like a stream of dark green oil. Spartina alterniflora bristled low on either bank of the river; above the spartina a monoculture of invasive Phragmites australis towered menacingly. As the water receded from the black, muddy banks of the river the dizzying maze of Phragmites rhizomes could be seen and burrowing among them were the Fiddler crabs. The males waved their over-sized claw for all to see. The crabs quickly scuttled into their holes for safety as the sleek, brown camouflaged canoe slipped by.
An Osprey nest loomed above the Phragmites. Although it was past the zenith of the summer and the nest was clear of fledglings the Osprey chirped angrily at the canoe's passing.
There were a few D.C. Cormorants lingering on the old wooden pilings by the railroad bridge. An aluminum boat holding three anxious Blue crab fishermen hovered around its anchor. Shouts of anticipation and disappointment mingled with the satisfied recovery of prized "keepers".
Paddling through the convoluted tidal marshes, R. and C. peered down into the green alleyways that were the mosquito ditches etched into the marshes at regular intervals, in hopes of seeing a ghostly apparition in the form of a Least bittern or a cautiously strutting Clapper rail. None were seen.
The canoe rounded a final curve and glided into the open waters of an embayment. The receding brackish waters had not yet revealed the extensive mudflat that later would harbor a plethora of peeps and herons. The August atmosphere was unusually light and lacked humidity. People along the rocky outcrops beside the embayment tugged at their lines.
A large and shallow expanse of water was traversed and then the curvaceous tidal creek resumed. Another mud flat lifted itself out of obscurity; several Great Egrets stalked its edges. When R. and C. got within sight of Griswold Point, the remnant of a barrier beach standing defiantly before the Sound, they paddled down a narrow passageway lined with Osprey nests, again occupied by irritable birds.
By now the mud flats lay like gooey pancakes covered with peeps: Semipalmated and Least sandpipers in large numbers; Greater and Lesser yellowlegs; Short-billed dowitchers; and Semipalmated plovers. Snowy and Great egrets towered over the other birds. Willets poked about with blunt and bluish bills.
Fishermen drifted out of the quickly thinning waters of the channel. "The gnats are murder," they explained.
The naturalists nodded in acknowledgement. When they had recorded their data, they too turned their canoe around and made for the yawning, restless open waters bobbing before the barrier beach.
The clouds bundled higher as the day warmed. There was a long line of them forming a vaporous blue and white train that hung unmoving above the Saybrook lighthouse. The white, cone shaped lighthouse perched on the grey chain of granite boulders jutting out from the mouth of the great tidal river into the Sound. The canoeists became one with the pastel canvas surrounding them like figments of an artists imagination.
Shorebirds recorded: Least sandpiper; Semipalmated sandpiper; Willet; Short-billed dowitcher; Black-bellied plover; Semipalmated plover; Greater yellowlegs; Lesser yellowlegs; Glossy Ibis; Great blue heron; Snowy egret; Great egret; Common tern.
Larry Cyrulik
May 2013, A Day in Sun:
In Search of Cerulean Warblers
On an earlier field trip in May to observe returning tropical migrants, I mentioned to Dan C. that it had been a long time since I last saw a Cerulean warbler. This was simply due to neglect; of not being at the right place at the right time. We agreed to meet sometime in June at a Nature Conservancy–Lyme Land Trust preserve where Dan had frequently encountered Cerulean warblers during the breeding season.
We met one dry and sun-blessed morning in June. We proceeded with anticipation along the well-marked trail. An open field was on our right and to the left, a hedgerow over-shadowed by a forest of oak and hickory. There we quickly met several American Redstarts. Proceeding into the heavily forested tract before us we heard a Woodthrush dreamily calling "ee-o-lay" and the Eastern Wood Pee-wee's softly mesmerizing downward whistle. Chattering Ovenbirds flitted through the under story and watched as we passed by.
As yet, no Cerulean warblers, but after a stream crossing and a steep climb to a point where two trails converged, there came a distinctive call as if the interior forest itself was whispering. We stepped excitedly off the trail to follow the sounds high in the fully fleshed out canopy where sun and shadows lingered.
The shadows suddenly moved. Craning our necks, peering upwards, we were blessed with a sighting of a bright blue and white male Cerulean warbler, his necklace of color extending beneath his chin like the pinned cape of a scholar reveling in pomp and circumstance. Gratified and spellbound we observed the warbler through the magnifying lenses of our field glasses. But then other Ceruleans appeared, male and female. They flitted ever lower until, not needing binoculars at all, we stood gaping at the birds that were eye level as they probed the foliage for worms.
We counted several Ceruleans along this stretch of the trail. Satisfied, we ventured out of the preserve, noting more Cerulean warblers along the way, for a total of seven individuals.
Yes, John Keats, a thing of beauty is a joy forever. Let the memory of this joyous June morning stand as defense against the tawdry restlessness of an anxious world.
L.C.
May 11, 2013
Machimoodus Park Trip
I was surprised when a couple of birders showed up at 7:30 am ready to do some birding on a morning when other field trips were cancelled due to rain. There were a few specific sightings which stood out. An Ovenbird popped out on a branch about 10 feet above us in the middle of the trail iving us a great look. We had an excellent view of a Blue-winged Warbler that perched on an open branch in full view for several minutes, just as the sun peeked out from behind the clouds. A Red-shouldered Hawk flew overhead while calling out keeyar keeyar keeyar!
Other notable sighings included: Barn Swallow, Yellow-throated Vireo, Black-throated Green Warbler, Baltimore Oriole, Savannah Sparrow, and Field Sparrow. We only had light rain during the trip and recorded 46 species in all including those identified by ear.
Larry Nichols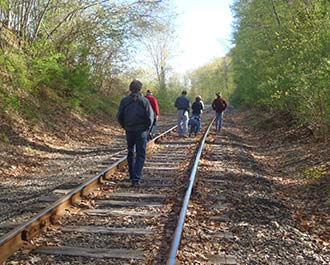 May 4, 2013:
Dave Titus Memorial Warbler Walk
While it was true that more golden rays of the early morning sun hung from the boughs of the oak trees than neo-tropical migrants, still the season was just beginning and it had been a cool spring with unfavorable eastern winds. Even so, eight experienced birders and one inquisitive child with bright expectations began their trek along the railroad right of way bordering River Highlands State Park.
The usual year 'round resident vocalizations were quickly noted: Titmouse, Mourning dove, Cardinal . . . Heads craned upwards; a White breasted nuthatch appeared. The oxidized rails stretched before the birders. The exploratory one with eyes gleaming behind the black frames of his glasses kept his interest earthward, constantly stooping and lifting some treasure up for his father's inspection. Father was patient but he had come to record warblers and . . . someone heard a Wood thrush's soothing, sylvan music. Then the repeating chatter of an Ovenbird came splitting through the woodland: teacher! teacher! teacher!
The ambling proceeded. Song sparrows materialized in the border shrubs; Catbirds also. A House wren made everyone think of 19th century courtyards and daffodils nodding along the stone walls. But they were on a railroad right of way and the courtyards and chicken coops had long ago been replaced with monotonous suburban lawns and architecture.
Around the bend by the golf course Tree swallows swooned. Was that a Rose-breasted grosbeak? Oh, yes. "On key," one of the birders, a piano tuner, noted. An anecdote followed: It seems that Boris Pasternak, Russian poet and author of Dr. Zhivago, had a promising career in musical composition. But when his idol and mentor, composer Alexander Scriabin, heard a piece that Pasternak had written, was impressed and played back a few bars that he especially enjoyed, Scriabin was off-key. Pasternak could not hide his disappointment, but Scriabin replied that neither he, nor Tchaikovsky, nor Wagner had that ability. "There are many ordinary piano tuners with perfect pitch," Scriabin had said, "but there is only one Scriabin!"
The piano tuner laughed at this story told at his expense. But the Worm-eating warblers found along the ridges of River Highlands State Park were splendidly mellifluous. Black and white warblers were also noted there. A sharp whistle, and everyone went "Ah, a Great-crested flycatcher!"
The sloping forest fell to the sandy shores of the river down below. Spontaneously, the kinetic boy urged his father to let him slide down the shifting glacial outwash soils. But no, discretion reigned over valor.
Returning to the trip's beginning and its end produced Yellow rump warblers and a Scarlet tanager. The boy was flagging, his energy not as boundless as one supposed, though his non-sequitor comments led one to believe that there was an inventor or an explorer germinating somewhere deep inside peering through the lens of his glasses.
Someone calculated the day's "catch": Five warbler species; forty-four total species.
Footnote: A side trip to the shores of the Connecticut River within the U.S. Fish and Wildlife Service Refuge enabled several participants to observe a Bald eagle nest with three healthy chicks. One hopes that June's unwelcome surfeit of rains did not subtract them from the lists of surviving fledglings.
Larry Cyrulik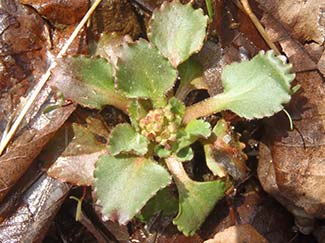 April 13, 2013
Wildflower Walk
Passing beneath White pine trees that towered overhead, following the deeply rooted path and stepping over the uneven, bulging black roots grasping at their feet, five botanists and a ballerina, who danced along the way more deftly than the rest, went exploring expectantly.
The chill breath of almost - spring blew rudely in the ears from off the pure, grey waters of the basalt reservoir. The pine boughs spoke to themselves soto voce, but then lifted their voices with the rising velocity of the wind. A Pine warbler's staccato pitch was followed by a flicker of movement. There was somnambulance down below on the blonde, needle-heaped floor of the evergreen copse. The Trillium were nodding, still asleep; the cool air kept their purple flowers wrapped in a verdant shawl. The Dog-tooth violets lifted their spotted arms from beneath the pine litter like supplicants towards the sun; their flowers, unaware of the season, lay hidden behind the green altar.
A slight incline away from the frothing waves of the reservoir led to a talus slope tumbling down hill in grey confusion. Stalwart ramps appeared between the jumble. Someone spied the fan-like basal leaves of Blood root, their tulip-shaped flowers shyly poised as if just off stage awaiting the warming cues of the sun's reluctant rays. Soft murmurs of pleasure emitted from the young ballerina; lightly tripping towards them, she formed a pas de deux with a fine grouping of Dutchman's britches. Unafraid, they bravely dangled their white pantaloons edged with yellow cuffs like clean laundry drying on the line and trembled in the wind.
A rising, rivulet-punctuated pathway with loose basalt like misshapened ball bearings came to a few Rue anemones flashing white petals confidently. Then a clump of Hepatica was discovered, unusually shy, bristling with fine hairs like an adolescent's beard. "Not yet, come back in another week" its unfolded flowers seemed to say.
A downward pitch challenging the footing of the botanists led again to the edge of the reservoir's steel grey, lucid waters. There were more sleeping Trillium; Cohosh with black arms akimbo; a few Spring beauties nestled in the dry oak leaves, their flowers pink and tentative. Ginger went undiscovered and even the Early saxifrage refused to honor the season and lay estranged and disaffected among the rocks.
However, for all the promise of spring, the botanists were grateful. The walk was fine and the ballerina made her appointed hour on the stage.
Footnote: One week later the trap rock hills were a phantasmagoria of blooming flowers. Twelve species were noted.
Larry Cyrulik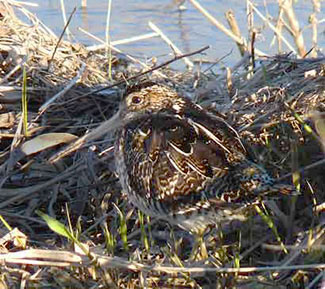 April 8, 2013
Wangunk Meadows Trip
The conditions were partly sunny, cool, and breezy. We started the trip by checking the fairgrounds area where we found Blue-winged Teal, Northern Pintail, Green-winged Teal, Mallards, Wilson's Snipe (about 20), 2 Greater Yellowlegs, and several Killdeer. We eventually walked further up along the river trail and found a few Ring-necked Ducks and some Black Ducks in another flooded area. We observed one eagle sitting on the nest that appeared to be looking down into the nest frequently. We later checked out the rookery area where there were well over 100 active Great Blue Heron nests. We also found American Wigeon and Wood Ducks in this area. The wind started to pick up as the morning went on so we ended the trip a little early.

Other species seen or heard included: Downy Woodpecker, Red-bellied Woodpecker,Black-capped Chickadee, Tufted titmouse, White-breasted Nuthatch, Eastern Phobe, American Robin, American Crow, Blue Jay, Brown-headed Cowbird, Common grackle, Red-winged Blackbird, European Starling, Tree Swallow, Mourning Dove, American Tree Sparrow, Dark-eyed Junco, Song Sparrow, White-throated Sparrow, American Goldfinch, House Finch, Belted Kingfisher, Northern Cardinal, Red-tailed Hawk, and Mute Swan.
Larry Nichols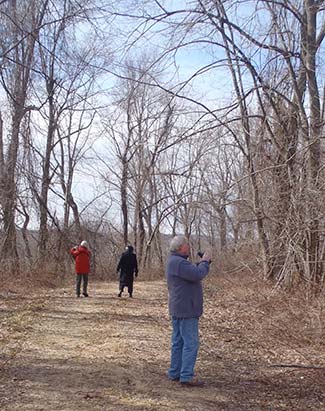 March 16, 2013
Gone A-Ducking
On a cold, sunny day of about 35°, four trip participants counted 32 bird species, including ten species of ducks. Starting with Dave Titus's original route, we began at Bishop's Ponds in Meriden, then visited North Farms Reservoir to find Coots, then to Wallingford's MacKenzie Reservoir, and then ended with a walk into Cromwell Meadows to pick up Wood Ducks.
Duck species seen: Ring Neck, Black, Green-Wing Teal, Widgeon, Gadwall, Bufflehead, Mallard, Common Merganser, Hooded Merganser, Wood Duck.
Pat Rasch
Feb. 16, 2013
Backyard Birding Trip
We managed to get our annual Backyard Birding in between snow storms. Nine folks were treated to the antics of a Carolina Wren plus all the "regulars" at Joanne's many feeders. While visiting another Thompson Hill backyard, we noted a very orange House Finch, and were told that he has been around all winter. While walking in the other direction, we were delighted to see seven Bluebirds on a utility pole.
Joanne Luppi
Feb. 9, 2013:
Eagle trip cancelled due to blizzard
December 16, 2012
Salmon River Christmas Bird Count
Mattabeseck Audubon sponsered - Salmon River CBC - Christmas Bird Count - tallied 78 species on Dec. 16th, 2012. A somewhat normal year—one new species and a few missed ones. Complete list can be found at National Audubon website. http://netapp.audubon.org/cbcobservation/
We were fortunate that the rain held off on Count day. We had 47 participants five of which were feeder watchers. Ten groups logged a total of 500 miles by car and 14 miles by foot. Five groups chased owls pre-dawn and logged an additional 37 miles and 9 hours. A Pine Warbler, a first for this count' was seen in East Haddam by Mary Augustiny et al. Details were forwarded to the CT compiler Steve Broker.
The most common comment from observers was a lack of some species in certain locations. Most often this was due to a lack of food, specifically berries. There were no rose hips at all, and junipers were devoid of fruit. This correlated with no catbirds and only a few mockingbirds. Winter finches were more numerous than in past years, but not explosively so. Lastly, some duck species were numerous while others were tough to find. Ice had not really locked up lakes and ponds as of mid-December. Unusual sightings were a Barred owl seen and a Screech owl heard in mid-afternoon. Although this does happen, it is not frequent. Barred owls have been seen commonly this winter in daylight hours.
Good Luck birding 'til next year....
Joe Morin
Owl Prowls, November 2012
There were two Owl Prowls this year, both were poorly attended. The first had two participants and myself and the second had six folks. Both trips—the first on the 10th, and the second on the 17th—had no success. A first for myself, because we always come up with at least a Screech Owl. Weather was good, although chilly. For next year, I am setting the dates now as November 2nd and 9th, so everyone who is interested please mark on your calendar now. Also, please fill out and send in my survey on the back page of this issue (or use the link on the MAS website for the online version and email back to me).
Joe Morin
The Sparrow Crawl, October 2012
That time of year when yellow leaves or few or none do hang....
Shakespeare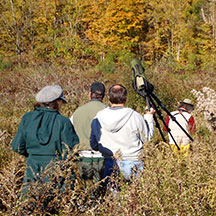 A bright sun arose in the East and greeted the landscape's first hard frost of the season. The colored copses of trees and shrubs had not yet reached the summation of their finery. There was a stillness in the atmosphere and the sky changed hues as the sun climbed higher away from the nocturnal, exhausted by its revels, to the sober and determined diurnal.
Five celebrants of the autumn avian migration stepped into a post agricultural field that was gradually being smothered by a gravel operation in preparation for the inevitable development. Still, the field bristled with bunch grasses such as goldenrod and milkweed. They sequestered flocks of constantly fluttering sparrows and warblers. The experts among the group quickly discerned six species of sparrows, the prize being the white-crowned, an immature. Numerous yellow rump and palm warblers were also noted, as well as ruby-crowned kinglets and lingering catbirds.
Adjacent to the converting bean field is the Middletown Nature Garden. There, as the sun gradually warmed the atmosphere, was a surprising breathlessness, as if the season had sucked in all the ripening features of autumn as well as the bird life and left a suspenseful vacuum. The bunch grasses, cedar, and dogwoods were at their peak. Gradually the paths led the migrant seekers to an area where Nature finally exhaled, forcefully tossing forth droplets of birds: white throated sparrows, a hermit thrush and a charming black throated green warbler.
It was decided to visit the patch work fields and hedge rows of Guida's Farm Nature Area. There, with an expansive blue sky unhindered by forest canopy, cooper's and the ubiquitous red-tail hawks hovered teasingly as if arrogantly beguiling the piteously earth bound.
Though sparrows were scarce a lone ruffed grouse, so rare, replied to someone's distracting "pishing" with a cuffing of its wings, a low and ever increasing fanning of feathers.
At the end of the morning the hills of Mount Higby, visible from the open field where the birders stood, glowed orange and red in preparation for the climax of the season and anticipated the next, and darkest, tapestry.
Larry Cyrulik
July 18, 2012
Afternoon at the Helen Carlson Bog
Six attended this trip and a neighbor joined us for a total of 7. On the way to the platform we saw a Water Snake which swam away as we made our way up the path. From the platform, we saw butterflies, dragonflies, and plenty of frogs. Not a lot of bird activity, but we did have great views of Green Herons up close and in the scope. Another nice surprise was a sighting of Spotted Sandpipers. An Eastern Wood Pewee and a Eastern Phoebe traded turns landing on a branch. Wood Ducks and Chimney Swifts were seen flying and a Great Blue Heron was parked in a tree. Other birds in the area included Belted Kingfisher and Ruby-throated Hummingbird. We also spent some time watching Red-bellied Woodpeckers and Northern Flickers at the forest edge. Overall, it was a relaxing trip and opportunity to show some people the bog platform for the first time. We noted that this would be a good place to do some stargazing as well. Total number of bird species: 24.
Larry Nichols
July 7, 2012
Machimoodus Park / Hurd Park
Five of us met at the Park at 7:30 am. We agreed to keep the trip short to avoid the heat and humidity. Highlights of species seen included nice views of Orchard Oriole, Prairie Warbler, Scarlet Tanager, Ovenbird, and Yellow-throated Vireo. At Hurd Park we were able to find a Hooded Warbler. Total species for the trip was 42.
Larry Nichols
May 12 , 2012
Meshomasic Forest, Spring migrants
Spring Migrants trip had few participants, but had a good look at Louisiana Waterthrush and Prairie Warblers—about 35 species. My truck got stuck on a state forest road, but a passerby helped push me it out.
Larry Nichols
May 6, 2012
Spring Migrants, Cromwell Meadows
Joe Friday: Can you tell us a little about the field trip to Cromwell Meadows?
Pat: An early spring morning announced itself like a golden bell ringing in the skies . . .
Friday: Just the facts Ma'am.
Pat: Please don't be so brusque, Mr. Friday, your rudeness will force me to call for the beadle!*
Friday: I AM the bloody beadle.
Pat: Oh, if you must know, 7 people saw 41 bird species, of which seven were warblers.
Friday: One warbler for each, whadya call 'em? Birders? Is that right?
Pat: Yes, and you'll never guess the bird of the day.
Friday: Ma'am, the only birds I know are stool pigeons.
Pat: The bird of the day was a Canada warbler.
Friday: Fine. Is that everything?
Pat: From all sides came the singing of birds as from a sylvan opera house . . .
Friday: That's all, Ma'am. You have a nice day.
* Beadle: Minor official whose duties include keeping order.
Larry Cyrulik
May 5, 2012
Dave Titus Memorial Warbler Walk
Gathered together in the gravel parking lot of River Highlands State Park , 10 birders looked skyward on an overcast early May morning. Where was the spring sun that can shine with such green and yellow hues upon the newly opened leaves of the oak trees? Silence… Where were those sentinels of life and continuity, the neo-tropical migrants?
We soon found out as we marched onto the railroad tracks bordering the park. As if on cue the birds appeared on stage, each playing its melodious, vibrantly colored part. No matter how jaded the expert, the first orange Oriole or black and red Rose breasted grosbeak of the season always elicits a gasp of pleasure and a feeling that the world is still worth living in. When, from the distance, the Wood thrush echoes "E-olay!", someone always conjures up Thoreau's exclamation of how the bird's voice brings one right back to their childhood.
Of the 48 species seen 11 were warblers, most notably a Magnolia. Numerous Worm-eating warblers were seen on the slopes of the park leading down to the river. However, there were no Yellow, Pine, or Prairie warblers seen. And this simply left one hungering for a subsequent field trip in order to satiate one's unquenchable appetite for discovery.
December 18, 2011
Salmon River Christmas Bird Count
Thirty-eight brave souls tallied 71 species in cold raw conditions. Some species were down, while there were also a few surprises. Birds that rely heavily on berries were hard to find and in some usual haunts they were non-existent, and so were the berries. Seed crops were, for the most part, fine and so seed-eaters like sparrows, finches, doves, etc., were found in normal numbers. It was difficult locating ducks and other water species because they were dispersed over a greater area due to the vast amount of open water.
Notable records this year were:
4 Pied Billed Grebes in 3 distinct locations
3 Chipping Sparrows
2 Common Loons
3 groups had Ring Neck Ducks
4 Turkey Vultures
2 Saw whet Owls
2 Pine Siskins spied at a feeder on Wapowaug Road in East Hampton.
Joe Morin
November 12 and November 19, 2011
Owl Prowls
I am not sure if it was the change from Friday to Saturday or the trips being held a week later than usual, or some other factor, but attendance was poor. The owls did not want to participate either—no owl at Ravine Park. Other locales did not turn up anything either, until we arrived at Laurel Brook Road, near the brook that comes from the reservoir. We had a brief encounter with a Northern Saw Whet Owl, and near Lyman Orchard, a Screech Owl was heard.
The Owl trip on November 19th had a few more people, but the owls were still being stubborn. No owls again at Ravine Park. Never, in 30 years, had this happened. A lot of the large trees in the park had come down during the snow event on the October 29th. On Lyceum Road in Middletown, we finally did have an owl come in, with persistent calling. It delighted everyone by flying 4 or 5 feet above the road. The participants who hung tough on that cold night also heard the chatter-type call of a Saw Whet owl on River Road in Maromas.
Look for these trips earlier next year and possibly one in the spring.
Joe Morin
August 20, 2011 Canoe, Kayak Trip: Shore Birds at Griswold Point
They slid their crafts silently into the tidal creek as the unseen orbiting moon slurped the green waters back into Long Island Sound. Osprey uneasily chirped at the passage of the three naturalists as they paddled past bristling banks of smooth cordgrass. They soon bottomed out in paper thin waters. Glistening mud flats on either side of their crafts harbored numerous shore birds: Lesser yellowlegs; Semipalmated sandpipers and Semi-palmated plovers; Black-bellied plovers; Snowy egrets; Great egrets. A Willet flexed its wings and bolted with a familiar staccato cry. Dunlin slept with heads folded under their wings. Least sandpipers probed the mud like nervous, twitching facial muscles.

Turning back towards a deeper channel the naturalists felt a fresh wind wafting off the Sound. The sun warmed as the morning progressed. Beaching along Griswald Point, the three strolled the rack line, noting the plentitude of mollusks and gastropods, the variety of algae and other life forms that evolved and poured into the vacuum that nature created. More Semi-palmated sandpipers; a Ruddy turnstone; the sharp, diving silhouettes of Least terns and the slower, undulating flight of Common terns; the wary, combative gulls: Herring; Laughing; Ring bill.

Walking past the cages that sheltered the nurseries of Piping plovers, Monarch butterflies were seen hovering around Seaside goldenrod. The exposed black mud of buried former salt marsh bristling with truncated spikes of Phragmites gaped in the shallow tide. Tide pools of tepid water harbored shrimp, crabs, and numerous minnows awaiting the return of the waters of the Sound. The skeletal remains of huge trees, formerly the "Plantagenets of the woods", lay buried helplessly in the sand.
Culminating the trip on the blonde, sandy fringe of Great Island, adjacent to Griswold Point, facing the Connecticut River as it kissed the Sound with the waters of four states and Canada, the naturalists absorbed wind and sun, both redeemed and resigned to the impermanence of all, and the migration of bird and soul.
Larry Cyrulik
September 17, 2011 Wangunk Meadows Trip was cancelled
because of flooding from Hurricane Irene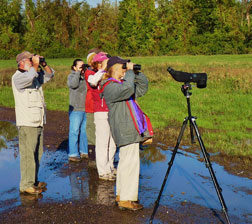 October 2, 2011 Wangunk Meadows
Seven birders met at the Portland Middle School parking lot in the pouring rain. Fortunately, the showers had ended by the time we reached our first stop at the Portland fairgrounds. Conditions were too muddy to walk deep into Wangunk Meadows so we decided to concentrate on the area around the fairgrounds and skating pond. Our day started with a sighting of four Great Egrets and a Great Blue Heron feeding at the far end of the skating pond. As we walked around the edge of the pond we found Solitary Sandpipers and a Wilson's Snipe. Behind the fairgrounds was another shorebird whose identity we were unsure of. A photo identification showed it to be a Stilt Sandpiper. There were a dozen Eastern Bluebirds that were putting on a nice show for us. There were juvenile and adult birds landing on the power lines and fence posts bordering the fairgrounds. Some were seen with mouthfuls of food. We found a Yellow-rumped Warbler and Palm Warblers in the same area. We drove to the north entrance of Wangunk Meadows where we saw a good number of Savannah and Swamp Sparrows. Other sparrows for the day included White-throated, Song and Chipping Sparrows. Some of us continued on to The Helen Carlson Sanctuary where we had a close-up view of two Green Herons. Other birds viewed there included a Wood Duck flyover Pileated Woodpecker and someone's pet Muscovy Duck. We ended the day with a brief stop at an undeveloped portion of the Airline Rail Trail where we added a Red-tailed Hawk, Red-eyed Vireo, and Common Yellowthroat to the list.

Total species for the day 38: Great Blue Heron, Great Egret, Green heron, Canada Goose, Wood Duck, Mallard, Red-tailed Hawk, Kildeer, Solitary Sandpiper, Stilt Sandpiper, Wilson's Snipe, Red-bellied Woodpecker, Downy Woodpecker, Northern Flicker, Pileated Woodpecker, Eastern Phoebe, Red-eyed vireo, Blue Jay, American Crow, Tree Swallow, Black-capped Chickadee, Tufted Titmouse, White-breasted Nuthatch, Carolina Wren, Eastern Bluebird, American Robin, Gray Catbird, European Starling, Yellow-rumped Warbler, Palm Warbler, Common yellowthroat, Chipping Sparrow, Savannah Sparrow, Song Sparrow, Swamp Sparrow, White-throated Sparrow, Northern Cardinal, Red-winged Blackbird.
Larry Nichols
April 16, 2011, Wildflower Walk
There were four of them, adults that is, and one child, precocious, preoccupied and demanding a lift rather than walking the heavily rooted path in her pink rubber boots—the father, so tall, from where the little girl could see far out onto the chill April waters of the reservoir with the mallards, geese and mergansers sailing thereon. She fidgeted while the leader of the trip in his brown felt hat pointed out the early arriving migrants, pine warblers, calling from the tops of the dense, thin-needled trees.
The first encounter with wild flowers was the nodding trilliums, swollen buds not yet in bloom. Down on the earth the father put the little girl; two steps and back up to his stalwart shoulders. Around his back she twisted, smiling, cognizant of a father's forbearance.
The thin man knelt down to examine the not yet blooming dog tooth violet. Where are the blossoms? Was the winter that severe? Finally the man adjusted his brown hat and pointed to a lush blanket of Dutch-man's breeches. Then the child clambered to the ground and Mother, with a guidebook in her hand, said "Look, look at the tiny pantaloon's."
So brief a study and then back on father's shoulders and the smile and the swinging feet. An ascent up a moist rocky slope, where Bloodroot and Hepatica were found. Ramps were interspersed between the basalt, Rue anemones unfolded and she of the swinging feet put her fingers to her lips and glanced to the side.
Descending slightly towards the waters edge, the trap rock rolling and probing the bottoms of the feet—the girl twisted and her father became momentarily exasperated: "You must learn to walk". But he shouldered her again, smiling nevertheless.
"Ginger, Spring beauty and two species of trillium, all finally in spring glory," the thin man, the angular one with the brown hat declaimed.
But it was time for the little one to turn back , to get on with the importance of her day. She waved goodbye. Years hence, somewhere in the hidden dust of time a memory might stir, if only for a moment, in the space of the few seconds it takes for a petal to fall from a flowering tree, about the time she looked at wild flowers with a man in a brown hat.
LC
May 7, 2011, David Titus Memorial Annual Warbler Walk
Dawn at last and I've made it through another evening. My perch was much better chosen; that owl never even saw me, and they're pretty good at what they do, the demons. Still, I'll take my chances with them rather than a cat any day. Those devious, over-fed charlatans, getting their masters to think how cute and innocent they are, lazing about the couch all day. Without their fishy snacks and kitty litter, they're nothing. Well, I'll tell you, I'd like to see them cross the Gulf of Mexico at night in one fell swoop. Heck, I weigh less than a twenty-five cent piece and I make the trip twice a year.
Oh, what have we here? Wait a minute, let me adjust my perch for a better look. And forgive me if I eat my breakfast in front of you, I see an inchworm on that oak leaf over there. Hmm, good. Now, there's a bunch for you. Must be ten of 'em with binoculars. The peeping Toms, craning their silly little necks trying to invade my privacy. I'm not cooperating. Go find some other suckers. You can pish, pish all you want, people, I ain't fallin' for it.
There goes a catbird…you dummy, it's just them, those what-do-you-call-its? Birders? What an insult, calling themselves that. Well, nobody ever said catbirds have brains, just look at their moniker.
Hey, Rose-breasted grosbeak, don't warble for them. I love your voice too, (although my call isn't so bad either, just more subtle) but why satisfy 'em? What did they ever do for you, except to have too many children and then strip the earth of all our hiding places?
Well, I'm uncomfortable, I have to move to another branch and...Oh, hades, that little narrow-eyed bugger with the expensive binoculars must have seen me, they've stopped and are all looking my way. No, thank goodness, its just that Oriole sitting out in full view. They're just a bunch of egotists anyway, those Orioles, with that orange and all. Hey, you want to be seen, buster? Go ahead and show off. Lucky you don't get your head blown off one of these days
All right, now they're moving down the old railroad bed, chattering like a bunch of magpies. Never figure 'em out, those people. I'll just go about my business now, the real business of life, as a tropical migrant.
10 participants; 42 species seen.
LC
May 14, 2011, Spring Migrants, Rt. 17, Portland
Four of us met at the commuter lot in Glastonbury. Our first stop-Great Pond Preserve Glastonbury. We heard plenty of birds here but had difficulty finding them. Best views here were of a Hairy Woodpecker and an Eastern Phoebe. Scarlet Tanager and Great-crested Flycatcher were heard but not seen. We spent time trying to track down a Common Yellowthroat but it wasn't long before we were chased out of the area by hungry mosquitoes.
Our next stop at the Old Marlboro Turnpike powerlines. We had better luck here with nice views of Eastern Towhee, Rose-breasted Grosbeak, and an Indigo Bunting. Blue-winged Warblers could be heard but not seen. We had excellent views of Prairie Warblers from just a few feet away.
Next we moved on to the reservoir area. We had a nice look at some Baltimore Orioles, saw Osprey flying over the area, and found a Least Flycatcher. We had several more species of warbler here including: Yellow, Common Yellowthroat, Black-throated Blue, Northern Parula, Black & White, Pine, American Redstart, and Black-throated Green. Then we saw two Canada Warblers flying back and forth across a gated path. We all had a terrific view of them! We ended the day with a quick check of the fairgrounds were we found some Least Sandpipers and Killdeer. Total species would exceed 50 if you counted everything heard or seen but the real highlight of the trip was the great views we had of the Prairie and Canada Warblers.
Larry Nichols
May 28, 2011, Breeding Birds of Wangunk Meadows
… then the two of us and the neophyte, bright with anticipation, walked to a rise in an abandoned gravel pit. Pioneer species ringed the cinnamon-colored gravel excavation and sprouted underfoot: black locust trees, multiflora rose, bittersweet, dandelions and grasses. The neophyte wore sneakers suitable for the tennis court and carried opera-sized binoculars but her enthusiasm was great. Our insouciant cataloguing of Indigo buntings quickly turned into grateful mentoring under her influence.
As we descended along the gravel path warblers blinked yellow amongst the green foliage. Where the way leveled out, standing vulnerably in the warm sun like the dark stump of a fallen tree was "Old Mrs. Mudbottom", a female Snapping turtle. She was ambling off, having just deposited her load of immortality, a dozen or so of pure white eggs. She blinked cautiously as we bid her good-morning and went on our way.
A long, shaded, sinuous and moist avenue of sand, dappled on either side with robust impatiens, touch-me-nots, led past duck-weed coated pools of flood plain habitat. Ascending, descending fluting sounds of the Warbling vireos surprised our guest who recognized Robins, that was all. So energized by the newness of everything, she discounted the mosquitoes and flies, enjoying her "tough trip through paradise".
The clucking and associated uproar emanating from over 86 nests filled with Great blue heron chicks thrilled us even before the nests came into view. Standing in a corn field, looking through the eye piece of a scope, the colony could be discerned, spread out for an eighth of a mile along a peninsula jutting into the Wangunk marsh. An uproar arose whenever an adult (swordfish who had feathers, rather than smooth skin, and flew, rather than swam) clumsily landed, flapping its wings for balance. Then it regurgitated into the mouths of clamoring progeny.
Rejuvenated by this timeless cycle of life we skirted the corn field, pointing out Yellow-throated vireos, Orioles, Yellow warblers, Catbirds and surprising Wood ducks tucked in between emergent marshland plants such as Pickerelweed and Arrow arum. Signs of beaver-chewed Spotted alder... And above, the sunny halo-fitted May sky, a saint unto itself, attended to by numerous twirling Tree swallows, as it sat on its golden throne.
3 participants, 36 species seen
LC
June 4, 2011, Canoe/Kayak Trip
A Naturalist's Log:
0900 Put in at the confluence of the Salmon and Connecticut Rivers; ebb tide.
0915 Passing exposed tidal mud flats; Arrow-head, Arrow-leaf arum, Pickerelweed glistening in the sun.
1000 Noted the long, cylindrical flowering bodies of the Golden club, a species of special concern.
1015 Observed an Osprey nest with two adults. Could not see a chick, but adult behavior denotes they are serious about the nursery.
1033 Make landing at foot of Mt. Tom—part of Machimoodus State Park, to reconnoiter. This has been designated the year of the turtle, and we were rewarded with the discovery of an Eastern Mud turtle. Identification came later—because this turtle is not indigenous to Connecticut, could not believe what we were seeing. Did not take photos—a blunder!
1100 Identified several species of mussel, easily visible in shallow water: Tidewater mucket, Eastern elliptio, Alewife floater, Eastern pond mussel, Eastern lampmussel.
1130 Pass close by Mute swans, no incident.
1230 Tide returning, passing under Route 151 bridge encounter large Striped bass, a sea-run fish feasting on other sea-run prey.
1240 At the bend of an island at the foot of Leesville dam, downstream velocity of the water increasing. Discover and identify a submerged Wood turtle. Took photos!
1248 And landing. Examine the fish ladder and peruse above-dam habitat. Many species of Dragonflies hovering above the water. Black swallowtail butterflies drinking moisture from wet sand. Northern water snake explores the grating above the fish ladder. An Osprey retires to a large Hemlock to pick at its lunch, an unlucky Pumpkinseed.
1400 After lunch, shoving off for the return to launch site. Tide still rising. Noted absence of Barn swallow nests underneath new Rt. 151 bridge.
1545 Followed inlet leading deep into flood plain marsh. Wood duck boxes, Green ash, Sedges, Yellow and Blue Flag, Common yellowthroat warblers.
1615 Pulling out. A fine early-June expedition.
LC
June 26, 2011, Maromas Area Of Middletown
Species seen: Eastern Towhee, American Robin, Downy Woodpecker, Blue-gray Gnatcatcher, Turkey Vulture, Red-tailed Hawk, Tree Swallow, Northern Flicker, Red-bellied Woodpecker, Brown-headed Cowbird, Wood Thrush, Indigo Bunting, Ruby-throated Hummingbird, White-breasted nuthatch, Common grackle, Great Blue Heron, Gray Catbird, Eastern Wood-Pewee, Greast-crested Flycatcher, Common yellowthroat, Yellow Warbler, Worm-eating Warbler, Common Raven , Belted Kingfisher, Bald Eagle, American Redstart, Black &White Warbler,Red-eyed Vireo,Yellow-throated Vireo, Red-winged Blackbird, Tufted Titmouse, Warbling Vireo, Wood Ducks, Mallard, Canada Goose, Baltimore Oriole, and Mourning Dove.
Highlights of trip included: close-up view of Worm-eating Warbler feeding on lower branches, clear views of 3 different Indigo Buntings, young American Redstarts feeding in trees at eye level, excellent view of Ruby-throated Hummingbird in scope-also performing "U" flight, and a female Wood Duck followed by 7 ducklings.
Larry Nichols
Wadworth Mansion/Wadsworth Park, Feb. 2011
We met at Wadsworth Mansion Parking lot at 8:30 am. It was a mild winter morning with temperatures in the 30's and very little wind. We first explored the grounds around the mansion which has a good number of cedar and pine trees. There were birds feeding on the ground beneath the cedars including Northern Cardinals and Dark-eyed Juncos.Perched in a tree set back in the woods was a Red-shouldered Hawk.We also found a male Yellow-bellied Sapsucker in this vicinity which showed off nice ruby-red throat coloring We ventured off onto some of the trails which lead from the Wadsworth Mansion down to Wadsworth Park.the snow on the trail was sufficiently packed so we didn't have much trouble walking on them. Along the way we noted evidence of fox and deer being in the area.The birds were quiet through the deeper part of the trails but that silence was interrupted by 3 Common Ravens which were quite vocal as they passed overhead. One of the ravens was circling above with a Red-tailed Hawk for a while, the two not seeming to mind each others presence. We ended the trip by walking near the banks of the Coginchaug River within Wadsworth Park.There were not a lot of new species to add here but they were numerous and active in this area. It looks like the Wadsworth area has the type of habitat that should make for good spring birding.
Here is our list for the day:
Blue Jay,Tufted titmouse, Black-capped Chickadee, American Crow, Blue Jay, Common Raven, Ring-billed Gull, Downy Woodpecker, Red-bellied Woodpecker, Yellow-bellied Sapsucker, Northern Cardinal, Song Sparrow, White-throated Sparrow, Dark-eyed Junco, Red-tailed hawk, and Red-shouldered Hawk.
Larry Nichols
Feeder Watch, January, 2011
On a bitter cold Sat. morning in January, 10 hardy souls trekked Thompson Hill Rd. in Portland, looking for elusive birds. The walk yielded a Goldfinch and a Yellow-bellied Sapsucker. Back at the Luppi house, the following birds were tallied: Mourning Dove, Red-bellied Woodpecker, Hairy Woodpecker, Downy Woodpecker, Blue Jay, Crow, Black-capped Chickadee, Tufted Titmouse, White-breasted Nuthatch, Mockingbird, Starling, Red-winged Blackbird, Cardinal, House Finch, Dark-eyed Junco, White-throated Sparrow, and the surprise--a fat, dark Robin, probably of the Newfoundland race, feeding on holly berries. Photographers in the group got some great shots of birds at close range, taking advantage of the many feeders. The birds' need for water when most every source is frozen was illustrated by the birds' use of the heated bird bath. A variety of seeds are offered here, as well as several suet feeders. When the temperatures are this cold, birds need the calories provided by the suet. The participants also enjoyed warming up with hot beverages and goodies. A fine winter day was had by all!
Joanne Luppi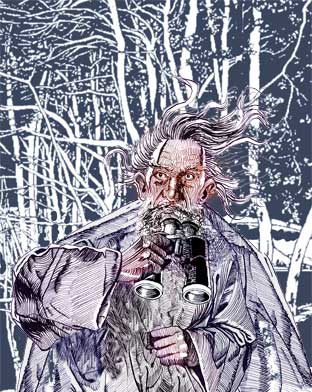 Sparrow Crawl, Nov. 2010
The Sparrow Crawl, or The Case of the Strange Obsession
A cold early December evening; an equipment truck with a large satellite antennae on its roof is parked along side a curve on Miller Road just west of the bridge spanning the Coginchaug River, its chilled water barely audible as it passes under the road. Bright, jarring camera lights dispel the darkness clinging to the trees and underbrush nearest the truck , but has left the oak and black cherry farther out in the fields looming moodily on the periphery like shadows in a Rembrandt painting. There is a camera man and a newscaster standing bundled against the cold. The newscaster has taken off his knit cap and is facing the camera. By his side, shifting nervously from one foot to the other, can only be described as some homeless fugitive: a small-framed man with long disheveled hair drifting in disorderly fashion from a small head, whose panic-stricken, narrowly-set eyes squinted uncomfortably into the camera lights. He has a torn and ragged blanket thrown over his shoulders and he continually turns and stares back into the garishly illuminated shadows of the trees and shrubs behind him. From time to time he fitfully raises a muddied pair of binoculars to his haggard face.
Newscaster (to camera man): Are we ready? O.K., one, two, three… (with "on air" composure and professionalism) And now, for the first time on camera, an in depth interview with the man everyone has been calling "Purple Haze" because of his strong, psychedelic appearance and his strange obsession.
Purple Haze (mumbling) Not an obsession.
Newscaster: Excuse me, sir, Mr. Purple Haze, if I may call you that, let me remind the viewers that you have been camping out at this spot by the side of the road since the first week of October searching for a single species of bird; a bird that every observer on one of your sparrow crawl field trips saw, except you. A bird that was a so-called neo-tropical migrant, and that has probably flown to southern Mexico several months ago. Yet in your eyes this search is not an obsession?
Purple Haze (eyes doleful and melancholy, voice low and hoarse): No, it is not an obsession. Only let me explain…
It was a fine morning. The azure sky was interwoven with filigrees of white cirrus clouds. The temperature was comfortable, climbing into the sixties. There were four birders. Our first stop was the old bean field. We passed underneath several maple trees whose leaves had begun the autumnal change and were speckled with orange and red. The field was like a lake of bristling silver, the golden rod growing there in abundance having gone to seed. The numerous sparrows began popping up and we rapidly counted them: song, white throat, savannah, and field. And then a single snipe flew out of a water retention basin dug out of the gravel-laden earth. I didn't call it first, but I saw it, and was satisfied. As we swept over the hilly field, an immature white crown sparrow appeared. Again, I was not the first to call it, but I saw it clearly.
Our next stop was the Nature Garden. The Garden is really a post agricultural pasture interspersed with Eastern red cedar, dogwood, various shrubs and herbaceous growth and punctuated by large oak trees. It was unusually quiet at first and I was worried that I was wasting everyone's time. But as we turned a corner a Black-throated green warbler danced out of the woods adjacent to the path. I felt elated because we called out the bird simultaneously. There were purple finches, also. I was a little slow there, but I SAW them.
Newscaster: Let me interrupt you for a moment. You seemed very concerned about the order in which a bird was seen, or whether you made the first discovery. Is that some kind of compulsion of yours?
Purple Haze (shifting his feet and tussling with his blanket): Of course it shouldn't matter, but I was the leader of the field trip and I felt responsible, and yes, maybe compulsive. But you have to at least SEE the bird. (muttering) You have to at least see it.
Our final stop was here on this country road. That's when "the bird" appeared. They said it was a Magnolia warbler. It was in some dogwoods, just off the road. Everyone was delighted; I didn't SEE it! I moved to the left and then I moved to the right. Something fluttered. I drew up my binoculars and pretended to see the warbler, to maintain my dignity, but I was seething and unrequited. By the end of the morning, the field trip over, we congratulated ourselves as "hail fellows, well met". We had seen 38 species, of which five were sparrows and seven were warblers. When everyone dispersed I pretended to go home, but I doubled back here and began looking for that elusive bird.
I glimpsed it almost immediately; a wing tip was showing. Hopeful, I circled a dense shrub and…it was only an oak leaf. So, I continued my vigil. I thought I exposed that Magnolia several times; it flew about when I psh, pshed it.
Newscaster: You fish, fished it?
Purple Haze (impatiently): No, no, I psh, pshed like a steam iron. That's an alarm. The bird is supposed to jump out, practically into your lap! But no such thing. I began to think the creature was teasing me a little, that in the end it would have mercy and come forward peacefully, staying put as if in a curtain call. But it continually disappointed me. I began to think that bird was one of those mean spirited kinds of individuals whose sole purpose in life was to torment me unconditionally. Nightfall began to approach, so I grabbed an old blanket from out of the car that my dog used to lie on. I found a packet of oyster crackers and a can of water and prepared to spend the damp, chilly evening camped out, awaiting the return of daylight. In the greyness of early morning I knew I'd have that Magnolia, I was certain of it. The indifferent sun slowly rose, but there was no bird. Oh, I heard a chirrup and a twit or two, but all of my pshing and baby talk had no effect. Now I knew that this was a demon and I had better consign myself to a very long siege.
I took to visiting the convenience stores at night to avoid interrupting my quest. I found an old discarded tarp along side the road and set up a make-shift tent. Every morning before dawn I would position myself in the cold shrubbery and wait…and wait…and wait. Sometimes a beak would flash, or was it a droplet of water? Sometimes a toenail would shine, or was it a bead of ice sparkling in the first light of day? I cried, I laughed, I prayed. I knew I had a demon on my hands, for if it were simply mischievous, the Magnolia would have tired of this business by now, exposed itself like a harlot in a shop window and be off on its business.
I have tried every technique known to mankind. I have camouflaged myself with sticks and draped moss over my ears. I have crawled, rushed forward, and climbed trees. One whole day I feigned indifference, whistling at my fingernails and pretending to decamp. I felt that the bird would come forward then, as if to say, "All right, I'm here after all, aren't you relieved?" But again, to no avail. No, my search is not an obsession, it is a quest, a holy one, forged in the crucible of suffering and hope for redemption…
Newscaster (to audience): Well, there you have it, folks, the driven, compulsive man known as Purple Haze, explaining in his own peculiar style, the reason for his unending search for a…phantom.
Camera man (who throughout the interview had been hermetically sealed to his equipment, putting it aside with a strange smile, whispers): Hey, mister, I think I see the BIRD.
Purple Haze (like a wild boar suddenly awaking from a dose of a biologist's tranquilizer) What? Where? Tell me where immediately or I'll… (he dances in a frenzied circle).
Newscaster (to camera man): What the…? Sam, are you nuts or something? Turn off those lights! Pack that camera! Let's get out of here, now! Oh, god…oh, my god!
Larry Cyrulik
Two Very Successful Owl Prowls, Nov. 5 & 12, 2010
The first owl field trip (Nov. 5th) had our usual Screech owl at Ravine Park. There have been owls there for each and every field trip since the 1980s and prior. And, why not! This is perfect habitat for the 8" owl with its 20"–30" wing span­­—two steeply-wooded mature hillsides with a creek running at the base. An owl dream location, even with the nearby hustle and bustle of the Wesleyan University campus. That night some folks also heard a Saw Whet call ever so briefly as they often do at this time of year. It called with its typical toot toot toot whistle about 6 or 7 times and went silent. That was all that was seen or heard, but the owl at ravine park was very odd because its top half was a reddish phase coloration while the bottom half was grey. Unusual, but according to Julio De Latorre not rare and it occurs more often than we realize.
On the Nov 12th trip, we took a different route through South Farms and then Maromas. We heard a Screech Owl at Lyceum Road near the brook, and saw another screech owl about 15' above us at Hubbard Pond on Bear Hill Road in Maromas. The best was yet to come, as on the last stop I called a Saw Whet out of the woods. He not only tooted, but screamed and screeched and made bat-like sounds that I have never heard before. Most unusual, and I am still trying to locate a recording with these newly-heard calls. Sadly, there were only 5 individuals left by that hour of the cold evening. If I find the calls mentioned I will provide a link from MAS website.
Joe Morin
Wangunk Meadows, Sept. 26, 2010
Four of us spent the morning birding in the unusually dry and dusty Wangunk Meadows. We started the morning by pointing the scope to the top of a leafless tree where we saw a colorful pair of Eastern Bluebirds. Shortly after, 11 Great Egrets flew over.
A total of 5 sparrows were recorded on the trip: Song, Lincoln, White-throated, Swamp and Savannah. The Savannah gave us the best view of the sparrows we encountered. It was perched in a bare tree at a height of about 15 feet and it stayed put while we took turns viewing it through the scope. There was also an Osprey perched out in the open next to the river. It was a young Osprey which showed a lot of feather detail as the sun reflected off of it at just the right angle. A Norther Harrier was seen soaring across the field. Other raptors included Red-tailed Hawk and Red-shouldered Hawk (heard). The only warblers were Yellow-rumped and Common Yellowthroat. There were a lot of Northern Flickers around as well as downy and Red-bellied Woodpeckers.
Overall, the birds were a little shy so we had to work for them recording a total of 30 species but the few nice sightings that we had made the morning worthwhile.
Larry Nichols
Eagles at Machimoodus Park: Feb. 6, 2010
Gently mounded slopes of glacial outwash, stratified drift, till, and bedrock outcrops of granitic schist and gneiss formed along the easter border fault; wooly-adelgid-infested eastern hemlock, mixed hardwoods of oak, beech, and hickory; disturbed areas with tree of heaven and hillocks covered with browned bunch grass; man-made depressions, some dry, some with pools of reflective water, a cold northeast wind, blizzards to the south.
Some bundled, others too lightly dressed, eight observers climbed a gentle rising dirt path and cheerily exchanged viewpoints. The winter residents made their appearance: golden-crowned kinglets, tit-mouse, chickadee, red belly woodpeckers and nuthatch, robins and juncos, crows and bluebirds. A promontory, and a silver silence down below where the convergence of three rivers formed a bowl-shaped cove. An opening in the channel to the left with a spray of white mute swans punctuated with the dark backs of black ducks, like poppies on white cake frosting. And then, like some winged Samsons set free from the binding columns of a Babylonian edifice, bald eagles on the horizon. And the cold wind along the cheeks and the napes of necks of the observers lessened or seemed to lessen; the conquerors of the world, now conquered with awe of a seven-foot wingspan.
Dryly noted in the bird log book: 16 species of birds: 3 Bald eagles, some just overhead at tree top height, all immature.
Larry Cyrulik
Sightings at 205 Thompson Hill Road
The early fall found Northern Cardinals bringing their somewhat mottled-looking young to the sunflower seed feeders. The Red-bellied Woodpeckers seemed to have trouble enticing their young to the feeders--the adult male flew repeatedly from feeder to a nearby branch to give the juvenile a seed. Finally, the young one got the idea, after at least 8 tries. At that stage of its growth, the "baby" was as big as the parent, but had not yet acquired the red on the head.
On Nov. 26 and again on Dec. 1, we were treated to the sight of a flock of Cedar Waxwings feeding on the berries on the dogwood trees and on the red cedar trees. These are two trees that provide wonderful winter food for birds. The eastern red cedar, in particular, offers both food and shelter to winter birds.
During the first week of Dec., a male Sharp-shinned Hawk checked out the back yard several times. The local Blue Jays gave their warning calls and the feeder birds immediately scattered.
Don't forget to call for a spot on the Jan. 23 Backyard Birding morning. We hope to see some of the above and many more!
Joanne Luppi
Christmas Count Held on Dec. 27, 2009
Because of the massive storm predicted (and received in some areas) on Dec. 20, the 35th Annual Salmon River Christmas Bird Count was postponed until Dec. 27. Stalwarts were out on the 27th, in spite of steady light rain, and mud just everywhere. Fog from warm rain hitting frozen ground reduced visibility to maybe 100 yards. The fog, rain, and mist did not lift until about noon-time, therefore, the morning yielded few birds, and our numbers, especially species numbers, were way down. Ducks were in short supply because ponds and lakes were frozen solid, with a coating of rainwater on top. Hawks, also, were not present because the weather had reduced the availability of prey.
The tally was held at the Cypress Restaurant as planned. Preliminary count at the tables was 58 species, however, several lists were yet to arrive, so the species count should rise somewhat when all captains receive and report all of the lists.
In this first preliminary count, Great-Horned Owl was missing—the first time we have not had this species in the history of the count.
Data from final tally: 19 observers logged 91 hours and 331 miles: (42°-54° 13 hours and 26 miles by foot, 78 hours 305 miles by car, 9 feeder hours, 5 night hours and 23 miles.
Count Day began in dense fog and mist, and became cloudy. Although it was above freezing, most still waters were completely frozen over, and moving waters were partly open.
Final species count: 58. Count Summary
Sparrow Crawl: October 10, 2009
I had just sat down at the bar of the Cypress Restaurant and ordered a glass of beer. Looking around me I noticed a man sitting alone nearby. He alternately glanced disinterestedly at the television or stared at his folded hands. He was slim, bearded with long hair; serious-looking or perhaps tired. Then, from the kitchen, John, the Cypress cook (he told me once he liked "cook" and not the more pretentious "chef") came sliding over purposefully and sat down next to the "serious one". I overheard the following:
"So, how's Mr. Larry doing tonight," John asked genuinely. He adjusted his glasses with a forefinger and passed another finger over his mustache. A shot glass in front of John was filled with cold Tequila. "Now, dear, don't go away", he commanded after he quickly imbibed the glass. Another was quickly poured.
"Surviving, just surviving," Mr. Larry characteristically replied to John's inquiry.
"That's good, aren't we all?" John chuckled slushily from the back of his throat.
"I led a field trip today," Mr. Larry went on, warming to John's even companionship.
"Yeah, and what did you see? Dear, I'll have another, when you get a chance."
While his glass was refilled a sardonic grin passed involuntarily over my lips .
Mr. Larry began: "Well, it was one of those early fall mornings; blue marbled sky, maples colored orange and yellow, dew on the lawns and fields. Four of us set off to the old pepper fields that are half-filled with gravel now, but in the corner the field is flush with goldenrod. Good cover for sparrows. We called out five species: Song, Savannah, White-throated, Chipping and Swamp."
"Good, good," John replied approvingly. But I had the impression that he didn't know figs about birds or anything else outside of the kitchen. "I went out for a few minutes today myself to have me a smoke; it was a pretty day out there, sure was."
"Over in the Nature Gardens we got four species of warbler: Palm, Yellow-rumped, Common Yellow-throat, and everyone but me saw a Black-throated Blue."
"Oh, well," John commiserated, stuttering just a bit. "I…I know what you feel. When everybody else gets something and you don't get it…"
"Then we went out to Miller's Road. We pulled a single Marsh wren out of a clump of cattails. Someone spied a Black-throated green warbler in a burst of yellow-rumps and chickadees flying through the trees. I never saw that one either. But I did spot an immature White-crowned sparrow along the hedgerow by the cornfield, and a Kestrel soaring off over the swamp maples. Those Kestrels are becoming all too rare."
"Un, huh," John said. His attention span seemed to be winding down as his eyes drifted over the bar room.
"Altogether, we counted forty-three species," Mr. Larry finished.
"That's good, that's good," John congratulated Mr. Larry, patting him on the shoulder as he stood up, gazing around the room. "Well-l," he drawled. "It's time I had me a smoke."
He shuffled outside with a quick and deliberate gait. Mr. Larry went back to his former repose, staring at his hands or at the television, and I returned to my own business.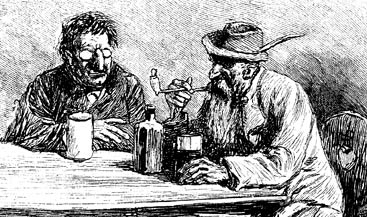 L.C.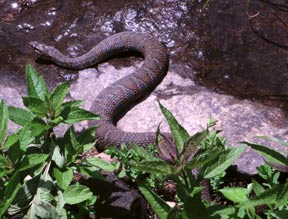 Canoe, Kayak Excursion: Salmon River: 6/6/09
An early morning gathering; yawns, smiles, anticipation; a warming sun spreading like butter through clouds; rays of light separating the clouds that hung suspended like soft cotton linens recently laundered and hung to dry; a brief relay to the launch site; a gravel clearing in a flood plain; brown puddles pushed aside deliberately by the tires of vehicles anxious to be unloaded; embarking and a quick exercise to determine the effectiveness of the strokes; an introduction to the flood plain, its tidal effect evident in the species of emergent vegetation, fulsome and pliable, capable of hours of exposure and a similar tenure of submersion: Arrow arum, Sagittaria, Tussock sedge, Pickerel weed. Higher up on the mudflats, Yellow flag, a garden escape, but also interspersed were native Blue flag, speckled smudges of violet painted among the verdure of the near-shore. Passage over the round, flat leaves of the Yellow-lily; the sighting, with satisfaction, of the green-yellow spikes of the Golden club, an emergent water plant of special concern to botanists; the surprise to those initiates of the fragrant Sweet flag with its distinctive, rippling sword-shaped fronds thrusting from the water in thick green swaths.
Gliding up river with the rising tide, that insinuated itself into secretive channels and woodland streams murmuring downward from steep hemlock-strewn uplands punctuated by massive outcrops of granitic gneiss and schist marbled with quartz—sea water transformed by the pressure and heat of plate tectonics; white mute swans stoically declining an offer of bread; a Red-tailed hawk swooping from bank to bank; cottages appearing, huddled like multi-colored dominoes or in isolation, surrounded by terraces planted with Hollyhocks and red Bee-balm; a narrow passage over sandy shallow stream beds; the quickening waters and frothing riffles of near-dam habitat and then a landing below the fish ladder; sandwiches, fruits and granola bars; laughter, camaraderie, and then a dreamless nap, while the gossamer clouds galloped over the verdant hill and blinded the eyes when touching the sun; a shiner caught by stealth examined and then set free; a return: the tide slackens, holds its breath, and then exhales; the sky a benign panorama caressing water and hill; the sentient beings in their blue, yellow, and brown vessels, floating like bits of origami, amazed and made cognizant: there on a blue and silver disk tumbling silently in a black, light-studded universe, they were not alone.
Larry Cyrulik
Breeding Birds of Wangunk Meadows: 5/23/09
A heron squatting, waiting for a fish:
a minnow swimming in undulating silence,
was soon to be interred
down the gullet of the bird
A chance encounter led the group to the discovery not of breeding birds but of a species of special concern nonetheless: an immature hog nose snake lying underneath some cardboard trash. How this rattlesnake imitator did lunge and strike! Had one persisted, the brown diamond-patterned reptile would simply have lain on its back, white belly exposed, and feigned death, much like an opossum does when threatened.
Proceeding into an abandoned gravel pit, a blue cobalt hyphen in a black locust tree trilled: tweet, tweet, tweet, sit-sit-sit-tweet! The voice of an Indigo bunting. At the base of the gravel pit we observed a female Snapping turtle lumbering back to its moist hole somewhere in the maple swamp, having just deposited a clutch of eggs.
Descending along a sandy path into the depths of the flood plain, we heard the ascending, descending notes of Warbling vireos, the kurr-ree of Red-winged blackbirds, and chattering Common yellow throats. Suddenly, frenetic clucking came washing over all other sounds. To the amazement of the novices, it was explained that the sound was the noisome begging for food of the dozens of Great blue heron chicks.
The path, wide enough for a tractor to pass, opened up into a corn field above which Tree swallow glided and swooned. A scope was quickly placed on its tripod and to the wonderment of the pilgrims, a concentrated view of some of the 140 nests was brought close to the eye. Adults were observed feeding their young, an average of two, and as many as four to a nest. Fly by day, fly by night, some squawking, some clucking, an estimated 300 birds in the rookery participating in the rites of spring…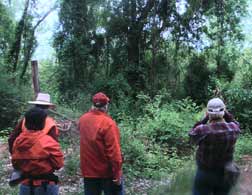 Dave Titus Memorial Warbler Walk: 5/16/09
Fog and moisture clung to the tops of the oak trees the morning of the May Warbler Walk. The eight participants who gathered with anticipation in the parking lot of River Highlands State Park introduced themselves to one another and then began to slowly stalk along a railroad right of way. Walk-stop-proceed was the order of the march, all ears cocked to either side of the rail line, eyes scanning the canopies of wild cherry trees or looking down towards honeysuckle and barberry bushes. The sightings or songs of migrants began to accelerate. Rose-breasted grosbeak, Northern oriole, Oven-bird, Catbird, Towhee, all came in quick succession. And then charmingly, a hummingbird was found perching on a dead branch out in the open. Such a small and perfect expression of life! And then, another hummingbird was seen, also perching, as if to commemorate the spring, to let all and sundry notice them and become inculcated with their miniature beauty. Wood ducks flew by; a Great crested flycatcher clucked, heard but unseen from an oak treetop. House wren, Carolina wren, a Common yellowthroat were counted, yet the total number of warblers was slim: three. Not even a yellow warbler was heard. But the rail line divulged an uncommon sight: two box turtles nestled against the iron track, a bright orange male in his youthful prime and an older female whose plastron was quite scuffed up, revealing its traveling history.
On the return through the River Highlands, Worm-eating warblers were seen down slope towards the river, their preferred nesting area.
Finally, a side trip to the river flood plain gave the remaining "satyrs of spring" a close-up view of the Bald eagle nest on Gildersleeve Island with an adult and chick in evidence. Bristling vegetation made it a challenge to view the nest, but once discovered, reminded all that spring was proceeding and life continues, like an inexorable current that mankind might try to divert but never succeed in extinguishing.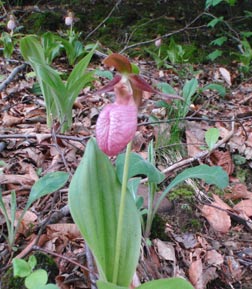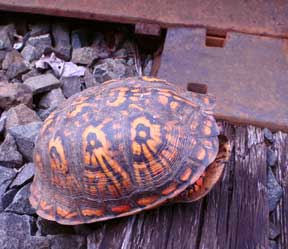 Wild Flowers of Early Spring: 4/18/09
Walking beneath a grove of White pine whose arms rested in bristling akimbo, we sought out not flowers but the trills of the Pine warbler, one of the first neo-tropical migrant bird species of spring. Once satisfied with the sight of these canopy-hugging, olive-green harbingers of a new and hopeful season, we directed our gaze downward towards the pine needle and cone covered forest floor. There were the Trillium nodding their crimson heads in modest obeisance. Wild oats, not yet flowering, were interspersed throughout the terrain. Then the speckled basal leaves of the Trout lily were noted; like the yawning mouths of circus clowns their clusters of yellow blossoms opened towards the earth. Walking uphill past the still waters of a trap rock reservoir we were led into a talus slope thick with the drooping pantaloons of Dutchman's breeches. Bloodroot unfolded its swan-like leaves and a white flower emerged, its petals radiating gracefully. Someone pointed out the dark, voluptuous green leaves of the Wild leek, or "ramp", an edible delicacy. Climbing higher, the talus slope offered Hepatica, Spring beauty and Rue anemone. Then a downward trek along crumbled basalt led to a virtual treasure of Blue cohosh, and more Hepatica, Trillium and Trout lily. Wood anemone flourished. Columbine, shy and not ready to flower, grew upwards between the rocks. When the reclusive, bell-shaped flowers of the Ginger plant were exposed, all hummed with satisfaction. A total of 24 species of wildflowers were counted on a bright and azure morning.
A subsequent trip to the top of Lamentation mountain revealed Pale and Yellow corydalis, Early saxifrage and the Orange falcate butterfly that danced around its host plant, Lyre-leaved rock cress.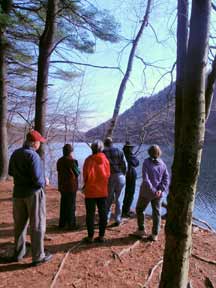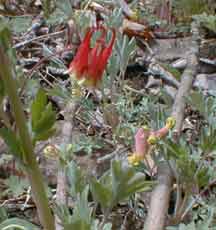 Echo Farm Eagle Trip, Feb. 2009

February 7, 2009, from MAS Conservation Chair, Larry Cyrulik
That February evening while the stars glistened like shed tears and winter held dominion over all, the temperature fell and ice thickened further on Salmon River Cove. Morning arrived, however, with a bright and promising yellow sunrise that rubbed the frost out of the treetops. Six participants in a quest for eagles gathered convivially for a trek to the promontory above the cove from where they hoped to see those soaring inspirations with their impressive wingspans.
They walked uphill over snow crunching like cornstarch, commenting on the natural history of glacial-influenced topography, on botany and on the changing face of Connecticut's woodlands, due to insidious invasives.
Song Sparrows and Juncos were noted on the path as well as several species of woodpeckers. At the promontory, the group was treated to the tap-tapping of a Yellow-bellied Sapsucker. The frozen cove, looking like a grey bedsheet, was a view of quiet deception, for it was soon noted that a Bald eagle was perched in a large oak tree near the shore above the ice. And then the deer carcass was spied, surrounded by several crows but also by four immature eagles, each taking a turn at the bones of the unfortunate one. Some squabbling occurred. It was a majestic snapshot of nature and all were thrilled.
Bluebirds were seen on the return downward along the path in an open field with bunch grass-covered mounds of gravel. For several members of the group, this was equally as inspiring as the sight of the eagles. Eleven species of birds were seen.
The sun rose towards its zenith. Two young lovers cavorted and took pictures in the snow, and the more staid and world-weary merely sighed with satisfaction that the morning had gone well.
Salmon River Christmas Count, Dec. 2008
Preliminary results from the after-count gathering at the Cypress Restaurant: 73 species seen—not our lowest count total, but a ways off from our highest total. Seems like the better the weather, the lower the species count. Check back for more details to come.
Swallow Cruise

From MAS President, Alison Guinness
What an incredible night for the swallow cruise last fall. After some very bad weather the day before, the storm cleared out for an evening of utter calm on the Connecticut River. We cruised up river to Selden Island for a view of our only Bald eagle that perched in its regular spot in a large conifer south of the Deep River marina. Captain Mark said all the Osprey had gone south, but a few minutes later, one came into view heading south as if it had missed the exit of its fellow Osprey. Not long after, the folks at the back of the boat got a good look at a Gyrfalcon. There were also several Great egrets, a few Great blue herons, some Double-crested cormorants, and oh the swallows!
The swallows began flying in before we arrived at Goose Island. They were everywhere, all around the boat, on the surface of the water, in the air above us, like we'd never seen before. They poured in and formed huge clouds that swooped up and down into and out of the Phragmites over and over, funneling together into dark masses and then spreading out in a haze of dots. Captain Mark estimated that they would end their aerial dance about 7:14. He was off by only 40 seconds, but there was one large cloud high in the air that just wasn't ready to end their evening flight. As the sky darkened, they flew higher to the point where they were nearly impossible to find. Part of the cloud funneled in, but one group still lingered. We couldn't stop watching until the last of them flew in, and with a cheer we headed back to the dock, marveling at what we had just witnessed.
Since this cruise was so phenomenal and not easily repeated, we are taking a break and will not be cruising in 2009.
Annual David Titus Sparrow Crawl, Oct. 2008

From MAS member Larry Cyrulik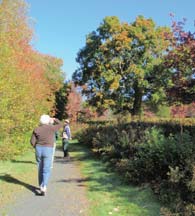 That October morning four somnambulists (for sleep walkers they were, awakened to a dream state of scarlet and auburn hues and an atmosphere like that of etched glass) exhilarated with anticipation, struck out to find those elusive Freudian-like dreams personified – sparrows in the field. Stepping forth from an edging of maple and black birch trees into what had formerly been a bean and pepper truck farm the group discerned the choking filling of gravel that, like a brown and immutable tsunami, flowed over land that once was productive with green and ruby-colored vegetables. Yet waves of goldenrod, grey with seed, foamed and sparkled in the early morning dew of autumn like a spray of glistening sea-foam. Like elusive dreams that one tries to recover after awakening, the sparrows danced among the bunch grass. Up...down...up...down; the birds almost ricocheted from bush to bush, until finally sitting up, there was a Song sparrow; then another, and another, ad infinitum. Oh, that must have been a White throat; so difficult to see. Why must we imagine that which is right before our eyes? The Mourning doves gathered in the withered branches of a black locust tree seemed to mock us. But then in a wet thicket, more cooperatively, were a Swamp sparrow; a Yellow-rump warbler; and woodpeckers: Downy, Red-bellied and Flicker. Was that a Ruby-crowned kinglet? Yes.
Across from the former bean and pepper fields, in the Middletown gardens, quiet murmurings of more Song and White throated sparrows. Yet not the surprises or frenetic activity one expected. It remained for the open fields along side Miller road in Middlefield to reward the subconscious.
Several Palm warblers enlivened the drab branches of the red-osier dogwood with their yellow jackets and thumping tails. Despite the positioning of NO TRESPASSING signs (as if to say, "You can't dream here!") White crowned sparrows were seen, mature and juvenile alike, along the prickly thicket punctu­ating the rows of chopped corn stalks. Field sparrows also appeared, as if condescendingly. Returning along the road someone looked skyward … a Black vulture careened in a circle as if trying to avoid a sharp, flat cloud. An automobile ripped by, its preoccupied driver nothing but a blur like grease on a pane of glass, and the enchantment fell like a curtain. The crawl was over.
Flutes, Feathers and Fine Art, Sept. 2008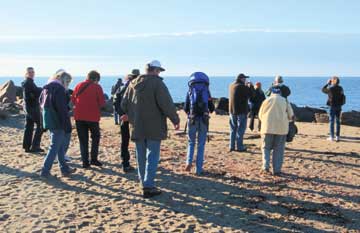 The almost October of blood-red and muted purples; shards of light, yellow like panes of broken stained glass; vanilla-colored tents, their flanks flaccid in the still morning atmosphere; the purposeful movements of the workmen grappling with tables, cloths and centerpieces; the notes of a flute pensively emanating towards the azure sky marbled with globe-shaped clouds seemingly gathered to listen; and the twelve human beings who stood in anticipation before the great estuary, Long Island Sound, a green and mobile deity, surprised at themselves and self-conscious, it seemed, the young and old alike, as they prepared for their discovery of near shore evolution.
At the rack line, the crunch underfoot of infinite numbers of gastropod shells; the ascent of a glacial moraine; and then a burst of Blue jays gathering to migrate, their namesake blue and white tuxedos brilliant in the pellucid October air; a secretive Winter wren briefly showed itself out of the bayberry bush; Yellow-rump warblers, immature, delved into the brisling embrace of the Eastern red cedar; gulls: Black-back, Ring bill, Herring flocked along the shore; then a Killdeer, almost invisible on the edge of the salt marsh; someone found a necklace of Channel whelk eggs, another fingered a black, pointed egg case of a Skate; an Osprey soared and underneath it the teetering flight of Northern harrier, the hawk intent on finding marsh rodents. Song sparrows rose and fell into the protective Rosa rogosa. The path led past monolithic boulders. Looking out over the sea, groups of Cormorants sped low over the green, curling waves while a flock of Sanderlings sped at an angle towards a distant sand bar. A Black-bellied plover stood statuesquely along a spit of pebbled shore; grey marsh silt clung to its feet.
The people saw these things and what they felt was visible in their faces, transformed in appearance from the dull masks put forth as they went about their daily chores into one of vivid animation. Then they hurried to the tents and their exhibitions. And the October day matured and sighed, and the sun followed its immutable path over the horizon, taking all inexorably with it.
Larry Cyrulik
First Annual CT Water Trails Day, June 2008

From MAS President Alison Guinness
Eleven boats set out from Harbor Park on a beautiful morning to paddle up the Mattabesset River for the first annual CT Water Trails Day on June 14. After leaving the highway behind, the river was tranquil and peaceful with only a few other paddlers and fishermen. The water had finally gone down from the long freshet to reveal banks covered in ferns and good old poison ivy. There was also evidence of beaver activity with two lodges and some cut trees, but none allowed themselves to be viewed on this warm morning. There were several sightings of Baltimore orioles. Unfortunately, there was Eurasian watermilfoil, an escaped aquarium plant that is considered invasive, in the open part of the marsh. Many thanks to Megan Hearne from the CT River Watershed Council for doing most of the work to organize this trip.
Pecausett Pond Canoe Trip, May 31, 2008

From MAS member Larry Cyrulik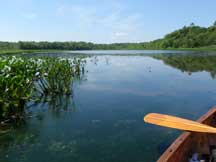 On a glistening late spring morning we stood on the soft, gritty banks of the Connecticut River with anticipation. There were five special focus areas of the Silvio O. Conte u.s. fish and Wildlife Refuge within a mile up- or down-river of us. Our canoe patiently lay at our feet, brown and lithesome. We decided to go downstream towards Pecausett Pond, a special fresh-water tidal marsh.
The canoe tracked well against the rising tide. The tape grass undulated beneath the surface of the water. We made a brief visit to Wilcox Island, a special focus area, to investigate Arisema dracontium, the Green Dragon plant. Endemic to flood plains wherever the habitat hasn't been too disturbed, we sought it out among the poison ivy and ostrich fern, and there it was, a population just beginning to stick out its yellow adder's tongue, coated with pollen.
Continuing, we drifted past urban monoliths: petroleum tank farms; a curvaceous suspension bridge, a gaunt and rusty railroad swing truss. Slipping quietly past recreational boaters and remnants of tidal vegetation, we finally entered the sandy, out-fall stream leading to Pecausett Pond.
Gothic silver maples arched over the water that flowed upstream with the rising tide. The banks were steep and smooth as if colored with brown Crayola crayons. Soon the great fans of ostrich fern monocultures appeared on either bank. A beaver lodge came into view. The green shadows separated and the bright yellow atmosphere surrounding Pecausett Pond came to the forefront. Pollen-filled tidal water flowed busily around the bristling tips of pickerel weed.
Arrow arum folded large succulent leaves at their sides; arrowhead weaved along the banks and flashed bright yellow-green, characteristically-shaped foliage. A Great blue heron arose squawking angrily, while an osprey's lethal shadow glided over unsuspecting fish. Immune to fish hawk claws because of their bulk and size, carp puckered their rigid lips and blew bubbles into the mud.
The dragonflies and damselflies danced their frenetic zigzag ballet over floating shields, smartweed, and yellow lilies. Beneath these the invasive milfoil bred prolifically, gluttonous feathery denizens of turbidity.
Shadows crossed the dark green waters; turkey vultures pirouetted above the tree tops; and sunlight spread over the surface of Pecausett Pond illuminating the minds of naturalists eager to learn about this tidal corner of the earth.
Portland Reservoir Field Trip, May 17, 2008

From MAS contributor Larry Nichols
Two birders met me at the Brownstone Intermediate School parking lot at 6:30am. It was a sunny day with temperatures that reached the 70's. The three of us started out with a quick stop at the Portland Fairgrounds where we saw a Solitary Sandpiper and Barn Swallows among other species. We then proceeded to Portland Reservoir where we saw a number of interesting species including: Green Heron, Purple Finch, Broad-winged Hawk, Veery, Baltimore Oriole, indigo Bunting, Eastern Kingbird, Belted kingfisher, and Scarlet tanager. We walked through the main part of the reservoir but also on the trails that lead around the opposite side of it. We had great views of several warbler species including: an Ovenbird perched on a low branch, Magnolia Warbler, Yellow Warbler, American Redstart, Common Yellowthroat, and Pine Warblers. Other warblers included Northern Parula, Black-throated Green (heard) and Louisiana Waterthrush (heard). We concluded our trip with a stop at the power line crossing on Old Marlborough Turnpike. Hear we heard a Blue-winged Warbler but never got a good look at one. The Chestnut-sided Warblers with their 'please, please, pleased to meet you' calls were taunting us for some time. We finally got a look at them. They really seemed to stay low to the ground hiding in cover. Prairie Warblers were easier to spot as they perched on the tops of fairly short cedar trees. Our last big surprise came when we were looking in some bushes across the road. We had a splendid view of a Canada Warbler which was facing us with the sun reflecting off its breast and showing off its black necklace. Total species: 59
Annual David Titus Warbler Walk, May 3, 2008

From MAS contributor Larry Nichols
On a cool and overcast morning, six participants gathered for a sacred rite of spring: the walk along Field Road in search of neo-tropical migrants. Sharp eyes and hearing are requisite tools for neo-tropical bird watching. In spite of these skills evident in members of the party, only two warblers were identified, the arrival of the main body of migrants still a week or so away. Nevertheless, six neo-tropicals were spotted and also an interesting look at wood ducks, male and female, sitting high up in an oak tree.
On a side trip to the edge of the Connecticut River, opposite Gildersleeve Island, the party was able to see a Bald Eagle sitting on its nest. This nest has produced fledglings for two successive years.
Thirty-six birds total were counted, and who is not thrilled by the song of the first wood thrush, or first Rose-breasted Grosbeak of the season?
Wildflower Walk at Giuffrida Park, April 2008

From MAS member Pat Rasch
The timing was right on this year's trip—nearly every possible species was in bloom, (although too early for Pale Corydalis or Columbine). Notable sights were the quantity of Red Trilliums in bloom, and all 3 colors of Round-Leaved Hepatica (Pink, Lavender, and Blue), plus Yellow Corydalis just beginning to bloom. In full blossom were Spring Beauty, Dutchman's Britches, Wood Anemone, Trout Lily, Wild Ginger, Rue Anemone, Blue Cohosh, Early Saxifrage, Pussytoes, Spicebush, Bloodroot.
A Northern Waterthrush was heard in the same location as on most of our past flower trips. Pine warblers were singing in the pines along the reservoir. Orange-tip falcate butterflies were abundant on the high ridge.
Eagle Trip at Echo Farm, Feb. 2008

From MAS member Pat Rasch
(Machimoodus Park) Feb. 2, 2008.
Nine participants gathered together in the gravel parking lot of Machimoodus Park on a clear, sunny, and tolerably seasonable morning. Bluebirds, Juncos, Song and white-throated sparrows immediately made themselves known. As the party walked up hill along a logging road both native and invasive plants and trees were identified. Tree of Heaven were particularly dense in disturbed areas. Soon after reaching the promontory over looking Salmon River cove, two immature Bald eagles hovered low over the tree tops and fanned out at eye level before the awed group of birders. Three other eagles were also seen. A good selection of woodpeckers were present; Downy, Red-Belly, and Flicker. White-Breasted Nuthatch, and the elusive Brown Creeper made an appearance. Also notable were a squawking Raven, a cooperative Hermit Thrush, and a Mockingbird. Twenty-eight species were counted.
Birders look out over Salmon River.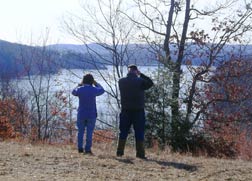 Salmon River Christmas Count, Dec. 2007

Notables mentioned at the Christmas Count soirée at the Cypress Restaurant: Pine warbler seen and photographed (below) by Clay Taylor; large numbers of robins, waxwings, and blackbirds; ducks were scarce but most still water was completely frozen; and all of the woodpeckers on our Count list were found, including one Red-Headed woodpecker (seen by the swamp off of Chestnut Hill Road, and near Route 16 in East Hampton).
October 13: A group of five birders was treated to a good selection of sparrows: song, field, savannah, swamp, white-throated, chipping, and mature and immature white-crowned. White-crowned sparrows were seen in greater numbers than on any past sparrow crawl. Also very numerous were Purple finches, especially in the Middletown Nature Garden on Randolph Road. Only one Yellow-rumped warbler was seen. 34 species were recorded, including a good selection of raptors, with Black vultures seen over the field near Lyman orchards, as well as a Peregrine falcon that flew over the Middletown Nature Garden. (Thanks Dave!)
Annual Swallow Cruise, Sept. 2007
Sept. 15th started out with pouring rain but by afternoon, the sun was shining brightly, but the front brought in a good breeze. The river was a little choppy as we set out, but there were some birds to be seen as we headed for the calmer waters of Hamburg Cove. As we entered the cove, an adult Bald Eagle crested the ridgeline for a great view of its white head and tail glistening in the sunlight. It hung around to be seen again heading out of the cove. We had some great close-up viewing of Double-crested Cormorants. There was also a Red-tailed hawk whose bright colors were emphasized by the good light. A Kingfisher followed us around the cove, and a couple Great Blue Herons were bookends on exiting the cove. We also saw Great egrets and some plovers.
As we made our way down the river to see the eagle's nest on Nott Island, Captain Mark explained that this pair of Bald eagles had nested there successfully for 13 years, rebuilding their nest a few years ago when it fell out of the tree. This year, however, their nest was a victim of predators and the nestlings were found dead, one on the ground under the nest and one in the nest. There was a loud sigh from all on board.
We arrived for the swallows a little early. A few could be seen around the phragmites, and a few groups came in behind the boat as we waited, watching a gorgeous sunset. Suddenly, there was a huge flock almost the whole length of Goose Island. As we continued to watch, they came closer to us and to each other like a cloud of mosquitoes. As they bunched closer together, they began their descent into the phragmites. While they dove rapidly, there were so many that it took quite a while, and part of the group hesitated and swarmed a while longer and finally made its decision to go to bed and dove into the island for a good night's sleep.
May 5: Seven individuals sought out tradition and neo-tropical avians when they gathered together in the parking lot of River Highland State Park in Cromwell. Proceeding along the railroad tracks lying adjacent to Field Road, bird watchers and naturalists reminded each other that as raw novices they once followed mentor David Titus down the same railroad right-of-ways. Warblers included: yellow rump, ovenbird, worm-eating, black and white, pine, prairie, and yellow. Species total was 44.
A special side trip, also a Titus specialty, took participants to the flood plain forest across from Gildersleeve Island where they were treated to the sight of a Bald Eagle in its nest tending to its progeny. Brown Thrashers in the shrubs were a pleasant gift. All thanked Dave for showing the way.
May 26: A diverse number of species greeted birders on a brilliantly-lighted morning in late May as they wound down a sandy pathway towards the Wangunk Meadow floodplain. Seen along the way were Northern Oriole, Black and white warbler, Warbling vireo, Blue-Gray Gnatcatcher, Great Crested Flycatcher…
The culmination of the expedition was a glimpse of a Great Blue Heron rookery. At least 60 active nests were counted, as well as over 100 birds. Many nests had three and a few even had four chicks apiece. The parents were taking off and landing; there was much squabbling and gutteral clucks of the numerous chicks — an altogether lively and inspiring nursery display. Although mosquitoes delivered unpleasant calling cards, all were pleased and gratified after the trip.
This fossilized footprint of a small crocodilian was on a large slab of broken Jurassic red-mudstone on King's Island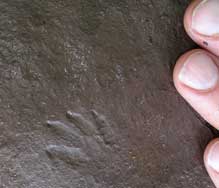 June 2: Two canoes and four acolytes knelt at the altar of nature and came away blessed by discovery. Swift upper Connecticut River waters carried the four onto Kings Island, where a Mesozoic fossil was found, a type of small crocodilian track. Birds seen included Canada Goose, a Mallard with nine offspring, neo-tropicals such as Great Crested Flycatcher, and Warbling Vireos. Clouds and heat built up throughout the afternoon, but canoers were able to get off the river before the tempest burst.
June 10 and 11: A total of 5 groups took part in the Spring Census. It was a tough time (the BioBlitz was that same weekend), but we did record a total of 77 species and a total of 759 individual birds. Notables on this year's list were two Bald Eagles soaring north along Saybrook Road near Aircraft Road. A single Whip-por-will along River Road was unusual only because we used to be able to hear several in one night. Warblers seem to be doing fair: we tallied 18 yellow warblers, 13 yellow-throats, and 12 prairie warblers. The champion on most lists would be starlings, and ours was no different. We had 72 followed by a close second for the robin family with 51. Cedar waxwing numbers were up with 31. These numbers might seem low, but we had 5 groups spending a combined total of 10 hours observing and traveling 28 miles by car and 4–5 by foot. The Saturday group also did Maromas section of Middletown in order to add to the BioBlitz totals. Additionally, we had Gray Fox, Fisher Cat, and a Banded Pennant dragonfly — rare in CT.