Our Mission: The Mattabeseck Audubon Society, a chapter of the National Audubon Society, is committed to environmental leadership and education for the benefit of the community and the earth's biodiversity.

deKoven House, 27 Washington Street, Middletown, Connecticut 06457
What's New at Mattabeseck Audubon
If you find a baby bird or other animal...
If you find a baby bird or other animal, it's best to leave it alone. If you have found a baby, chances are the parent is nearby and will take care of the baby when you leave the area. If you have some other wildlife problem, contact the CT Wildlife Rehabilitators Association at http://www.cwrawildlife.org/ where you can find a rehabilitator in your area or someone to address your problem.

Join us for an Evening with Henry David Thoreau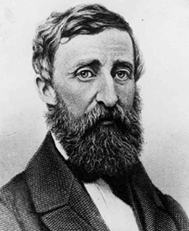 Save the Date!—September 28!
To celebrate the bicentennial of Henry David Thoreau's birth this year, Mattabeseck Audubon Society and the Rockfall Foundation are co-sponsoring a program, "An Evening with Henry David Thoreau" on Thursday, September 28 at 7:00 pm at the deKoven House Community Center, 27 Washington Street, Middletown. Mr. Thoreau will be portrayed by Richard Smith, a historian and staff member of the Thoreau Society in Concord, MA. This "living history" experience program should prove to be a dynamic, lively, and educational event!
There is no fee, but please email Luella Landis at thoreaulu17@gmail.com to register so that we have an idea of the number of participants.
Luella Landis, MAS Vice President
Thoreau Essay Contest
This year marks the 200th anniversary of the birth of Henry David Thoreau, naturalist, essayist, philosopher, and author of Walden. To mark this event, the Mattabeseck Audubon Society is sponsoring an essay contest for high school students in our chapter area that includes Middletown, Middlefield, Cromwell, Portland, Haddam, East Haddam, East Hampton, Colchester, and Marlborough. The theme of the essay: "Is Thoreau Relevant Today?"
Contest parameters:
An essay of at least 500 words answering the theme question: "Is Thoreau Relevant Today?"
The essay must be the student's own work.
The essay should be typed and double spaced.
The essay should be emailed by midnight on October 15, 2017 to: wjguinness@snet.net
All entrants will receive one of Mattabeseck's Identifying Our Backyard Birds card.
Three prizes will be awarded:
1st Place: $250 2nd Place: $200 3rd Place: $150
If you would like to participate, contact Alison Guinness at wjguinness@snet.net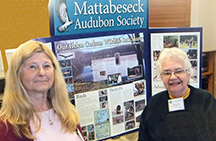 Alison Guinness and Luella Landis represented MAS
at the Earth Day fair which was held at the Jackson
Laboratory for Genomic Medicine in Farmington
on April 21, 2017
Download Summer/Fall 2017 Wingbeat
The Summer/Fall issue of Wingbeat is now available for download. This .pdf file can be read on iPad, computer, and most tablets, and may be printed (letter-size pages) in color or grayscale.
August 19 (Saturday 10:00 a.m.)
Shore Birds Canoe Trip
Lieutenant River boat launch site. Note later meeting time.
September 24 (Sunday 1 p.m.
A Place Called Hope
Limited to 20 participants — pre-registration and fee required.
October 7 (Saturday 8:00 a.m.)
Sparrow Crawl

Audubon Members' Corner

Submitted by Alberta Mirer
Beware of the Bears
Black Bears are on the move from June to early July.
These Safety Tips are from DEEP:
• Make Noise while hiking
• Hike in groups
• Leash dogs
If you see a bear:
• Make enough noise so the bear is aware of your presence
• Never approach a bear
If the bear doesn't leave
• Back away slowly
• Never run, or climb a tree
If the bear approaches, be offensive
• Make more Noise, wave your arms, and throw objects at the bear
• Black bears rarely attack humans.
If you are attacked, Do Not play dead.
• Fight back with anything available.
Connecticut Wildlife, September / October 2015
Submitted by Alison Guinness, MAS President
WILDLIFE REHABILITATION
Nursing Birds and Other Animals Back to Health
Thanks to the wildlife rehabilitation team at Audubon Sharon, this handsome devil was released back into the wild on May 26th. After being attacked by a cat, this adult male Northern Cardinal suffered multiple injuries. He required long-term care, but we are thrilled that he recovered and is able to be free once more! Best wishes to you our feathered friend!
Audubon Sharon admitted more than 750 patients in 2016. The clinic provides a much-needed service to the wildlife of northwestern Connecticut, with the ultimate goal of providing care and treatment to injured and orphaned wildlife and releasing them back into the wild as soon as possible. Naturalists are on duty to answer questions and interface with the public
U.S. Rice Farmers Embrace Sustainable Agriculture and Earn First-Ever Carbon Credits for Rice Production
Seven rice farmers today (June 14, 2017) made history when Microsoft purchased the first ever carbon credits generated from rice farmers, all because these pioneers tested out a radical idea—that by implementing conservation practices on their crops, rice farmers could reduce methane emissions and thereby generate a carbon credit that could later be sold on the carbon market.
A diverse group of like-minded partners guided the farmers through the process, with funding from the USDA Natural Resources Conservation Service under the Conservation Innovation Grants program and other investors.
Meet four of those farmers—collectively known as Nature's Stewards—through the NRCS interactive story: http://arcg.is/2slKHYp .
Purchase Migratory Bird Conservation Stamps and Protect Our Cherished Wildlife Habitat!
Migratory Bird Conservation Stamp dollars deliver results for wildlife and habitat! Connecticut stamps can be purchased for $17 each wherever hunting and fishing licenses are sold: participating town clerks, participating retail agents, DEEP License and Revenue (79 Elm Street in Hartford), and through the online Sportsmen's Licensing System. Upon request, stamps can be sent through the mail.
Federal Duck Stamps are sold at many sporting goods stores and other retail locations—both large and small—that sell sporting and recreation equipment. You can also buy them at many national wildlife refuges, and online through Amplex. As an added convenience, especially for hunters, the E-Stamp program allows you to buy a Duck Stamp online and instantly obtain a printable receipt good for 45 days, within which time a physical Duck Stamp is mailed to you.
A Cool Hot-Weather Birdbath
To keep a birdbath cool and full even in extreme heat, add a large chunk of ice each morning (freeze water in a plastic bowl or bag the night before). As it melts, the ice will refill and refresh the bath. Make sure to keep the bath clean for the health of the birds.
National Wildlife Federation, October / November 2009
Feeding Birds the Natural Way
Nectar-rich flowers like bee balm, salvia and lupine are magnets for hummingbirds.
Seed-bearing blooms, including coneflowers and cosmos, attract finches, sparrows, doves and quail.
Jays are partial to nuts provided by trees such as hickories, pecans and walnuts.
Fruit-loving birds from orioles to waxwings flock to sumacs, serviceberries, junipers and other berry bushes.
Larger fruit trees, including crabapples and hollies, are top draws for grosbeaks, tanagers, catbirds and mockingbirds.
National Wildlife, December / January 2017
Citizen Researchers in Cities
According to Google Trends, the citizens of Albany NY surpassed all other US city dwellers in gathering facts about bird calls, while the residents of Phoenix, AZ were investigating bird droppings. More people in Jakarta, Indonesia have been reading up on global warming than in any other city on Earth (Brooklyn, NY ranked top among US communities). Las Vegas residents conducted more online searches about great white sharks than any other US city.
National Wildlife Federation, December—January 2009
Wingbeat Deadline for Next Issue
The deadline for items to be included in the Fall/Winter Issue is September 26, 2017. We expect subscribers to receive their copies about October 20. Please send items to Pat Rasch, 24 Elm Road, Cromwell, CT 06416, or email to <mattabeseck@mac.com>. Please add "WINGBEAT" to the message's subject line.
Board of Directors — Next Meeting
The Board of Directors will meet at 7:30 p.m. on the third Wednesday of each month at deKoven House, 27 Washington Street, Middletown.
Mattabeseck Audubon Needs Your Help
We need you. There is always a need for new volunteer leaders in any organization, but the past couple of years have brought losses to our board that have created even greater challenges. Joanne Luppi's death and Marcy Klattenberg's retirement to the Cape have left big holes.
We're always looking for new board members.
Please contact us (phone / e-mail / slow mail) and let us know if you'd like to help.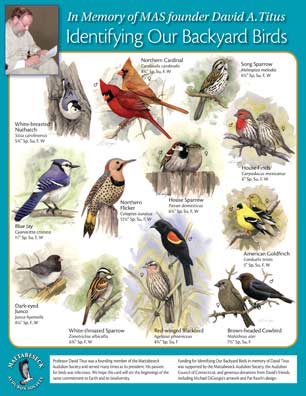 David Titus Memorial
Bird Card—
heavy-duty laminated
plastic—only $3.00!
The David Titus Memorial Bird Card is now available for a $3 donation. We will have them at MAS activities or request by email to mattabeseck@mac.com. Many thanks to Pat Rasch for putting it all together and to wildlife illustrator, Mike DiGiorgio, for his beautiful illustrations, many of which were painted specifically for this bird card. The card is a very inexpensive way to own some of the best bird art you'll ever see. It is extra heavy-duty, all-plastic laminate, printed in full color on both sides. Twenty-four birds are identified by their common name and Latin name, along with the length of the bird and the seasons that they are usually seen in our area. In species that have visual differences between the sexes, both sexes are portrayed.