Our Mission: The Mattabeseck Audubon Society, a chapter of the National Audubon Society, is committed to environmental leadership and education for the benefit of the community and the earth's biodiversity.

deKoven House, 27 Washington Street, Middletown, Connecticut 06457
What's New at Mattabeseck Audubon
If you find a baby bird or other animal...
If you find a baby bird or other animal, it's best to leave it alone. If you have found a baby, chances are the parent is nearby and will take care of the baby when you leave the area. If you have some other wildlife problem, contact the CT Wildlife Rehabilitators Association at http://www.cwrawildlife.org/ where you can find a rehabilitator in your area or someone to address your problem.

Year of the Bird
National Audubon announced that to mark the upcoming centennial of the Migratory Bird Treaty Act this year, National Geographic is joining Audubon, the Cornell Lab of Ornithology, and Bird Life International to make 2018 the "Year of the Bird."
The Year of the Bird will celebrate the wonder of our feathered friends and provide an opportunity for people everywhere to recommit themselves to protecting birds today and for the next hundred years. Through twelve months of science, conservation, and storytelling, the Year of the Bird will examine how our changing environment is driving dramatic losses among bird species around the globe and highlight what we can do to help reverse this negative trend. For each month of 2018, there will be a theme to inspire people to "bird their world" and take action for birds. The effort will kick-off on January 5, 2018. Watch for the Year of the Bird website for monthly themes and ideas to celebrate birds.
from Alison Guinness, MAS president
Connecticut Breeding Bird Atlas: Update

The new Connecticut Bird Atlas will map all all of Connecticut's bird life, whether breeding, wintering, or migrating through our state. Starting spring 2018, birdwatchers can sign up to document the distribution, abundance, and breeding activities of birds at sites throughout the entire state. Citizen scientists will be asked to choose specified sections of the state ("blocks") and help to survey the bird life of that block. The resulting data will be used to document changes since the last comprehensive survey of the state's birds, which happened in the early 1980s; to inform the State Wildlife Action Plan; and to determine priority areas for bird conservation and land protection. For more info or to sign up to volunteer, go to http://www.ctbirdatlas.org/
More information about the survey protocols will be coming later this year. The atlas project is a huge undertaking. The knowledge gains, however, will be tremendous. Again, we will be asked to go birding. It will be a great time to be a birder in Connecticut.
For questions about the atlas project, please contact Chris Elphick at chris.elphick@uconn.edu
from Alison Guinness, MAS president
Audubon Members' Corner

Submitted by Alberta Mirer
The Migratory Feats of the Bar-Tailed Godwit
The bar-tailed godwit is a comparatively large shore bird. Females can weigh more than a pound. They have long upswept bills, which they use to probe the mud for invertebrates. After nesting on the Alaskan tundra, both young and adults gather in huge flocks along the coast. A couple of weeks before leaving, each godwit gorges on clams and worms, so much so that its dermis bulges with the highest fat content recorded in birds. At the same time, some of the bird's internal organs shrivel up. By the time a godwit takes off, it is little more than brains, fat and flight muscle.
Then they are ready for the longest, nonstop flight of any bird – an 8 day, 7,300 mile trek from Alaska across the length of the Pacific Ocean to New Zealand and Australia. They wait for storms of a particular strength to pass, and then use the tailwinds to help sling them south.
In the spring, when the birds are ready to fly north, a nonstop flight is no longer practical because they need extra energy to breed once they reach their nesting grounds. Flying across 22 countries, they make a few stops to feed before they get to the Russian and Alaskan Arctic regions. Many of the wetlands where they refuel are drying up, or being drained. The most crucial of these are found in the Yellow Sea region of China and South Korea, where some 600 million people have their own needs and priorities.
Under the U.S. Shorebird Conservation Plan, which was created in 2000, the U.S. Fish and Wildlife Service lists the bar-tailed godwit of high concern. Protecting the species throughout its entire range will require an international effort. We need to do more to win the hearts and minds of people who live wherever the godwits fly.
National Wildlife Federation December/ January 2009
Download Winter/Spring 2018 Wingbeat
The Fall/Winter issue of Wingbeat is now available for download. This .pdf file can be read on iPad, computer, and most tablets, and may be printed (letter-size pages) in color or grayscale.
February 10, 2018 (Saturday 8:00 a.m.)
Eagles at Machimoodus Park

February 16-19, 2018
20th Annual Great Backyard Bird Count

March 17, 2018 (Saturday 8:00 a.m.)
Let's Go A-Ducking
April 21, 2018 (Saturday 8:00 a.m.)
Wildflower Walk in the Park

Wingbeat Deadline for Next Issue
The deadline for items to be included in the Winte/Springr Issue is March 26, 2018. We expect subscribers to receive their copies about April 20. Please send items to Pat Rasch, 24 Elm Road, Cromwell, CT 06416, or email to <mattabeseck@mac.com>. Please add "WINGBEAT" to the message's subject line.
Board of Directors — Next Meeting
The Board of Directors will meet at 7:30 p.m. on the third Wednesday of each month at deKoven House, 27 Washington Street, Middletown.
Mattabeseck Audubon Needs Your Help
We need you. There is always a need for new volunteer leaders in any organization, but the past couple of years have brought losses to our board that have created even greater challenges. Joanne Luppi's death and Marcy Klattenberg's retirement to the Cape have left big holes.
We're always looking for new board members.
Please contact us (phone / e-mail / slow mail) and let us know if you'd like to help.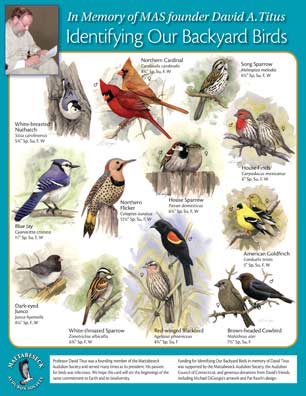 David Titus Memorial
Bird Card—
heavy-duty laminated
plastic—only $3.00!
The David Titus Memorial Bird Card is now available for a $3 donation. We will have them at MAS activities or request by email to mattabeseck@mac.com. Many thanks to Pat Rasch for putting it all together and to wildlife illustrator, Mike DiGiorgio, for his beautiful illustrations, many of which were painted specifically for this bird card. The card is a very inexpensive way to own some of the best bird art you'll ever see. It is extra heavy-duty, all-plastic laminate, printed in full color on both sides. Twenty-four birds are identified by their common name and Latin name, along with the length of the bird and the seasons that they are usually seen in our area. In species that have visual differences between the sexes, both sexes are portrayed.