Our Mission: The Mattabeseck Audubon Society, a chapter of the National Audubon Society, is committed to environmental leadership and education for the benefit of the community and the earth's biodiversity.

deKoven House, 27 Washington Street, Middletown, Connecticut 06457
What's New at Mattabeseck Audubon
MAS and I-Park Foundation, Inc.
Mattabeseck has been partnering with I-Park in East Haddam for over a year. I-Park is an Artists-in-Residence Program located on an old farm on land that abuts Eight-Mile River and Devils Hopyard State Park. The program runs from May to November with residencies averaging four weeks.
During 2016, Alberta and Rob Mirer and Alison Guinness from MAS met the artists on the second week of their residencies and took them on bird/nature walks through the roughly 500 acres of the site. Each experience was different. The artists are from all over the world; some had never birded before. Their excitement and enthusiasm grew as the year passed. By the end of the residency season, many were inspired by our walks in their work while at the park, including visual art and writing.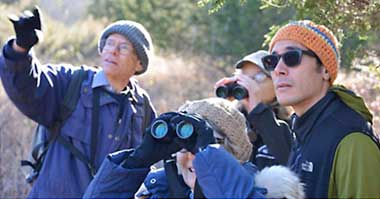 At the conclusion of every residency, the park has an open studio day where the public is invited to experience the creations of the various artists. At the last one in November, Eugenia Kim was inspired to write this poem:
XXI days in the Devil's Hopyard
I.
An hour after seven, we seven artists went
with our birdwatching guides into
the meadows and the woods, learning
the chorus of calls and songs of nuthatches,
chickadees, juncos, cardinals, bluejays
and yes—the yellow-bellied sapsucker—
flitting among the gray birch and the bittersweet.
II.
But it was witnessing the pine wood that would
epitomize the wonder and the wisdom
of our stay thus far of seven days—the
tallest mound of seven ancient pines, white pines
with five long pins on each bract, their cones
edged white as if dipped in winter, deep beds
of long needles inviting all to recline and rest.
III.
Beneath the gnarled roots lay miniature caves
evoking prophecy and primitivism.
Wongil said the story was there, and Shony asked
if I would write of seven heroes who lived beneath
this sacred circle of seven trees. Perhaps,
I said, then slid like a girl of seven years old
down the hill of the holy mound of story—
IV.
because the story was us, just then in the telling:
the gift of our guides whose binoculars gave
vision beyond their lenses, whose lessons on the
igneous pegmatite of Connecticut's terminal moraine,
and lessons on the Moodus noise of earthquakes
mild were our own sea change
of closeness to this ground, this sacred land.
V.
We became they, these birds of North America
in our Hopyard habitat, our purpose aligned
as stewards of the expanse around us,
our seven studios mere safe rooms
of inspiration before we migrate
back into our lives
rejoined with the objectives of nature.
VI.
Cloistered from the world of men, but not its news
we seven saw a seismic shift in our hopes
that countered majority views of our electorate.
But note this:
if only fur is what remains of the rabbit's match
with the red-tailed hawk, hunger is abated;
even as the gypsy moths denude the mighty oaks,
they live on.
VII.
The super moon casts radiance as brilliant as the sun's—
and it's the realm of darkness that shines it brighter.
It's the trees' silver shadows sculpted in this earth,
the winds that are waves, the hills that are breasts,
the rains that pour life onward without our will.
What then is left for us? the song of thrush, the
scratch of squirrels; what's small enlarges our gratitude.
—Eugenia Kim, November 2016
Written during a period of the three weeks when a new president was elected, a rabbit's mangled fur was found on a pathway, long-awaited rains assuaged a drought, and the following artists were in residence including myself: Wongil Jeon , Zehra Khan, Robert Lach, Alice Momm, Andrew Neumann, Shony Rivnay. With thanks to Ralph, Joanne, Melanie, Kate, Steve, Bill, Jan, Wanda, Ellie, special thanks to the birders, and to Doug and Gemma Mathewson who told me about I-Park Foundation.
We look forward to continued collaboration in 2017. For more on I-Park: http://www.i-park.org/
Alison Guinness, MAS President
Download Winter/Spring 2017 Wingbeat
The Winter/Spring issue of Wingbeat is now available for download. This .pdf file can be read on iPad, computer, and most tablets.
February 17–20, 2017 (Friday–Monday)
20th Annual Great Backyard Bird Count
March 18, 2017 (Saturday 8 a.m.)
"Let's Go a-Ducking"
April 22, 2017 (Saturday 8 a.m.)
Wildflower Walk

Audubon Members' Corner

Submitted by Luella Landis, Board Vice-President
2017 is the bicentennial of Henry David Thoreau's birth
"Nature, the earth herself, is the only panacea." Henry David Thoreau (1817–1862 )
Submitted by Alberta Mirer
The Difficult Traveling Life of Neotropical Songbirds
Migration is a perilous time for songbirds. They must reach their breeding ground in time to claim the best territory, while avoiding all kinds of danger along the way.
That's why it's advantageous for neotropical songbirds to migrate at night to avoid predators like hawks. But night flying does have its risks. There are collisions with light towers, cell towers, wind turbines, windows, high-rise and glass buildings, and bad weather. Fog and mist reduce visibility, making navigation difficult or impossible. And then, there are rest stops in unfamiliar places, with free-roaming cats. Forest edges are especially dangerous for songbirds. Roads and other development create opportunities for predators such as cowbirds, raccoons, and parasites.
Not only is quality habitat important on breeding and wintering grounds, but also safe stopover sites are imperative.
Connecticut Wildlife, May, June 2016
National Wildlife, October–November 2016
When Birds Become Bird Food
Data from Project Feeder Watch run by Cornell Lab of Ornithology and Bird Studies Canada confirm what backyard birders have been observing for years. Sharp-shinned and Cooper's hawks have adapted so well to human-altered habitats that they now are common at bird feeders nationwide. Thanks to the 1972 ban on DDT hawks are faring better overall. Trees in suburbs built up during the 1960s and 1970s also means more nest sites for forest hawks close to places where people live. The bigger reason for the increased urban sighting is the popularity of bird feeding. Both Coopers and Sharpies are ideally suited to prey on feeder birds.
Even before bird feeding became popular, these hawks were associated with humans, and not in a good way. Coopers had an overblown reputation among farmers as a "chicken hawk" for preying on domestic chickens. Today's abundance of backyard prey may be causing some hawks to forgo fall migration. When migrating sharpie numbers dropped steeply off Cape May, New Jersey, from the mid-1980s to the mid-1990s, many feared it signaled a declining population. But as it has turned out, some hawks have had less pressure to migrate because they could prey on feeder birds in winter.
Slowing Spread of the Emerald Ash Borer in Connecticut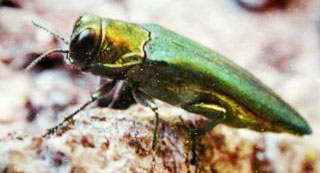 In 2012, Connecticut became the sixteenth state known to have the emerald ash borer within its borders. The EAB is a small, green beetle that belongs to a large family of beetles (buprestids, metallic wood-boring ­beetles). The emerald ash borer has green, iridescent wing covers. Adult EABs are relatively slender and between 0.3 to 0.55 inches in length.
Currently, EAB is known to be in 26 states, 2 Canadian provinces and the District of Columbia. Because EAB is considered as established in North America, the goal has changed from eradication to slowing or preventing the spread of the insect into new areas, while managing and reducing its numbers in places where it is already found.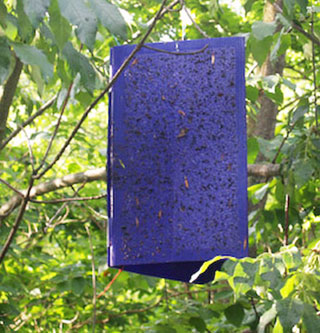 The effort to slow EAB's spread buys time until a more effective response to the insect can be found. Investigations continue into forestry techniques, biological control, and methods of chemical control.
This stands in sharp contrast to the approach being used for the Asian longhorned beetle (ALB). In that case, eradication of the insect in North America is the goal. Due to the behavior of ALB, the potential for complete removal of the insect is very good, and so the effort is aggressive.
Connecticut is seeking to help slow EAB spread by:
A quarantine to keep any infested ash materials from leaving Connecticut and going to an area that does not yet have EAB. Specifically, ash logs, hardwood firewood, yard waste and ash nursery stock are all focus of concerns.
A ban on the importation of firewood into Connecticut through New York or Massachusetts—unless it is properly certified that it has not come from an area already infested.


What Should I be Doing?
For people in the State of Connecticut, the three most important ways in which an individual can help in this effort are:
Know what an ash looks like and keep a close eye on ash trees—those ash trees that you are responsible for, that are in your neighborhood, or that you see on a regular basis;
Act quickly to report any ash trees that are declining and may pose a danger to people or structures; and
Be careful when moving any firewood or young trees.
The use of firewood that has been obtained locally is very important in the effort to prevent further spread of the EAB and other invasive insects. These insects "hitchhike" readily on firewood, which can then sit in a backyard for a year or more, giving ample time for the insect to emerge. Public trees, such as those along streets and in parks, are usually under the care and control of the municipal tree warden. If you have concerns about these trees, contact your local tree warden. Trees along state highways are under the control of the State Department of Transportation. Private trees are the responsibility of the property owner. Owners of ash trees are encouraged to become informed by contacting an arborist and by using such resources as those of the CT Agricultural Experiment Station and DEEP.

The CT Agricultural Experiment Station is still interested in new finds of the EAB, espeically finds in towns in which the insect has not previously been reported. To report a possible EAB find, contact the Experiment Station at 203-974-8474 or the following email address: CAES.StateEntomologist@ct.gov .

When reporting any potential invasive insect find, please do not move either the insect or wood from the site where you think the insect might be. It is much better to take a digital photo and email it to the email address above. Also, please give a precise description of the location of the tree so that an investigator from the Station will be able to visit the site.
Wingbeat Deadline for Next Issue
The deadline for items to be included in the Spring/Summer Issue is March 26, 2017. We expect subscribers to receive their copies about April 20. Please send items to Pat Rasch, 24 Elm Road, Cromwell, CT 06416, or email to <mattabeseck@mac.com>. Please add "WINGBEAT" to the message's subject line.
Board of Directors — Next Meeting
The Board of Directors will meet at 7:30 p.m. on the third Wednesday of each month at deKoven House, 27 Washington Street, Middletown.
Mattabeseck Audubon Needs Your Help
We need you. There is always a need for new volunteer leaders in any organization, but the past couple of years have brought losses to our board that have created even greater challenges. Joanne Luppi's death and Marcy Klattenberg's retirement to the Cape have left big holes.
We're always looking for new board members.
Please contact us (phone / e-mail / slow mail) and let us know if you'd like to help.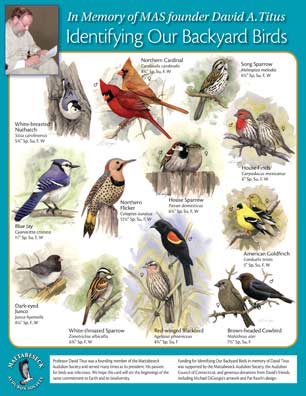 David Titus Memorial
Bird Card—
heavy-duty laminated
plastic—only $3.00!
The David Titus Memorial Bird Card is now available for a $3 donation. We will have them at MAS activities or request by email to mattabeseck@mac.com. Many thanks to Pat Rasch for putting it all together and to wildlife illustrator, Mike DiGiorgio, for his beautiful illustrations, many of which were painted specifically for this bird card. The card is a very inexpensive way to own some of the best bird art you'll ever see. It is extra heavy-duty, all-plastic laminate, printed in full color on both sides. Twenty-four birds are identified by their common name and Latin name, along with the length of the bird and the seasons that they are usually seen in our area. In species that have visual differences between the sexes, both sexes are portrayed.
If you find a baby bird...
If you find a baby bird or other animal, it's best to leave it alone. Chances are the parent is nearby and will take care of the baby when you leave the area. If not or you have some other wildlife problem, contact the CT Wildlife Rehabilitators Association at http://www.cwrawildlife.org/ where you can find a rehabilitator in your area or someone to address your problem.