Our Mission: The Mattabeseck Audubon Society, a chapter of the National Audubon Society, is committed to environmental leadership and education for the benefit of the community and the earth's biodiversity.

deKoven House, 27 Washington Street, Middletown, Connecticut 06457
What's New at Mattabeseck Audubon
If you find a baby bird or other animal...
If you find a baby bird or other animal, it's best to leave it alone. If you have found a baby, chances are the parent is nearby and will take care of the baby when you leave the area. If you have some other wildlife problem, contact the CT Wildlife Rehabilitators Association at http://www.cwrawildlife.org/ where you can find a rehabilitator in your area or someone to address your problem.

Upcoming Program: An Evening with Henry David Thoreau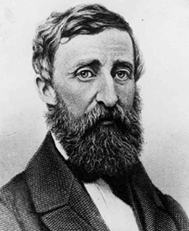 Save the Date!—September 28!
This year is the bicentennial of Henry David Thoreau's birth, and to celebrate, Mattabeseck Audubon Society and the Rockfall Foundation are co-sponsoring a program, "An Evening with Henry David Thoreau", with Thoreau impersonator Richard Smith, a historian and staff member of the Thoreau Society in Concord, MA. The program is scheduled to be held on Thursday, September 28 at 7:00 pm at the deKoven House in Middletown. Additional details will be forthcoming in our next issue of Wingbeat.
Luella Landis, MAS Vice President
Download Spring/Summer 2017 Wingbeat
The Spring/Summer issue of Wingbeat is now available for download. This .pdf file can be read on iPad, computer, and most tablets, and may be printed (letter-size pages) in color or grayscale.
September 24 (Sunday 1 p.m.
A Place Called Hope
Limited to 20 participants — pre-registration and fee required.
Audubon Members' Corner

Submitted by Alberta Mirer
Extreme Birds: The World's Most Extraordinary and Bizarre Birds
MSword Billed-Hummingbird – Longest Bill:
Found in the Andean forests in South America, its bill is almost as long as its body (males 5.5" length with 4 inch bill /females 5.125" length with 4.5 to 4.75 inch bills). Its bill is perfectly shaped to match the particular blooms from which it drinks. Of course this adaptation comes with a price. The bird must always perch and fly with its bill held up at a steep angle, otherwise it would become unbalanced.
Hooded Pitohui (New Guinea)– Most Poisonous:
That's right, a poisonous bird. The toxin in the pitohui's plumage is the same neurotoxin found on the skin of poisonous frogs in South America. It's unlikely that a predator would be killed by the bird's toxin, but the toxin is unpleasant enough that predators will leave the bird alone.
National Wildlife Federation, October / November 2009.
To Feed or Not To Feed
To stay healthy, birds must consume a mix of fats, proteins, carbohydrates and vitamins and minerals to fuel a metabolism that can require up to a whopping 10,000 calories a day (equivalent to a human consuming 155,000 calories). A bird's inner furnace burns especially hot during flight, and the breeding season, and on the coldest days, which means the animals must make highly efficient choices about what they eat.
Even though feeders offer an abundance of food, evolutionary pressures encourage birds to continuously sample a wide variety of foods because any bird that becomes dependent on a single patch or type of food will perish if it runs out. This means you don't have to worry that birds will become overly dependent on your feeder. A study of black-capped chickadees found that even when they have access to unlimited feeder food, these voracious seedeaters obtain 79% of their daily energy needs from a variety of wild sources.
Research has shown that birds choose seeds that are easily handled and digested; emphasizing that for birds, eating is not only about nutrition, but about consuming a lot of food very quickly while avoiding predators. Whichever seeds you buy, evidence shows that backyard feeding helps birds growth rates, survival rates, breeding success and clutch sizes. Putting out high-quality seeds, bought as fresh as possible and stored in a dry clean place, seems to offer seed-eating birds the best of all worlds.
National Wildlife Federation, October / November 2009
Gypsy Moth Outbreak News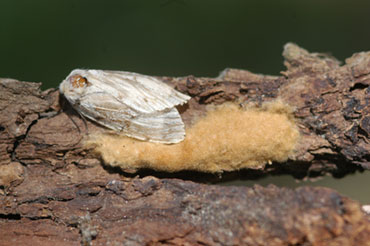 ILast year, eastern Connecticut witnessed the continuation of an outbreak of the gypsy moth. In 1989, Connecticut Agricultural Experiment Station scientists discovered that the entomapathogenic fungus Entomophaga maimaiga was killing the caterpillars. Since then, that fungus has been the most important agent suppressing gypsy moth activity. Without a wet spring to release the fungus to slow the advance of these moths, 2017 may be the worst.
Healthy trees can generally withstand one or two partial or one complete defoliation (greater than 50%). Trees will re-grow leaves before the end of summer, however, some branches may die back. Gypsy moth caterpillars also drop leaf fragments and frass while feeding, leaving a mess on decks, patios, furniture, cars, and driveways. The shed hairs from the caterpillars can be irritating to people's skin.
Egg masses may be found on many kinds of surface, including trees, fence posts, brick walls, lawn furniture, cars, rocks, and firewood. Eggs overwinter and larvae hatch in spring, during late April through early May.
Egg masses should be destroyed before hatching. Scraped-off egg masses should be drowned in a container of soapy water. Alternatively, egg masses may be soaked with mineral oil or soy oil, or with insecticidal soap. There are other methods of removal with barrier bands, as well as spraying with Bacillus thuringiensis and other insecticides. However these insecticides may also kill other moth and butterfly larvae.
Anthony Irving has a very informative article in the winter issue of the Lyme Land Trust newsletter at http://www.lymelandtrust.org/wp-content/uploads/2011/02/LymeLand-Trust.-NLWinterWEB2017.pdf It contains helpful information on removing egg masses and making traps.
Wingbeat Deadline for Next Issue
The deadline for items to be included in the Spring/Summer Issue is June 26, 2017. We expect subscribers to receive their copies about July 20. Please send items to Pat Rasch, 24 Elm Road, Cromwell, CT 06416, or email to <mattabeseck@mac.com>. Please add "WINGBEAT" to the message's subject line.
Board of Directors — Next Meeting
The Board of Directors will meet at 7:30 p.m. on the third Wednesday of each month at deKoven House, 27 Washington Street, Middletown.
Mattabeseck Audubon Needs Your Help
We need you. There is always a need for new volunteer leaders in any organization, but the past couple of years have brought losses to our board that have created even greater challenges. Joanne Luppi's death and Marcy Klattenberg's retirement to the Cape have left big holes.
We're always looking for new board members.
Please contact us (phone / e-mail / slow mail) and let us know if you'd like to help.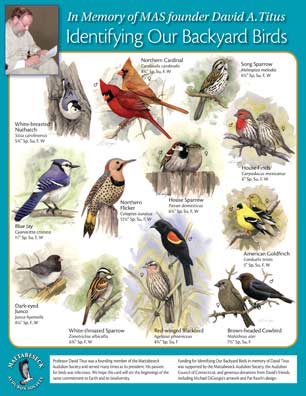 David Titus Memorial
Bird Card—
heavy-duty laminated
plastic—only $3.00!
The David Titus Memorial Bird Card is now available for a $3 donation. We will have them at MAS activities or request by email to mattabeseck@mac.com. Many thanks to Pat Rasch for putting it all together and to wildlife illustrator, Mike DiGiorgio, for his beautiful illustrations, many of which were painted specifically for this bird card. The card is a very inexpensive way to own some of the best bird art you'll ever see. It is extra heavy-duty, all-plastic laminate, printed in full color on both sides. Twenty-four birds are identified by their common name and Latin name, along with the length of the bird and the seasons that they are usually seen in our area. In species that have visual differences between the sexes, both sexes are portrayed.