Our Mission: The Mattabeseck Audubon Society, a chapter of the National Audubon Society, is committed to environmental leadership and education for the benefit of the community and the earth's biodiversity.

deKoven House, 27 Washington Street, Middletown, Connecticut 06457
What's New at Mattabeseck Audubon
If you find a baby bird or other animal...
If you find a baby bird or other animal, it's best to leave it alone. If you have found a baby, chances are the parent is nearby and will take care of the baby when you leave the area. If you have some other wildlife problem, contact the CT Wildlife Rehabilitators Association at http://www.cwrawildlife.org/ where you can find a rehabilitator in your area or someone to address your problem.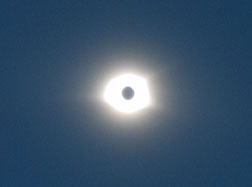 Totality 2017
In early April, a friend told me that there was going to be a total solar eclipse this year and that it would be seen in the US. She said she was thinking of going, and I told her to keep me posted. I might want to join her. Shortly after, the National Park Service sent out an extensive email newsletter about the eclipse, how they were preparing for all the folks who would be visiting all the parks in its path, how they were going to hand out millions of special viewing glasses for free to all the visitors. "Wow," I thought. "This is going to be a big deal." Then, I looked on the site to see the path of totality and learned that it was going to pass from "sea to shining sea" from Oregon to South Carolina.
I began to seriously consider being part of this incredible event, but where to go. At first, I thought southern Illinois would be good. It's a very interesting area, but as time went by, the temperature in the Midwest began to soar. It was 104 degrees one day. If we did any camping or other sightseeing, we'd melt. I reconsidered and looked east nearer the mountains. Eastern Tennessee might be a better choice. Totality would pass directly over Athens, and that became my target site.
My friend who originally told me about the eclipse wasn't sure they were going and were aiming for the Carolinas. So, I asked my friend Barb to join me. She was thrilled. I looked online for a place to stay. By that time, there were no rooms anywhere in the vicinity of Athens, including Etowah also in the path and an official NASA site. The nearest was Knoxville, about an hour from Athens by I-40. I'd been to Knoxville for the World's Fair back in 1982. So, I made reservations and ordered the special glasses – just in case.
It took 2 days to get to Knoxville. On I-81 in Virginia, we saw a car from Connecticut with signs saying "Eclipse or Bust." An accident stalled traffic to a stop, and we found ourselves next to that car! A young man from New Haven was heading for Kentucky to meet friends to view the eclipse. As we got within 100 miles of the eclipse path, there were lots of signs on the highway saying "No parking for eclipse." We wondered how effective they would be.
On Aug. 19th, the day of the eclipse, we got up early – in the dark – and went south to Athens. We arrived @ 7:30 a.m., among the first to arrive at the Regional Park. The sign at the entrance flashed "Welcome to Totality." This is a large recreation center with playing fields and trails. We picked out a parking spot that would be shaded as the sun moved west with a place to put the chairs we brought. It would be a long time before the eclipse started about 1:30 p.m. and another hour until totality.
Cars trickled in. One from Ontario parked near us. Before I had a chance to speak to them, they were gone somewhere across the big open field. We never saw them again that day. Like many, they probably brought a canopy, chairs, and a picnic. Folks from Texas parked next to us, and we enjoyed the whole day with them. Not long after, Harvey flooded their home in Houston. The eclipse connected us to folks from all over. Telescopes sprang up all around. Occasionally, a drone passed overhead taking video. As the park filled, people walked around wearing various eclipse T-shirts, the only thing I hadn't thought to get ahead of this momentous event.
The folks from Athens set up food booths. You could buy shirts, cups, posters, and the official video of the eclipse. I met a woman from town walking around the park who chatted with everyone, welcoming us to her town. It was joyous!
As the day progressed, it became quite hot. No one was stirring. The cicadas were deafening; I'd never heard them so loud.
On the way here, I told Barb we should have brought A Connecticut Yankee in King Arthur's Court to read the chapter about the eclipse. I suggested she look for it on her phone. So, as we waited, Barb read Mark Twain's tale. I wondered what he'd think about all this.
Then, at 1:30, it started. Everyone donned their glasses and moved to view the unfolding disappearance of the sun. Every few minutes, we would look to see how much the moon had moved to obscure our precious star that meant all things to our planet.
Our friend from Texas showed us how the shadows changed to ever thinner and thinner crescents on the ground. As darkness enveloped us, the cicadas went stunningly quiet.
When the eclipse reached totality, the whole park erupted in cheers and clapping. All around, people cried. The park lights went on. A bizarre, orangy light surrounded us. It reminded me of a night in the full moon, but the light wasn't white. It glowed. In about a minute and a half, totality was over, and the moon began its slow revelation of the sun. It was awesome!
The next total eclipse of the sun will be April 8, 2024 with totality following a path along the Canadian border. I'm already planning. 
Alison Guinness, MAS President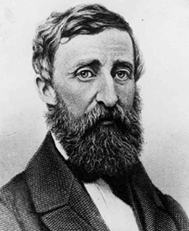 An Evening with Henry David Thoreau
To a crowd of about 65 attendees at the deKoven House, Henry David Thoreau, as portrayed by Richard Smith, spent the evening of September 28, 2017 reading portions from his essay, Walking, followed by a lively question and answer session, first as Thoreau in 1855, and then as Richard Smith in 2017. This program, held to honor the 200th birthday of Thoreau, was sponsored by MAS and the Rockfall Foundation, with assistance from the Jonah Center for Earth and Art. Thanks to our sponsors and attendees! 
Luella Landis, MAS Vice President
Audubon Members' Corner

Submitted by Alberta Mirer
The Migratory Feats of the Bar-Tailed Godwit
The bar-tailed godwit is a comparatively large shore bird. Females can weigh more than a pound. They have long upswept bills, which they use to probe the mud for invertebrates. After nesting on the Alaskan tundra, both young and adults gather in huge flocks along the coast. A couple of weeks before leaving, each godwit gorges on clams and worms, so much so that its dermis bulges with the highest fat content recorded in birds. At the same time, some of the bird's internal organs shrivel up. By the time a godwit takes off, it is little more than brains, fat and flight muscle.
Then they are ready for the longest, nonstop flight of any bird – an 8 day, 7,300 mile trek from Alaska across the length of the Pacific Ocean to New Zealand and Australia. They wait for storms of a particular strength to pass, and then use the tailwinds to help sling them south.
In the spring, when the birds are ready to fly north, a nonstop flight is no longer practical because they need extra energy to breed once they reach their nesting grounds. Flying across 22 countries, they make a few stops to feed before they get to the Russian and Alaskan Arctic regions. Many of the wetlands where they refuel are drying up, or being drained. The most crucial of these are found in the Yellow Sea region of China and South Korea, where some 600 million people have their own needs and priorities.
Under the U.S. Shorebird Conservation Plan, which was created in 2000, the U.S. Fish and Wildlife Service lists the bar-tailed godwit of high concern. Protecting the species throughout its entire range will require an international effort. We need to do more to win the hearts and minds of people who live wherever the godwits fly.
National Wildlife Federation December/ January 2009
Download Fall/Winter 2017 Wingbeat
The Fall/Winter issue of Wingbeat is now available for download. This .pdf file can be read on iPad, computer, and most tablets, and may be printed (letter-size pages) in color or grayscale.
November 4 and 11, 2017 (Saturday 7:00 p.m.)
Owl Prowl
Trips meet at Stop and Shop parking lot in Middletown at 7:00 p.m., and caravan through Middletown, ending in Middlefield. Dress warmly, bring a flashlight, and have gas in your car, or carpool—no gas stations along the route. If we are lucky we can hear screech owls answering our calls—and we may possibly see one or two—and maybe some other larger species, such as a Great Horned.
Please put Owl Prowl in subject line of emails. <joseph.mor@sbcglobal.net> 635-2786
December 17, 2017
42nd Annual MAS Salmon River Christmas Bird Count
(See pages for details.)
February 16–19, 2018 (Friday–Monday)
20th Annual Great Backyard Bird Count
This annual four-day event has watchers counting birds to create a real-time snapshot of where birds are across the continent. About 160,000 participants submit observations online, creating an instantaneous snapshot of global bird populations recorded. Anyone can participate—as little as 15 minutes on one day, or for as long as you like each day. Enter your list(s) online at www.BirdCount.org. For more info: www.birdsource.org/gbbc/  
Wingbeat Deadline for Next Issue
The deadline for items to be included in the Winte/Springr Issue is December 26, 2017. We expect subscribers to receive their copies about January 20. Please send items to Pat Rasch, 24 Elm Road, Cromwell, CT 06416, or email to <mattabeseck@mac.com>. Please add "WINGBEAT" to the message's subject line.
Board of Directors — Next Meeting
The Board of Directors will meet at 7:30 p.m. on the third Wednesday of each month at deKoven House, 27 Washington Street, Middletown.
Mattabeseck Audubon Needs Your Help
We need you. There is always a need for new volunteer leaders in any organization, but the past couple of years have brought losses to our board that have created even greater challenges. Joanne Luppi's death and Marcy Klattenberg's retirement to the Cape have left big holes.
We're always looking for new board members.
Please contact us (phone / e-mail / slow mail) and let us know if you'd like to help.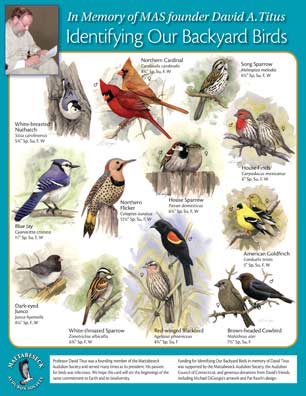 David Titus Memorial
Bird Card—
heavy-duty laminated
plastic—only $3.00!
The David Titus Memorial Bird Card is now available for a $3 donation. We will have them at MAS activities or request by email to mattabeseck@mac.com. Many thanks to Pat Rasch for putting it all together and to wildlife illustrator, Mike DiGiorgio, for his beautiful illustrations, many of which were painted specifically for this bird card. The card is a very inexpensive way to own some of the best bird art you'll ever see. It is extra heavy-duty, all-plastic laminate, printed in full color on both sides. Twenty-four birds are identified by their common name and Latin name, along with the length of the bird and the seasons that they are usually seen in our area. In species that have visual differences between the sexes, both sexes are portrayed.