Our Mission: The Mattabeseck Audubon Society, a chapter of the National Audubon Society, is committed to environmental leadership and education for the benefit of the community and the earth's biodiversity.

deKoven House, 27 Washington Street, Middletown, Connecticut 06457
What's New at Mattabeseck Audubon
If you find a baby bird or an injured animal...
If you find a baby bird or other baby animal, it's best to leave it alone. Chances are the parent is nearby and will take care of the baby when you leave the area.
If you have some other wildlife problem, contact the CT Wildlife Rehabilitators Association at http://www.cwrawildlife.org/ where you can find a rehabilitator in your area or someone to address your problem. CT DEEP dispatch phone number: 860-424-3333. CT DEEP list of wildlife rehabilitators bit.ly/2CoDTxu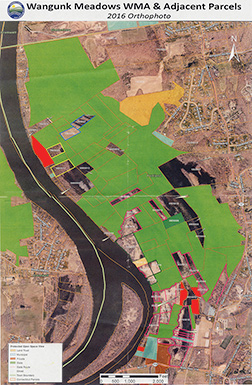 Conservation Committee Update
Several Board members met with biologists and land acquisition officials of the state of Connecticut DEEP to discuss the current status and future of the Portland Wangunk Meadows, an Important Bird Area. Over the years the Wangunk Meadows has been beset with unauthorized off-road vehicle traffic, dumping and other illegal uses. Numerous parcels of land have been exchanged from one owner to another but the amount of parcels protected for conservation has remained static. DEEP officials reaffirmed their goal to expand the size of the Wangunk Meadows Wildlife Refuge. They asked committee members to help accelerate the process by researching the title deeds, addresses etc. of prospective owners willing to sell their properties, and to partner with the DEEP in buying parcels to add to the Refuge.
The meeting concluded with the phrase "Time and tide waits for no one." —LC
Mattabeseck is starting to collect member email addresses
We wish to build an email list of our members. We are requesting that members send an email to the address below. (Email addresses will not be shared with any other entity.)
Please send us an email and include both your NAME and your preferred email address within the body of the email. Send to: pat_rasch@mac.com, with EMAIL LIST in subject line.
Download Winter/Spring 2019 Wingbeat
The Winter/Spring issue of Wingbeat is now available for download. This .pdf file can be read on iPad, computer, and most tablets, and may be printed (letter-size pages) in color or grayscale.
February 2, 2019 (Saturday 8:00 a.m.)
Eagles at Machimoodus Park
February 15-18, 2019 Friday–Monday)
21st Annual Great Backyard Bird Count
March 16, 2019 (Saturday 8:00 a.m.)
"Let's Go A-Ducking"
Apri 20, 2019 (Saturday 8:00 a.m.)
Wildflower Walk (Giuffrida Park, Meriden)

Good Eagle News
After the recent demise of a Bald Eagle in a traffic accident in Portland, it's good news to us that the victim was likely not one of our residents. (Note rehab phone numbers above.) The Wilcox nest was built 2 seasons ago, but is very difficult to spot when trees are leaved-out.
A note from Joe Morin 1/1/19:
Saw Bald Eagle building a nest high in a tree on Wilcox Island just north of the Portland bridge traveling rte 9 north.
Elaine also mentioned seeing 2 eagles at that nest very recently.
Nov. 4, 2018: Board members visited the Carlson Sanctuary to view the new sign installation. While checking one of the boardwalks, a Winter Wren was spotted poking around in the brush.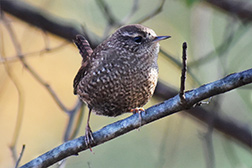 Photo by Sharon Dellinger

Wingbeat Deadline for Next Issue
The deadline for items to be included in the Spring/Summer Issue is March 26, 2018. We expect subscribers to receive their copies about April 20. Please send items to Pat Rasch, 24 Elm Road, Cromwell, CT 06416, or email to <mattabeseck@mac.com>. Please add "WINGBEAT" to the message's subject line.
Audubon Member's Corner
Without Birds the World's Forests Would Be Lost
Submitted by Alberta Mirer
For the first time, scientists have quantified on a global scale the role birds play in controlling populations of caterpillars, aphids and other potentially destructive plant-eating insects. Recent research by a team of international zoologists finds that the planet's roughly 6,000 insectivorous bird species eat a whopping 400 to 500 million tons of prey annually –the equivalent of about 20 quadrillion individual bugs. 75% of those predations occur in forested areas. This information is crucial to understanding the importance of birds to the world's ecosystems.
National Wildlife December 2018 –January 2019
Board of Directors — Next Meeting
The Board of Directors will meet at 7:30 p.m. on the third Wednesday of each month at deKoven House, 27 Washington Street, Middletown. Note that the November meeting will have a change of time and place. Contact Alison Guinness for update.
Mattabeseck Audubon Needs Your Help
We need you. There is always a need for new volunteer leaders in any organization, but the past couple of years have brought losses to our board that have created even greater challenges. Joanne Luppi's death and Marcy Klattenberg's retirement to the Cape have left big holes.
We're always looking for new board members.
Please contact us (phone / e-mail / slow mail) and let us know if you'd like to help.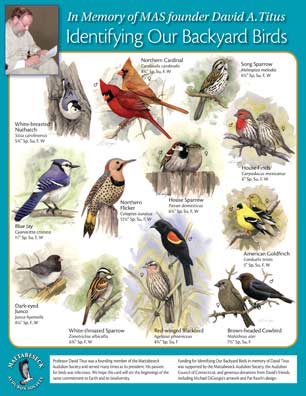 David Titus Memorial
Bird Card—
heavy-duty laminated
plastic—only $3.00!
The David Titus Memorial Bird Card is now available for a $3 donation. We will have them at MAS activities or request by email to mattabeseck@mac.com. Many thanks to Pat Rasch for putting it all together and to wildlife illustrator, Mike DiGiorgio, for his beautiful illustrations, many of which were painted specifically for this bird card. The card is a very inexpensive way to own some of the best bird art you'll ever see. It is extra heavy-duty, all-plastic laminate, printed in full color on both sides. Twenty-four birds are identified by their common name and Latin name, along with the length of the bird and the seasons that they are usually seen in our area. In species that have visual differences between the sexes, both sexes are portrayed.