Our Mission: The Mattabeseck Audubon Society, a chapter of the National Audubon Society, is committed to environmental leadership and education for the benefit of the community and the earth's biodiversity.

deKoven House, 27 Washington Street, Middletown, Connecticut 06457
What's New at Mattabeseck Audubon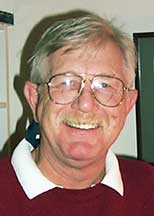 In Memoriam: Jim Mockalis
It is with great sadness that we say farewell to Jim Mockalis. He will be especially missed at our Salmon River Christmas Bird Count. Jim had started that data collection for National Audubon in the 1970s, along with Dave Titus and John Maynard. His passing is a great loss for the birding community in Connecticut.
Download Fall/Winter 2016–2017 Wingbeat
The Fall/Winter issue of Wingbeat is now available for download. This .pdf file can be read on iPad, computer, and most tablets.
Tentatively scheduled for November; date to be determined
Owl Prowl
December 18, 2016
42nd Annual MAS Salmon River
Christmas Bird Count
January 7, 2017 (Saturday 8 a.m.)
Eagles at Machimoodus Park
February 17–20, 2017 (Friday–Monday)
20th Annual Great Backyard Bird Count

Audubon Members' Corner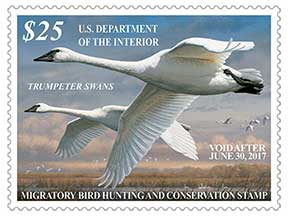 Reminder: Buy Duck Stamps submitted by Larry Cyrulik
We urge everyone to buy Duck Stamps. The funds the U.S. Fish & Wildlife Service and the State of Connecticut receive from the sale of Duck Stamps go directly to conservation of habitat that supports not only waterfowl but many other species of birds, other animals, and indigenous plants.
Purchase Federal Duck Stamps at the Post Office or http://www.fws.gov/duckstamps/
Purchase State of Connecticut Duck Stamps at your local town hall. Stamps bought in January are valid for one year.
MAS Board News
MAS would like to thank Kathy Chase for her many years of service to Mattabeseck Audubon as board member and secretary. She and her husband spent many hours taking out the beaver dam when the sanctuary needed draining. Kathy is retiring and we wish her well on new adventures.
New to the board is Rodrigo Pinto. He is Systems and Assessment Coordinator at Eastern Connecticut University's Center for Community Engagement with expertise in international relations as they pertain to the environment. He comes from Brazil and now resides with his family in Glastonbury. Rodrigo is taking over as Sanctuary Chairperson. Welcome to the board.
Wingbeat Deadline for Next Issue
The deadline for items to be included in the Winter/Spring Issue is January 26, 2017. We expect subscribers to receive their copies about February 20. Please send items to Pat Rasch, 24 Elm Road, Cromwell, CT 06416, or email to <mattabeseck@mac.com>. Please add "WINGBEAT" to the message's subject line.
Board of Directors — Next Meeting
The Board of Directors will meet at 7:30 p.m. on the third Wednesday of each month at deKoven House, 27 Washington Street, Middletown.
Mattabeseck Audubon Needs Your Help
We need you. There is always a need for new volunteer leaders in any organization, but the past couple of years have brought losses to our board that have created even greater challenges. Joanne Luppi's death and Marcy Klattenberg's retirement to the Cape have left big holes.
We're always looking for new board members.
Please contact us (phone / e-mail / slow mail) and let us know if you'd like to help.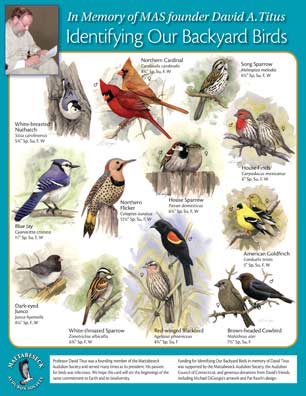 David Titus Memorial
Bird Card—
heavy-duty laminated
plastic—only $3.00!
The David Titus Memorial Bird Card is now available for a $3 donation. We will have them at MAS activities or request by email to mattabeseck@mac.com. Many thanks to Pat Rasch for putting it all together and to wildlife illustrator, Mike DiGiorgio, for his beautiful illustrations, many of which were painted specifically for this bird card. The card is a very inexpensive way to own some of the best bird art you'll ever see. It is extra heavy-duty, all-plastic laminate, printed in full color on both sides. Twenty-four birds are identified by their common name and Latin name, along with the length of the bird and the seasons that they are usually seen in our area. In species that have visual differences between the sexes, both sexes are portrayed.
If you find a baby bird...
If you find a baby bird or other animal, it's best to leave it alone. Chances are the parent is nearby and will take care of the baby when you leave the area. If not or you have some other wildlife problem, contact the CT Wildlife Rehabilitators Association at http://www.cwrawildlife.org/ where you can find a rehabilitator in your area or someone to address your problem.