Our Mission: The Mattabeseck Audubon Society, a chapter of the National Audubon Society, is committed to environmental leadership and education for the benefit of the community and the earth's biodiversity.

deKoven House, 27 Washington Street, Middletown, Connecticut 06457
What's New at Mattabeseck Audubon
If you find a baby bird or other animal...
If you find a baby bird or other animal, it's best to leave it alone. If you have found a baby, chances are the parent is nearby and will take care of the baby when you leave the area. If you have some other wildlife problem, contact the CT Wildlife Rehabilitators Association at http://www.cwrawildlife.org/ where you can find a rehabilitator in your area or someone to address your problem.

Annual Meeting May 16
Mattabeseck Audubon will hold our Annual Meeting on May 16, 2018 at 7 p.m. at the ?DeKoven House to elect new members to the Board of Directors. If you would like to serve, please contact Nominating Chairperson Luella Landis at GWLA620@yahoo.com.
Mattabeseck/Franklin Academy Bluebird Box Project
After a Franklin Academy student contacted the Mattabeseck Audubon Society looking for a potential project for his community service class, Doreen Jezek and Alison Guinness made a presentation on Birds and Birdwatching at the Academy. (Franklin Academy is located in East Haddam.) The presentation was well received and generated student discussion. Following the talk, Doreen, Alison, and the class went on a bird walk through their campus.
There are now plans for Franklin Academy and Mattabeseck Audubon Society to build bluebird boxes jointly and to create a bluebird trail on the Academy campus in May.
from Doreen Jezek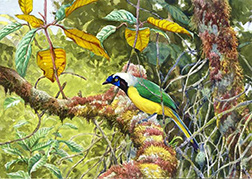 New Exhibit of Michael DiGiorgio Paintings
Mike DiGiorgio has a new exhibit of his bird paintings at the Connecticut River Museum, 67 Main Street, Essex. The show, From Field to Frame, will be on display from Thursday, March 15 to Thursday, May 3, with an artist's talk on Friday, April 13 at 5:30 p.m. at the Museum.
Mike is a world-renown bird artist from Madison. He created all of the art on the Mattabeseck's Identifying Our Backyard Birds card, and many years ago when he was a member of our club, he also drew our Wingbeat Osprey logo.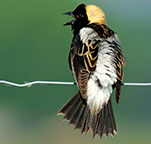 Topsmeade Bobolinks
Interested in viewing bobolinks this spring and summer? My favorite place to see them is at Topsmeade State Forest in Litchfield. These special birds usually arrive during the end of May. Early summer is an excellent time to watch them in the fields, and there are usually opportunities to see bluebirds, as well. Occasionally, meadowlarks and savannah sparrows are also in the fields. Please walk on the mowed paths, instead of in the fields during spring through fall, in order to reduce disturbances to the birds, as well as your chance of picking up ticks.
Topsmeade is located on Chase Road, off Buell Road in Litchfield, and is the former summer home of Edith Morton Chase, who built the English Tudor Revival house on her property. Attractive gardens are found at each end of the home, and the property consists of more than 600 acres.
Ms. Chase bequeathed this estate to the people of Connecticut upon her death in 1972, along with an endowment for its maintenance.
While in the area, you might also like to visit the White Memorial Conservation Center, located at 80 Whitehall Road in Litchfield. It has 40 miles of trails, an environmental education center, and a nature museum.
Luella Landis, MAS Vice President
Connecticut Breeding Bird Atlas: Update

There's still time to sign up to bird for the new Connecticut Bird Atlas. The Atlas will map all species found in the state during both nesting and non-nesting seasons. For more info or to sign up to volunteer, go to http://www.ctbirdatlas.org
from Alison Guinness, MAS president
Audubon Members' Corner

Submitted by Alberta Mirer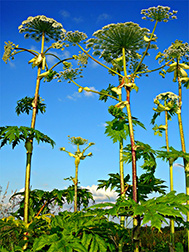 Giant Hogweed: Invasive and Dangerous
First documented in Connecticut in 2001, giant hogweed is an invasive, federally-listed noxious weed. Its toxic sap poses a threat to human health and to its surrounding environment. The sap causes large painful blisters on human skin and acts as an anti-sunscreen.
Mowing, cutting and weed-whacking are not recommended because the plant will soon send up new growth. Those tactics are risky because they increase chances of contact with the plant's sap. Seeds can be windblown several feet, or may be carried by water to invade new areas.
If you suspect giant hogweed on a property, go to the Ct. Invasive Plant Working Group website http://cipwg.unconn.edu/giant-hogweed-in-connecticut/ for photos and descriptions of giant hogweed and of plants often mistaken for it. If you believe giant hogweed is present, report your finding to the CIPWG at 860-486-6448 or http://cipwg.uconn.edu/report-giant-hogweed/. If giant hogweed is confirmed on a property, management options will be provided.
Connecticut Wildlife May / June 2017
Earthquake
It's highly unlikely in the northeast, but that doesn't mean it can't happen. Here is a list to put in your memory bank:
• If indoors, stay there: Drop down, get under a sturdy table and hold on.
• Keep (or get) away from exterior walls and windows.
• If you are in bed, stay there. Cover your head and neck with a pillow.
• If outside: Move to an open area where nothing will fall on you.
• If in a car: Stay in the car. Pull over, but not near trees, buildings, utility wires, or an overpass.
Download Spring/Summer 2018 Wingbeat
The Spring/Summer issue of Wingbeat is now available for download. This .pdf file can be read on iPad, computer, and most tablets, and may be printed (letter-size pages) in color or grayscale.
April 21, 2018 (Saturday 8:00 a.m.)
Wildflower Walk in the Park
May 5, 2018 (Saturday 8:00 a.m.)
David Titus Memorial Warbler Walk
June 2, 2018 (Saturday 8:00 a.m.)
Canoe Trip – Mussel Hunt

Wingbeat Deadline for Next Issue
The deadline for items to be included in the Summer/Fall Issue is July 26, 2018. We expect subscribers to receive their copies about April 20. Please send items to Pat Rasch, 24 Elm Road, Cromwell, CT 06416, or email to <mattabeseck@mac.com>. Please add "WINGBEAT" to the message's subject line.
Board of Directors — Next Meeting
The Board of Directors will meet at 7:30 p.m. on the third Wednesday of each month at deKoven House, 27 Washington Street, Middletown.
Mattabeseck Audubon Needs Your Help
We need you. There is always a need for new volunteer leaders in any organization, but the past couple of years have brought losses to our board that have created even greater challenges. Joanne Luppi's death and Marcy Klattenberg's retirement to the Cape have left big holes.
We're always looking for new board members.
Please contact us (phone / e-mail / slow mail) and let us know if you'd like to help.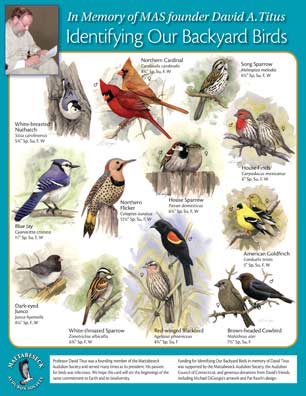 David Titus Memorial
Bird Card—
heavy-duty laminated
plastic—only $3.00!
The David Titus Memorial Bird Card is now available for a $3 donation. We will have them at MAS activities or request by email to mattabeseck@mac.com. Many thanks to Pat Rasch for putting it all together and to wildlife illustrator, Mike DiGiorgio, for his beautiful illustrations, many of which were painted specifically for this bird card. The card is a very inexpensive way to own some of the best bird art you'll ever see. It is extra heavy-duty, all-plastic laminate, printed in full color on both sides. Twenty-four birds are identified by their common name and Latin name, along with the length of the bird and the seasons that they are usually seen in our area. In species that have visual differences between the sexes, both sexes are portrayed.