Our Mission: The Mattabeseck Audubon Society, a chapter of the National Audubon Society, is committed to environmental leadership and education for the benefit of the community and the earth's biodiversity.

deKoven House, 27 Washington Street, Middletown, Connecticut 06457
What's New at Mattabeseck Audubon
Not to Be Missed

The Florence Griswold Museum's summer exhibit is not to be missed. Fragile Earth showcases the diverse approaches taken by ecologically concerned artists, illustrating the powerful role they play in advocating for environmental causes.
The museum commissioned artists Jennifer Angus, Mark Dion, Courtney Mattison, and James Prosek to create a unique experience for the Flo Gris, as the Old Lyme museum is known locally. Each artist has used traditional and non-traditional materials to inform the viewer about the role of humans in the transformation of earth's ecology from an artist's point of view, which just may change the way you've visualized your role as naturalist, scientist, researcher, or plain old observer.
This exhibit is not to be missed, and you may find yourself revisiting it over and over.
https://florencegriswoldmuseum.org/fragile-earth/
Florence Griswold Museum, 96 Lyme Street, Old Lyme, CT
Alison Guinness, MAS President
If you find a baby bird or an injured animal...
If you find a baby bird or other baby animal, it's best to leave it alone. Chances are the parent is nearby and will take care of the baby when you leave the area.
If you have some other wildlife problem, contact the CT Wildlife Rehabilitators Association at http://www.cwrawildlife.org/ where you can find a rehabilitator in your area or someone to address your problem. CT DEEP dispatch phone number: 860-424-3333. CT DEEP list of wildlife rehabilitators bit.ly/2CoDTxu

Mattabeseck is starting to collect member email addresses
We wish to build an email list of our members. We are requesting that members send an email to the address below. (Email addresses will not be shared with any other entity.)
Please send us an email and include both your NAME and your preferred email address within the body of the email. Send to: pat_rasch@mac.com, with EMAIL LIST in subject line.
Download Summer/Fall 2019 Wingbeat
The Spring/Summer issue of Wingbeat is now available for download. This .pdf file can be read on iPad, computer, and most tablets, and may be printed (letter-size pages) in color or grayscale.
October 12, 2019 (Saturday 8:00 a.m.)
Sparrow Crawl

Wingbeat Deadline for Next Issue
The deadline for items to be included in the Summer/Fall Issue is June 26, 2018. We expect subscribers to receive their copies about July 20. Please send items to Pat Rasch, 24 Elm Road, Cromwell, CT 06416, or email to <mattabeseck@mac.com>. Please add "WINGBEAT" to the message's subject line.
Audubon Member's Corner
Birding – How To
Submitted by Alberta Mirer
What You'll Need: Binoculars – Look for a pair that is waterproof, is comfortable in your hand and has at least 8x magnification. You can borrow some until you're ready to buy your own.
A Bird Guide like the Sibley Guide to Birds will help you identify what you're seeing. There's information about specific birds, bird families, migration patterns and much more. You could also try a birding app like The Audubon Bird Guide, free for Android and iOS. Visit ebird.org to see which species have recently been spotted in your state.
Why Birding?
Birding is one of the country's fastest-growing hobbies, with more than 65 million Americans actively involved. In fact, many of the most important scientific discoveries about birds were made by amateur birders. Boy Scouts can earn the Bird Study merit badge by identifying at least 20 species of wild birds.
Heading Out:
1. Use your bird guide, or online resource to research birds you'd like to find in your area.
2. Start in your own backyard, or a nearby park, with lots of trees and open space.
3. Find a place to sit or stand that has a good view of everything around you. Look for birds.
4. Once you spot one, study it. Find the most obvious detail about it. Write down what you observe, including color, size, shape, sounds, and habits. You can also try drawing the bird. These details will help you identify the bird. As you spend more time birding, you'll be able to identify birds more quickly and easily.
5. You're officially a birder. Keep at it! The more often you go out, the more you'll discover.
from Boys' Life April 2018
National Wildlife December 2018 –January 2019
Board of Directors — Next Meeting
The Board of Directors will meet at 7:30 p.m. on the third Wednesday of each month at deKoven House, 27 Washington Street, Middletown. Note that the November meeting will have a change of time and place. Contact Alison Guinness for update.
Mattabeseck Audubon Needs Your Help
We need you. There is always a need for new volunteer leaders in any organization, but the past couple of years have brought losses to our board that have created even greater challenges. Joanne Luppi's death and Marcy Klattenberg's retirement to the Cape have left big holes.
We're always looking for new board members.
Please contact us (phone / e-mail / slow mail) and let us know if you'd like to help.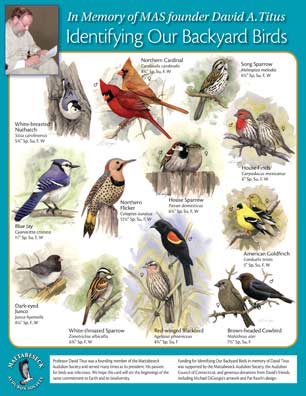 David Titus Memorial
Bird Card—
heavy-duty laminated
plastic—only $3.00!
The David Titus Memorial Bird Card is now available for a $3 donation. We will have them at MAS activities or request by email to mattabeseck@mac.com. Many thanks to Pat Rasch for putting it all together and to wildlife illustrator, Mike DiGiorgio, for his beautiful illustrations, many of which were painted specifically for this bird card. The card is a very inexpensive way to own some of the best bird art you'll ever see. It is extra heavy-duty, all-plastic laminate, printed in full color on both sides. Twenty-four birds are identified by their common name and Latin name, along with the length of the bird and the seasons that they are usually seen in our area. In species that have visual differences between the sexes, both sexes are portrayed.