Our Mission: The Mattabeseck Audubon Society, a chapter of the National Audubon Society, is committed to environmental leadership and education for the benefit of the community and the earth's biodiversity.

deKoven House, 27 Washington Street, Middletown, Connecticut 06457
What's New at Mattabeseck Audubon
If you find a baby bird or other animal...
If you find a baby bird or other animal, it's best to leave it alone. If you have found a baby, chances are the parent is nearby and will take care of the baby when you leave the area. If you have some other wildlife problem, contact the CT Wildlife Rehabilitators Association at http://www.cwrawildlife.org/ where you can find a rehabilitator in your area or someone to address your problem.

Mattabeseck/Franklin Academy Bluebird Box Project

In May, MAS provided wood for bluebird boxes to Franklin Academy seniors for their Capstone Project. Thirty-seven bluebird boxes were constructed by the students and a bluebird trail was made on the campus. Alberta and Rob Mirer and Doreen Jezek visited the campus shortly after the boxes were made. Alberta presented a brief talk on bird identification. This was followed by a brief bird walk where we observed the bluebird boxes. As of the end of June, all boxes had birds nesting with 3 of the boxes confirmed with bluebirds.
On June 29th, Doreen Jezek briefly talked to the Franklin Academy's Summer Sojourn Community Service class about bluebird and bluebird trails. The class has placed 5 boxes at Gillette's Castle State Park with the plan being to place a total of 10 boxes there..
from Doreen Jezek
From Alison Guinness, MAS President
Threat to National Parks, Monuments, and Forests
America the beautiful—maybe not. The current government has endangered National Parks, Monuments, and Forests with reductions, encroachments, and total elimination threatening our environmental and cultural heritage. Ecologists, archaeologists, and Native Americans have been stunned and very concerned. Threats include cutting of giant sequoias, uranium mining outside Grand Canyon NP, and legislation (H.R.3990) that would make the designation of new monuments nearly impossible. Many of our most important and well-known parks began as monuments, but some remain monuments, such as Devils Tower and Giant Sequoia. Two of the latest, designated by Pres. Obama, are in New England. The US led the way in the protection of special places. Let's not return to the dark ages of destruction and apathy.
MBTA (Migratory Bird Treaty Act)
Just as the New York Historical Society launched an exhibit marking the creation of the Migratory Bird Treaty Act of 1918, the government is threatening its very existence. Feathers: Fashion and the Fight for Wildlife, examines the circumstances that inspired early environmentalists—many of them women—to champion the protection of endangered birds. Administered by the U.S. Fish and Wildlife Service, the MBTA prohibits the hunting, killing, trading, and shipping of migratory birds. It also regulated the nation's commercial plume trade, which decimated many American bird species to the point of near extinction. The act also covers the possession of eggs and nests.
Historically, the MBTA has given businesses incentive to choose bird-friendly practices and penalized them when they fail to take reasonable care, for example, after 2010's Deepwater Horizon disaster, when BP faced record fines for the million-plus birds it killed.
Now, catering to the interests of the oil and gas industries, the administration has gutted it. Now companies that kill birds get barely a slap on the wrist.
Their free pass ends with Audubon and you. A coalition of national environmental groups, including the National Audubon Society, the American Bird Conservancy, Center for Biological Diversity, Defenders of Wildlife, National Wildlife Federation, and the Natural Resources Defense Council, filed litigation, National Audubon Society v. Department of the Interior, in the Southern District of New York challenging the Trump Administration's move to eliminate longstanding protections for waterfowl, raptors, and songbirds under the MBTA.
https://www.audubon.org/news/audubon-lawsuit-seeks-restore-protections-migratory-birds
Protection of Connecticut Public Lands
The Connecticut legislature has finally acted to protect Connecticut public lands with the passing of Senate Joint Resolution No. 35 (SJ 35), an amendment to the state constitution to protect real property held or controlled by the state. This amendment would end such debacles as the Haddam Land Swap proposal. The amendment will be on the ballot in this year's election in Nov. Be sure to vote yes to protect public land—your land.
Sec. 19. (a) The general assembly shall not enact any legislation requiring a state agency to sell, transfer or otherwise dispose of any real property or interest in real property that is under the custody or control of such agency to any person or entity other than another state agency unless a committee of the general assembly has held a public hearing regarding such sale, transfer or disposition of such property or interest and the act of the general assembly requiring such sale, transfer or disposition of real property or interest in real property is limited in subject matter to provisions concerning such sale, transfer or disposition.
https://www.cga.ct.gov/2018/ACT/ra/pdf/2018RA-00001-R00SJ-00035-RA.pdf
Earth Day Fair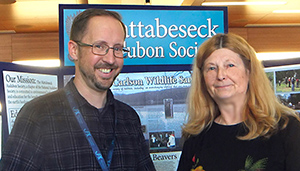 On April 20, 2018, Alison Guinness and Luella Landis represented MAS at an Earth Day fair which was held at the Jackson Laboratory for Genomic Medicine in Farmington. Attendees expressed interest in birding, MAS field trips and programs, and in the Carlson Sanctuary, and Alison and Luella enjoyed learning about the activities of other environmental groups which were represented, as well. 
Luella Landis
Introducing Boots & Bark — A podcast series from CFPA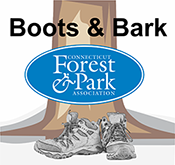 Boots & Bark is the podcast of the Connecticut Forest & Park Association (CFPA), a non-profit organization dedicated to protecting forests, parks, and trails for future generations through connecting people to the land. This podcast features special people who are making a difference in conservation and outdoor recreation for Connecticut, and we plan on producing 12 episodes each year. There are three episodes currently published and feature: Tom Wessels, noted author and conservationist; Rob Klee, Commissioner CT DEEP; and Ben Cosgrove, this year's New England Trail Artist in Residence. You can find the episodes on iTunes (search Boots & Bark) or visit www.ctwoodlands.org/podcasts
Download Summer/Fall 2018 Wingbeat
The Summer/Fall issue of Wingbeat is now available for download. This .pdf file can be read on iPad, computer, and most tablets, and may be printed (letter-size pages) in color or grayscale.
October 13, 2018 (Saturday 8:00 a.m.)
Sparrow Crawl

New Sign Coming for Helen Carlson Wildlife Sanctuary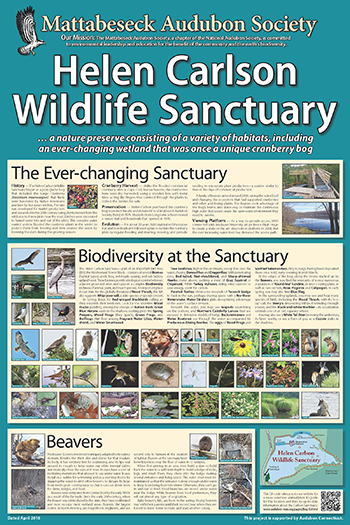 Our new sign is in the works. This sign is being built by Fossil Graphics. Our sign will be in full color, and will be 4 feet wide by 6 feet high, mounted on side pillars. The color should last for many years without fading. It claims to be vandal-resistant. Of course, on the image you see here, the text too small to read, but it will be easily read on the new large sign.
The top beige box holds a short history of the Sanctuary and its evolution from cranberry bog to beaver pond, with a history of the platform. The center box has a summary and captioned photos of some of the most-frequently-seen species at the bog: birds, reptiles, amphibians, insects, plants, and mammals. The bottom box gives information and history about the resident beavers.
There is a new map showing current trails, as well as private land and state forest land. (New map is is derived from a Google Earth aerial view.)
Below the map is a QR code for cell users to access a more extensive species list on our website (page still to be completed). That page will also contain external links to more extensive species-ID websites. The URL to our new page (and website) is also listed on the sign.
The sign gives credit to Audubon Connecticut for their support of this sign project.
Lastly, a big thank you will be due to the Portland Public Works Department, who will be installing the sign at the Sanctuary for us.
Pat Rasch
Member's Corner
—— From Alberta Mirer, MAS Member
Pest Control
Many years ago I attended a lecture about birds. I don't remember the name of the man who gave it, or the title. He had been employed on different occasions to deal with problem birds, such as crows at airports and gulls on or near beaches. He concluded that the pest control business was the best business to be in, because no matter what you did, the pest species would destroy its own habitat and have to move on, with the pest control people getting the credit.
In studying gulls, he found that the species that preferred nesting in grassy areas would pull up the grass around its nest and soon the area had no grass and the birds would no longer nest there. The species of gull that preferred sand and rocks would nest so tightly together that their droppings would fertilize the soil and pretty soon grass was growing and they would no longer nest there either. During the winter, crows roost communally and move to a new roost site within three to five years no matter what was done to encourage them to move sooner.
This theory of pest species destroying their own habitat was easy for me to see with termites and carpenter ants. Once the wood is destroyed, the ants need to move on to another piece of wood. Over the years I came to realize that the species that does the most damage to its own habitat is "Homo sapiens."
We are doing what other pest species do. It's just that our destruction capabilities are much greater. We remove the forests that provide us with clean air and then replace them with parking lots and cars that pollute the air we breathe and the water we drink. The difference is that there is no place for us to move. If it's not easy for us to live in the Arctic or Antarctic, where water and oxygen are available, why do we think we could move to the moon or mars? We need to stop abusing nature, if we want future generations to continue to live on this planet.
Alberta Mirer
(Letters to the Editor,
Journal Inquirer, Manchester, CT—3/6/03)
—— From Larry Cyrulik
Purchase Migratory Bird Stamps
Purchase Migratory Bird Conservation Stamps and Protect Our Cherished Wildlife Habitat!
Migratory Bird Conservation Stamp dollars deliver results for wildlife and habitat! Connecticut stamps can be purchased for $17 each wherever hunting and fishing licenses are sold: participating town clerks, participating retail agents, DEEP License and Revenue (79 Elm Street in Hartford), and through the online Sportsmen's Licensing System. Upon request, stamps can be sent through the mail.
Federal Duck Stamps are sold at many sporting goods stores and other retail locations—both large and small—that sell sporting and recreation equipment. You can also buy them at many national wildlife refuges, and online through Amplex. As an added convenience, especially for hunters, the E-Stamp program allows you to buy a Duck Stamp online and instantly obtain a printable receipt good for 45 days, within which time a physical Duck Stamp is mailed to you.
—— From Alberta Mirer, MAS Member
The Difficult Traveling Life of Neotropical Songbirds
Migration is a perilous time for songbirds. They must reach their breeding ground in time to claim the best territory, while avoiding all kinds of danger along the way. That's why it's advantageous for neotropical songbirds to migrate at night to avoid predators like hawks. But night flying does have its risks. There are collisions with light towers, cell towers, wind turbines, windows, high-rise and glass buildings, and bad weather. Fog and mist reduce visibility, making navigation difficult or impossible. And then, there are rest stops in unfamiliar places, with free-roaming cats. Forest edges are especially dangerous for songbirds. Roads and other development create opportunities for predators such as cowbirds, raccoons, and parasites. Not only is quality habitat important on breeding and wintering grounds, but also safe stopover sites are imperative.
Connecticut Wildlife, May, June 2016
From the Ocean Deep
More than 50% of deep-ocean animals use light to holler and flirt and fight. They carry glowing torches atop their heads. They vomit brightness. They smear light on their enemies. Scientists believe that bioluminescence is always a means of influencing other animals, a signal fire in the deep. The message must be important enough to outweigh the risks of revealing one's location, even though some use light as a means of camouflage. The chemistry behind the glow, shared by many bio­luminescent creatures, involves an enzyme called luciferase which adds oxygen to a compound called luciferin, shedding a photon of visible light –a bit like what happens when you snap a glow stick.
Bioluminescence is the most common and most eloquent language on earth. It's informing fields from biomedicine, modern warfare, to deep-sea exploration.
Light Fantastic, Edith Widder, Famed ocean explorer, Ocean Research and Conservation Assn. (ORCA),
whose mission is to monitor coastal pollution. Smithsonian, March 2013
Animals Are Amazing
Male elephant seals can accurately recognize specific rivals' voices to determine whether to challenge another bull, or avoid confrontation during the breeding season. Wood frogs in Alaska produce glucose (a sugar) that helps keep their cells alive even during freeze-thaw cycles. The frogs had a higher survival rate than previously recorded for the species. A single fox squirrel gathers between 3,000 and 10,000 nuts every year. Researchers using GPS devices have discovered that they sort and store nuts by "chunking"—keeping separate collections of each species.
National Wildlife, February-March 2018
Extreme Birds: The World's Most Extraordinary and Bizarre Birds
by Dominic Couzens
Hoatzin (South America)—Biggest Belly
The bellies on this bird can be so big that when bending down from a low branch to take a sip of water, they have been known to topple over and fall in and splash calamitously. The hoatzin is one the few birds to specialize in eating leaves, which can constitute up to 82% of its entire intake. Because leaves are difficult to digest, this bird must rely on microbes to do the work for them. Microbes work best in a large gut where the flow of matter is not too fast. For the hoatzin, digestion takes place in the crop and esophagus, which is similar to the system in sheep, cows and kangaroos.
Southern Screamer—(South America) Oddest Skin
If you were to reach out and touch a screamer' s leg, you would hear a distinct crackling sound caused by a complicated system of small air sacs separating the outer skin from the rest of the body. It's thought that these air sacs play a part in insulating the bird.
Wingbeat Deadline for Next Issue
The deadline for items to be included in the Fall/Winter Issue is September 26, 2018. We expect subscribers to receive their copies about October 20. Please send items to Pat Rasch, 24 Elm Road, Cromwell, CT 06416, or email to <mattabeseck@mac.com>. Please add "WINGBEAT" to the message's subject line.
Board of Directors — Next Meeting
The Board of Directors will meet at 7:30 p.m. on the third Wednesday of each month at deKoven House, 27 Washington Street, Middletown.
Mattabeseck Audubon Needs Your Help
We need you. There is always a need for new volunteer leaders in any organization, but the past couple of years have brought losses to our board that have created even greater challenges. Joanne Luppi's death and Marcy Klattenberg's retirement to the Cape have left big holes.
We're always looking for new board members.
Please contact us (phone / e-mail / slow mail) and let us know if you'd like to help.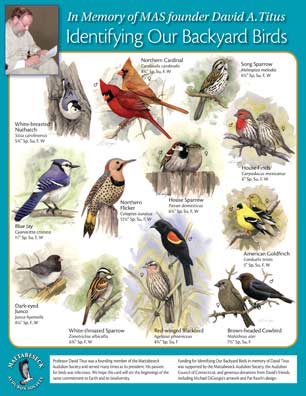 David Titus Memorial
Bird Card—
heavy-duty laminated
plastic—only $3.00!
The David Titus Memorial Bird Card is now available for a $3 donation. We will have them at MAS activities or request by email to mattabeseck@mac.com. Many thanks to Pat Rasch for putting it all together and to wildlife illustrator, Mike DiGiorgio, for his beautiful illustrations, many of which were painted specifically for this bird card. The card is a very inexpensive way to own some of the best bird art you'll ever see. It is extra heavy-duty, all-plastic laminate, printed in full color on both sides. Twenty-four birds are identified by their common name and Latin name, along with the length of the bird and the seasons that they are usually seen in our area. In species that have visual differences between the sexes, both sexes are portrayed.